Getting there and getting around Easter Island
by Terri Cook and Lon Abbott Friday, March 24, 2017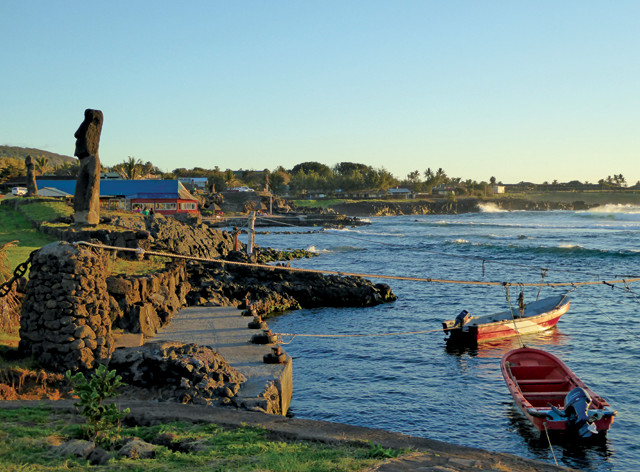 "Easter Island has just one gateway, tiny Mataveri International Airport (IPC), to which only one airline, the Chilean carrier LATAM, offers regular service. This includes one flight weekly from Tahiti, as well as daily service from Santiago, a five-hour flight. Airfares are high, ranging from about $400 to $1,500 round trip. The island's unusually long runway once served as an emergency U.S. space shuttle landing site; today, it allows LATAM to land large Boeing 787s there, a rarity among small islands.
Once you arrive, Hanga Roa is within walking distance of the airport. Most guesthouses will arrange a pickup, which typically includes a lei greeting. We don't recommend reserving a rental vehicle before you arrive; there are no international companies, and because the island is so compact, it's easy to book tours, hire bikes or horses, and/or rent a vehicle from one of the local outlets scattered along Hanga Roa's main thoroughfare once you're there. Driving yourself is a great way to explore the island, but none of the outlets offers insurance, so you are responsible for all damage, including to tires and windshields, and you're liable for injuries you cause. Fortunately, it's a small island with very little traffic.
Easter Island's accommodations vary widely in quality and in price; expect to spend $130 to $200 per night for a double, including breakfast. In addition to numerous hostels, there are many mid-range hotels and cabañas, which often have kitchens. Although they're each a bit of a walk from the downtown, we recommend Chez Jérôme and Yarvaikafra Bed & Breakfast. Tourism is Easter Island's main industry, and more than 50,000 people per year visit the island. Its increasing popularity in recent years has strained its limited tourist infrastructure, so advance hotel bookings are highly recommended, especially during the peak months (January to March). If you visit during the offseason, prices are cheaper and the sites less crowded. Thanks to the mild, semi-tropical climate, the weather on Easter Island is pleasant year-round.
The night before leaving Santiago, we recommend staying at the Holiday Inn Santiago-Airport Terminal, a beautiful facility just steps from the check-in counters.
The most convenient place to purchase tickets to Rapa Nui National Park is at the island's airport. The $80-per-person entrance fee covers all sites for the duration of your trip. As at most businesses, both U.S. dollars and Chilean pesos are usually accepted. It's a good idea to bring extra cash with you; the island only has a couple of ATMs, and these are prone to malfunctioning. Not all vendors accept credit cards.