Getting There and Getting Around Costa Rica
by Joshua Zaffos Monday, June 11, 2018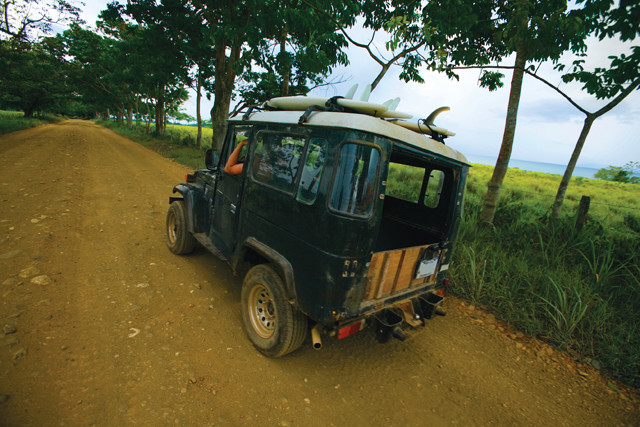 Most people traveling to Costa Rica fly into Juan Santamaría International Airport, outside of the capital of San José. The small city of Alajuela is actually closer to the airport, and some travelers stay there to avoid the capital's congestion on their way into or out of the country. A second international airport in Liberia, in the northwest, allows for quicker access to the beaches of the Nicoya Peninsula. Visitors with lots of time and a sense of adventure can take the long drive from the United States, via the Pan-American Highway (called the Inter-American Highway in Central America).
Many tourists rent vehicles, and it's worthwhile to rent a 4x4 Jeep or other SUV to navigate the country's rough roads. Some routes, like the coastal highway along the southern Pacific, have recently been paved, easing the bumps and delays, but other areas, including the Nicoya and Osa peninsulas, still have many dirt tracks that dip through pocks and puddles (or ponds, depending on the season). Bus travel is also popular among budget travelers and is generally reliable, safe and inexpensive.
Costa Rica's dry season runs from November to April and is the most popular time to make a trip. Costs and crowds are greater during this time of year, but the beach days will be brighter and excursions into the rainforests won't be quite so soggy. Despite its tropical reputation, Costa Rica can get pretty cool in the high country, so bring warm clothes. And volcano trackers should visit parks early in the day to beat the clouds that often obscure volcanic views by late morning.
Upscale hotels and resorts have developed in many areas, as tourism has boomed all over Costa Rica. Budget lodging and camping are common in beach towns and outside national parks and natural reserves. One major trend is the emergence of eco-lodges along beaches and in rainforests. These options may rely on solar lighting and serve organic meals, and amenities and services vary from the basic to the luxuriant, depending on the operator. Regardless of the accommodations, the managers should be able to connect you with tours or adventure excursions that fit your interests.
And wherever you go, drink plenty of coffee and batidos (fresh-fruit milkshakes), and a few cuba libres (rum, lime and Coke) too.