Getting There and Getting Around Cairns
by Terri Cook and Lon Abbott Tuesday, June 5, 2018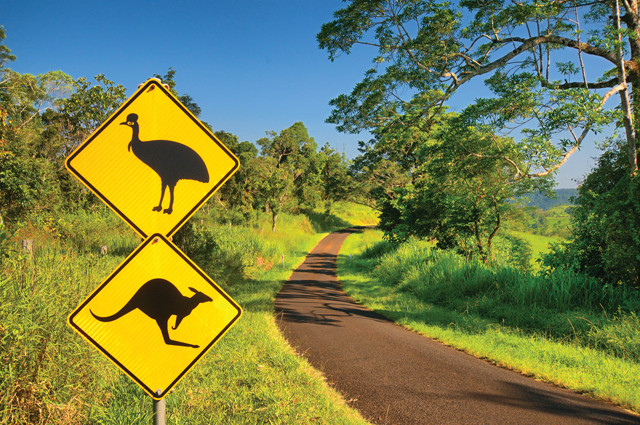 Most visitors fly to Cairns, a tourist-oriented city of 124,000 people with a huge range of restaurants, services and accommodations, including two campgrounds. Several companies run bus tours from Cairns to the Tablelands, but it's most convenient to rent a car from one of the many airport rental agencies and drive yourself. Just remember to drive on the left side of the road.
You can book a tour, rent a car, and read about the Atherton attractions on the Queensland Tourism Bureau's Discover Atherton Tablelands site, www.athertontablelands.com.au. Don't miss Atherton's Platypus Park, the best place to spot a platypus. If you'd like to stay overnight in the Tablelands, a luxurious option with a geologic twist is the Mt. Quincan Crater Retreat, where you can stay in a "pole treehouse" built in the rainforest with a view into the Quincan Crater (www.mtquincan.com.au).
The main event for any Cairns visitor is a trip out to the Great Barrier Reef. Many half-day trips to the inner reef are available, but we recommend that you go to the outer reef, where the coral are more vibrant. Offered by numerous operators, these require a full day and include transportation to a floating platform, lunch, and snorkeling, diving, and glass bottom boat tours.
Other area attractions include walks in the mangrove swamps, beautiful beaches and Aboriginal cultural tours. The Cairns tourism network website, www.cairns.localtourismnetwork.com is packed with information on everything you need to plan the trip of a lifetime.