Getting there and getting around the Burgess Shale
by Mary Caperton Morton Monday, December 3, 2012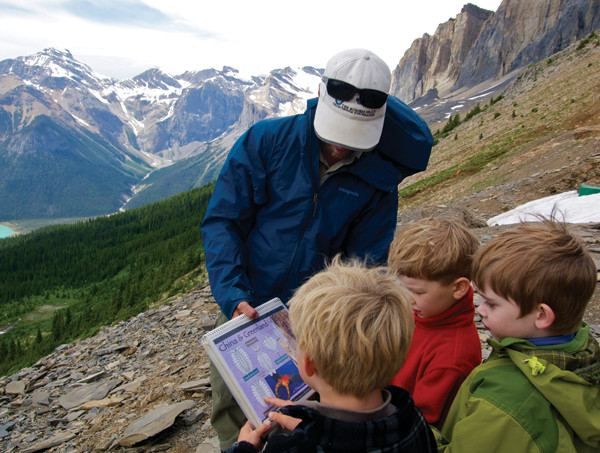 Traveling to the Burgess Shale requires a plane ticket, a guide, and the legs and lungs to hike high into the Canadian Rockies.
Fly into Calgary, rent a car and drive west through Banff National Park to Yoho National Park. You will need to buy a Parks Canada pass at the entrance station on your way into Banff. The tiny town of Field, population 300, serves as the most convenient base camp for Burgess Shale hikes. Several quaint lodges, bed-and-breakfasts and inns are scattered throughout the small network of streets. Camping is also available just down the road in Yoho National Park, and luxurious accommodations can be found in Banff and at Lake Louise.
To visit the Burgess Shale quarries you must hire a guide through either Parks Canada or the Burgess Shale Geoscience Foundation.
Guided hikes through Parks Canada are somewhat less expensive and provide a broader overview of the geology, ecology and history of the area, while the Burgess Shale Geoscience Foundation hikes are led by trained geologists who generally keep the focus on the fossils. But even without the famous fossils, the hike is a contender for one of my top 10 hikes of all time.
Treks with both companies begin in early July and run through mid-September. Make reservations far in advance, as trips are limited to 12 people and only run Friday through Monday. The Walcott Quarry hike is 22 kilometers round trip, up nearly 800 meters of elevation to more than 2,000 meters above sea level. The Stephen Quarry hike is shorter in length, but much steeper. Both require sturdy hiking boots, a daypack, and clothing suitable for mountain weather, including rain gear. Children older than 8 are permitted on both hikes — in fact, the Burgess Shale Geoscience Foundation runs a junior guide program for fledgling paleontologists — but kids should be fit, experienced hikers.
Book your trip now, hit the stair climber and next summer you'll be well rewarded with a rare glimpse of the Burgess Shale's wonderful life in one of the most beautiful places on Earth.