Geotextiles: From sludge to shoreline protection to surfing - what's next?
by Nate Burgess Thursday, January 5, 2012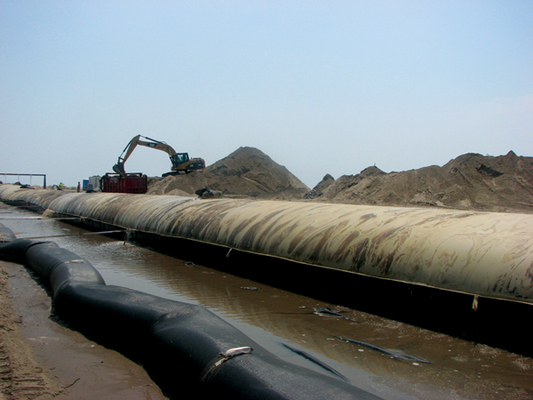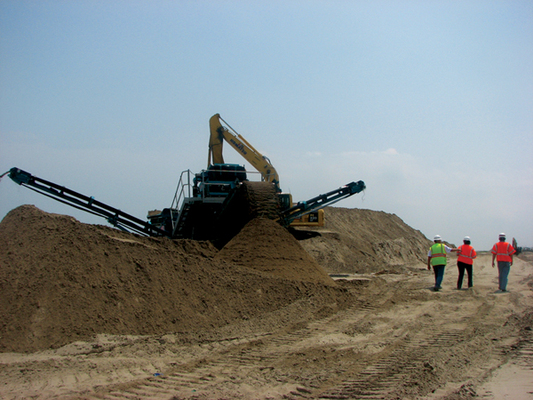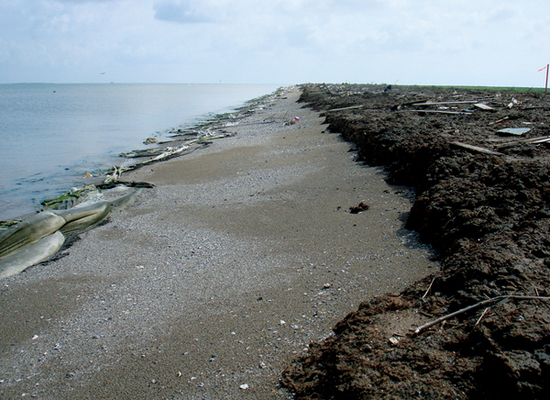 Since their introduction in the early 1980s, geotextile structures have gained popularity in the engineering community and are now being used for a variety of geotechnical engineering applications. Geotextiles were originally developed as permeable reinforcement for soils in landscape applications. Woven and nonwoven geotextiles, known for their strength and permeability, are typically made from the synthetic polymers polypropylene and polyester, but natural fibers like coir and jute are becoming more popular.
Geotextile structures — usually large, whale-like bags made of geotextiles — are a cost-effective and space-saving method for removing water from various slurries and sediments. They also have advantages over rock in coastal structures like dikes, breakwaters, groins and bulkheads. Recently, coastal scientists have begun using geotextile structures to rehabilitate dunes and construct artificial surf reefs to protect coastlines. But questions remain about the environmental impact and longevity of the structures. Are they just a fad, or are they here to stay?
An Evolving Technology
One of the first uses of geotextile structures was as a replacement for riprap (hard rock) in hard coastal defenses like groins, breakwaters and seawalls. The U.S. Army Corps of Engineers began using them in the early 1980s, including in a project to stabilize dikes around Mobile Bay in Alabama. Shoreline geotextile structure applications have expanded and evolved, particularly in the last 10 years. A project in Portugal provides an example of these changing uses.
Since March 2000, a team of scientists and engineers led by Atunes do Carmo of the Department of Civil Engineering at the University of Coimbra in Portugal has been working to rehabilitate an eroding sand dune system south of Figueira da Foz on the western coast of Portugal. The erosion is due mainly to a large industrial wastewater pipe and a breakwater that have disrupted the flow of sand southward along the coast. Sand accumulates north of the structures, which starves the beach and dune system to the south.
Two early dune rehabilitation attempts used geotextiles as added reinforcement to dunes planted with beach grasses: One folded the fabric into the dunes and sealed it in place; the other used geotextile structures. Catarina Schreck Reis, a post-doctoral biologist at the University of Coimbra who worked on the project, says that the problem with the first geotextile solution was that the folded sheets did not retain sand. "With time, wind and humidity, geotextiles that had been joined with heat separated and the sand started to fall."
So, in 2008, the group started another dune rehabilitation effort using 20-meter-long sand-filled geotextile structures nearly two meters in diameter. "The big advantage of the [structures]," Schreck Reis says, "was the fact that they don't have to be sealed in the dunes." Instead, they are bound together with stitched seams prior to arrival, and then simply filled with sand onsite.
After the geotextile structures were installed, the dunes were replanted with dune grass in 2009 to help guard against erosion. The dunes are still eroding somewhat, Schreck Reis says, but overall they are doing what they're supposed to and holding their ground. Because of the continued erosion, however, the community next plans to try the latest in geotextile structure coastline protection technology: an artificial reef.