Geoscientists Without Borders: Geologists Lend a Hand
by Erin Wayman Thursday, January 5, 2012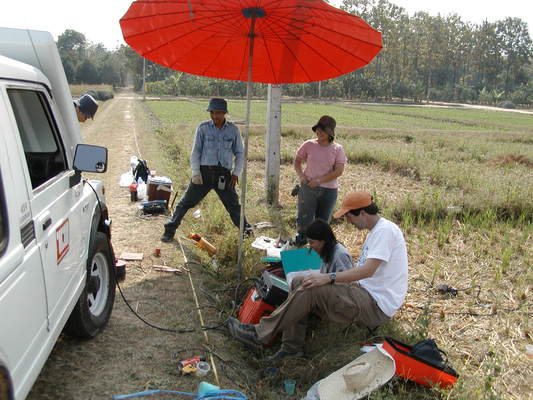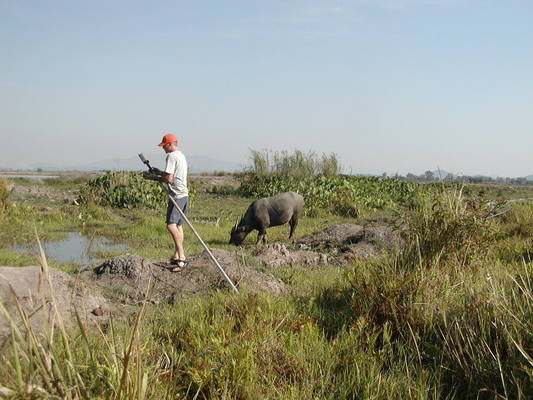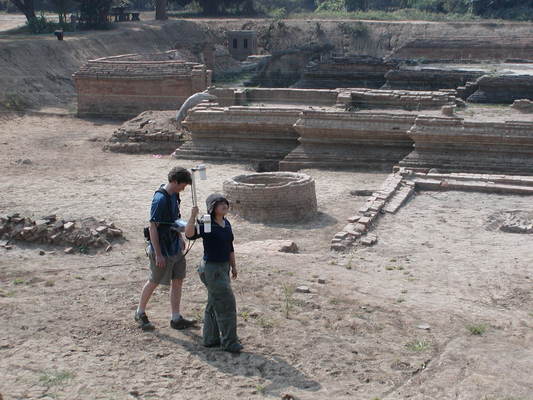 Craig Beasley's one-year term as president of the Society for Exploration Geophysicists had a challenging start. After about two months in office, a magnitude-9-plus earthquake struck off the coast of Sumatra on Dec. 26, 2004, triggering a powerful tsunami that killed more than 225,000 people and left hundreds of thousands homeless.
SEG members wanted to help, but did not know how to contribute their expertise. "I could encourage members to donate money and time, but how does that distinguish a contribution from SEG from what people would normally do?" Beasley says.
From that quandary came Geoscientists Without Borders, an SEG effort to fund projects that use geophysics to solve humanitarian problems and at the same time train geoscience students. Many humanitarian problems benefit from the geophysicist's toolbox, says Beasley, chief geoscientist at WesternGeco, a geophysical services company in Houston, Texas. By mapping the terrain of the subsurface, for example, geophysicists can locate the best place to construct a well or track the spread of pollutants from a leaking copper mine.
In September 2007, Schlumberger Limited, a global oilfield services company that owns WesternGeco, gave the SEG Foundation a $1 million grant to start Geoscientists Without Borders. That seed money ensures the program will fund at least two projects every year for five years, Beasley says. So far, an international committee of eight members, including Beasley, has selected four projects to finance through Geoscientists Without Borders.
In the first project, Stephen Moysey, a hydrogeophysicist at Clemson University in South Carolina, and graduate student Dan Matz will work with the Foundation for Ecological Security, a non-governmental organization based in India, to help villagers in rural northern India better manage their water resources. The area is located in the Deccan Traps, volcanic flood basalts that have a complicated geology, Moysey says. Beginning in April, the team will spend six months imaging and mapping the watershed to determine where residents should build wells and catchment dams, and estimating how much water is replenishing the groundwater aquifers that provide villages with water during the dry season. The team will also map the movement of water in soil to help farmers more efficiently — and precisely — irrigate their crops.
The ultimate goal is to develop a protocol that will help assess water resources in other areas too. Finding money for such a project isn't always easy, Moysey says. "Geoscientists Without Borders is a pretty unique opportunity in academia," he says. "There are not a lot of funding opportunities to get involved in humanitarian work and at the same time achieve academic and research goals."
The other first-round project focuses more on the program's second goal: training students. "SEG recognizes that the future of geophysics lies in the next generation of scientists," says geophysicist Lee Liberty of Boise State University in Idaho. "If you train the next generation of scientists, then we're all better off."
Liberty, along with two other faculty members and three graduate students, has partnered with Thailand's Chiang Mai University to hold a geophysics field camp next January in northern Thailand. Boise State undergraduates will join students from all over Southeast Asia to learn how to characterize a groundwater aquifer, assess active faults and predict ground shaking during an earthquake, and use geophysical methods such as ground-penetrating radar to search for buried structures and artifacts at an archaeological site. At the end of camp, students will prepare public reports that outline their findings. Liberty says one goal is to prepare Chiang Mai faculty to operate the field camp independently so it can become a permanent fixture of the university's geosciences program.
In March, SEG announced winners for the second round of funding: one project will install a water system in a Honduran village and another will develop tsunami evacuation shelters in Indonesia. Beasley hopes these first four projects will attract more funding to Geoscientists Without Borders. Since Schlumberger's donation, the program has received $250,000 from Santos Ltd., an Australian oil and gas company, for projects in Australia and Asia.
Although American universities are leading these first projects, Geoscientists Without Borders is not limited to American geoscientists, Beasley says. "We'd like to see it spread to the rest of the world," he says. "We'd like to see proposals come from everywhere."