Geoscience inspires glass artist Adam Frus
by Maureen Moses Thursday, February 20, 2014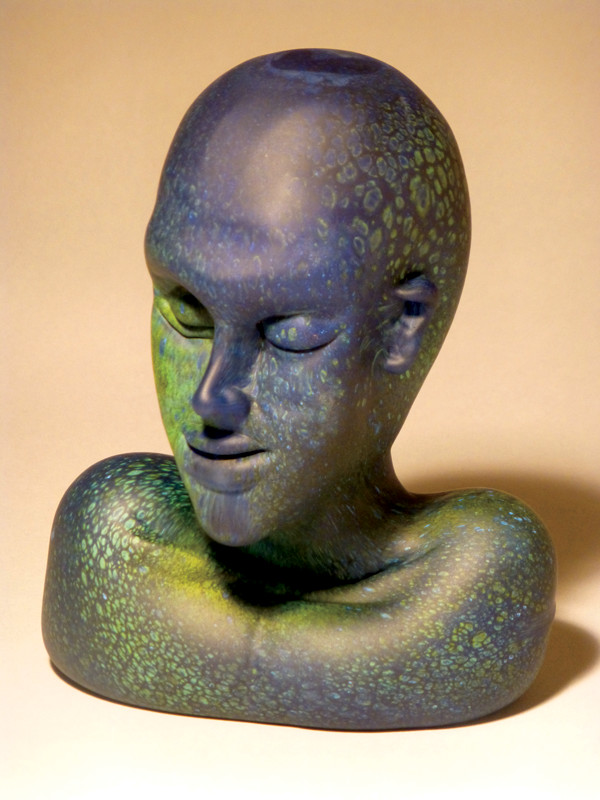 Artwork was a staple in Adam Frus' boyhood home in Jacksonville, Fla. "Growing up, my parents took me to a lot of art shows, which taught me the value of creating something beautiful," he says. But his true love for art took off when, at the age of 16, he took a glass-blowing class with his father and brother. Frus has now been working in blown glass for the better part of two decades, and in 2007, he started his own company, Frus Glass. He wasn't always sure he wanted to be a professional artist, however, and he first pursued geology, graduating with a degree in geology from Arizona State University in 2007. Now he uses that geological background and love of the earth sciences to inform his art.
Frus says the comprehensive nature of geology appealed to him. "I could use math, chemistry and even biology through work in paleontology," he says. "In geology, all of the sciences come together in a dynamic way."
But his love for glass art had not waned. So while enrolled in classes, Frus worked as a glass artist in several studios around Mesa, Ariz. Then, in his sophomore year, he ran across an advertisement in the student newspaper that drew him to a local studio run by the city of Mesa's Arts and Culture Department. There, he worked under the oversight of Laurie Nessel, a glass artist inspired by another science — biology. By his senior year, Frus became an artist-in-residence for the Mesa Arts Center while completing his college education.
"He was always experimenting and coming up with new things. It seemed every time he came back from the metal studio he had a new mold," Nessel says, who adds that Frus seemed to have "a dual love" of both glass and geology. It was obvious that "he was inspired by the colors, patterns and textures seen in minerals and rocks; at one point he even incorporated crushed mica into the glass," she says.
Indeed, Frus says, "it is the similarity between molten glass and lava that led me to study geology" in school. "By the time I graduated, geoscience had become one of my leading inspirations for creating art. It was a very natural transition," he says.
Upon graduation, he immediately went into business as an artist; he started Frus Glass (www.frusglass.com) and works out of a little studio in the artistic mecca of Santa Fe, N.M. He regularly exhibits at geoscience and mineral shows, showcasing not only his art, but also minerals he has collected over the years.
He works on his own pieces, which he sells through his website and exhibit hall booths at professional conferences, and also does commissioned work as well (see sidebar below). His work is varied, but all of it draws inspiration from the earth sciences, he says.
"Currently, I am very involved in collecting minerals.  I have a special love for the silicates and other minerals that are utilized in the glass-making process," Frus says. He incorporates mineral specimens in some of his artwork, for example, by using hand-sample-sized minerals in the glass, or grinding up minerals to influence the glass color. He also works to color the blown glass to pick up the nuanced colors of a geode or the shapes of fossils. Artwork with more human elements may be textured to look like an azurite or malachite-bearing rock. In some pieces, he tries to capture the simple beauty of holding a mineral sample in one's hand, whereas in others, he emphasizes nuanced mineral traits that might go unnoticed to an untrained eye, such as inclusions or the changing chemistry of a crystal from its core to rim that can occur during crystal growth.
Other pieces draw inspiration from the symmetry of quartz crystals, such as a series of single- and double-terminated blown-glass "crystals." He recreates the vibrant gradations in color seen in natural specimens due to chemical impurities, but with a flair that reminds his audience that they're viewing a work of art inspired by nature. He is a stickler for accuracy, though, and prefers to create his artistic mineral pieces with colors found in nature. It hasn't limited him, though: As any good geoscientist knows, nature has plenty to offer, especially once you consider all of the impurities, he says. 
"Today, I make works that reference geoscience processes such as volcanism, mineralization, coloration, or that are simply about musing on the rock sample in your hand," Frus says. The bottom line, he says, is that he wants "to educate people or, at least encourage scientific conversation" in all that he does.