Geoscience on Film: The view from outside Kathmandu
by Doug Prose Tuesday, June 28, 2016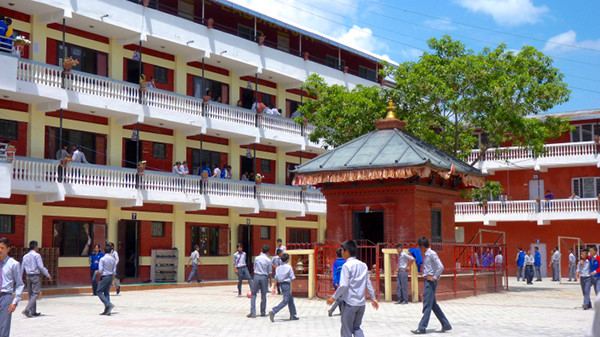 Doug Prose, formerly a geologist with the U.S. Geological Survey, and his wife, Diane LaMacchia, have produced documentaries showcasing Earth and the geosciences through their nonprofit Earth Images Foundation since 1992. Recent films have included "Earth: The Inside Story" and "Italy's Mystery Mountains," both released in 2014 and aired on PBS. In spring 2015, Prose blogged for EARTH while filming on location in eastern and northern India for a documentary delving into the complex interplay of tectonics, natural hazards and humanity in the Himalayan region. Just weeks after departing, the massive Gorkha earthquake struck, severely damaging parts of Nepal, northern India and Tibet, and prompting LaMacchia and Prose to return to the region this June to investigate recovery efforts in the quake's aftermath. Prose wrote about their recent experiences while there, and filed the following series of posts upon returning home. Read posts in this series, as well as from the 2015 trip, here.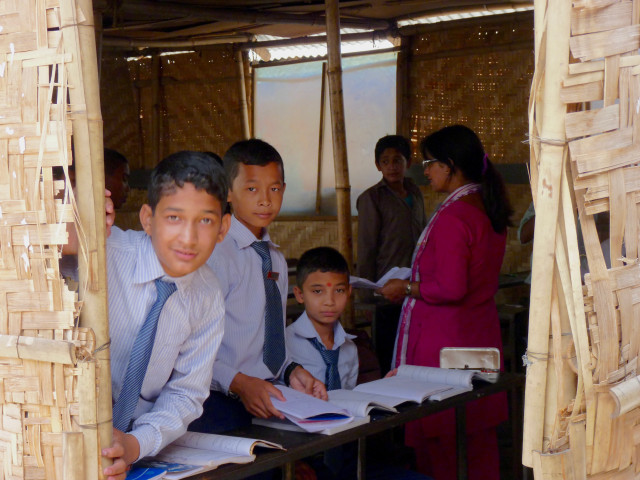 June 8, 2016
Another evening of pouring rain, which continued into the morning but thankfully stopped as we finished breakfast. Today was a school day for us: Ram Uprety took us to an elementary school that was completely destroyed by the quake. Thank goodness the quake happened on a Saturday and school was not in session, but now the students and teachers have to hold classes in temporary bamboo structures. After that we visited a different school, one of roughly 300 in the country that had been retrofitted to withstand strong ground motion before the April 2015 quake. Ninety percent of these were in the zone of intense shaking — all of them survived. With 6,000 nonretrofitted schools no longer standing, one can only hope that replacement buildings are built to withstand future quakes in Nepal. This will be a tremendous challenge, however, costing upwards of half a billion dollars according to the National Society of Earthquake Technology in Kathmandu.
June 9
After spending our first few days in Kathmandu, we wanted to get out of the city to film the wider aftermath of the Gorkha earthquake. This was our day to head east, stopping first at the ancient city of Bhaktapur 13 kilometers from the capital to film the badly damaged Bhaktapur Durbar Square (not to be confused with Kathmandu Durbar Square, or Patan Durbar Square; all are UNESCO World Heritage sites), which dates back to the early 1400s. A tourist filmed the earthquake live as it shattered temples, such as the Vatsala Devi temple, and threw people to the ground at the site. That terrifying footage was repeatedly shown around the world on news reports. And it made a deep impression on me.
Here we were a year later filming the stricken site, and though reconstruction efforts are well underway, the damage is extensive and heartbreaking. Somehow, Nepal's tallest temple, the five-story pagoda-style Nayatapola Temple — a marvel of engineering and artistic beauty with upper terraces that are a popular hangout for local young people — did not topple. After filming around the square and the city, we left Kathmandu Valley and climbed 600 meters up a winding road to the cooler foothills of Nagarkot at an elevation of 1,950 meters. From there, we will set off tomorrow on a long hike through forests, villages and terraced farms.
June 10
Our guide for the hike was Ram Adhikari (the third Adhikari we met on our trip, though none are related). Ram is the owner of Marron Treks, a veteran trekking company, whose team of sherpas and porters guided us a few years ago on our week-long trek among the high peaks on our previous filming trip to Nepal. It's great to hit the trail with Ram again: His friendly, outgoing and energetic personality and deep knowledge of his country make filming in a completely foreign place, and interacting with the locals, a wonderful experience for us. We started out on the foot trail through a rhododendron forest under a partly cloudy sky, affording fine conditions for filming initially, though the tall mountains were obscured. If this were November, the sky would be clear and blue and we'd see the wall of great peaks rising in the medium distance. Still, the view isn't bad, with forested mountainsides descending to bright green rice terraces.
After just an hour, however, the southern sky turned black, the wind picked up, and thunder began to blast. Minutes later the deluge hit, forcing us under trees to pull on our flimsy ponchos and grab our umbrellas — not fast enough to avoid being soaked, but I was ecstatic as we needed more footage of monsoon-style downpours. Unfortunately, after shooting for a little while, the camera got wet, causing it to malfunction and leaving it useless for the rest of the trip. The footage we'd taken so far thankfully survived, but we were forced to switch to our backup camera. Hopefully that one stays healthy. The picture quality it provides is as good as our main camera, although it has only two audio inputs instead of eight. Luckily, we are finished filming groups of people on this trip, so camera two should work just fine for the planned shots we have left. If that camera goes down, we also have a third one, and beyond that we have iPhones, which are better than nothing in an emergency. You never can be too prepared when filming so far from a source of replacement equipment.
We had to keep moving to make it to the end of the trek before nightfall, so we put our heads down and carefully picked our way along the steep slick trail, which now channeled rainwater past our soaking shoes. Lightning flashed and thunder boomed too close for comfort. A half hour into our advance a farmhouse emerged ahead on the trail; concerned faces poked out the front door, the home's inhabitants waving at us to hurry over. "Why, thank you!" we thought, gratefully accepting their offer. We entered and were ushered to their open balcony, dripping like showerheads, chilled and dazed.
Ram did all the talking, translating our sincere thanks for their warm hospitality. I promptly set up the tripod to film more of the storm. The family gathered around to watch the camera monitor, and I sensed that they were wondering why on Earth I would want to film the obscured shapes of houses and trees through dense falling rain. I began explaining that we wanted shots of monsoon downpours for a section in our film about how the rise of the Himalayas millions of years ago built a formidable orographic barrier and helped create the monsoon in the first place. I couldn't seem to describe the story properly to Ram, however, so I eventually gave up.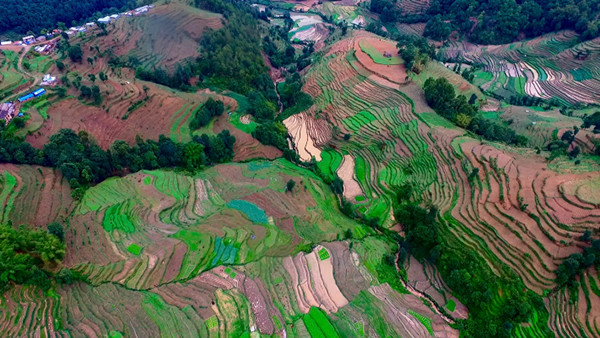 We could only stay a short while, and as we left, the rain concidentally lightened and the sky lifted a bit. What a grand scene these farmers are treated to every day of their lives. As farmers, they live with no cars or roads and with minimal electricity — a way of life so different from ours. Everyone there was beautiful and smiled easily at us and was eager to know what we were up to. Who, I wondered, leads the better life?
Big patched cracks on many of their stone-walled houses and sheds, finished in stucco, speak of the Gorkha quake. Some structures lie in heaps of rubble, and many of those still standing have plastic tarps covering missing walls. New houses are going up everywhere next to old ones, all sprouting rebar from concrete pillars. Obviously, the people desire more durable homes and have learned how to strengthen them against strong shaking.
The sun finally came out toward the end of our trek, bringing torrid humid heat and the piercing cry of insects in the trees. We made it to the town of Nala and our waiting driver, Rajesh, before nightfall. Driving back to Kathmandu was an excruciating creep in rush hour traffic for several hours, sapping what energy we still had after the long, eventful hike. Nonetheless, we had to summon the motivation to repack our bags and get ready for an early flight the next morning that would take us to another world altogether: the Kingdom of Bhutan.