Doug Prose, formerly a geologist with the U.S. Geological Survey, and his wife, Diane LaMacchia, have produced documentaries showcasing Earth and the geosciences through their nonprofit Earth Images Foundation since 1992. Recent films have included "Earth: The Inside Story" and "Italy's Mystery Mountains," both released in 2014 and aired on PBS. Currently at work on their next project, Prose is blogging for EARTH about the filmmaking process, as well as the work of the scientists they're covering, while on location in India. Read other posts in this series here.
March 27, 2015
KOLKATA, India — On Wednesday morning, March 25, Diane and I filmed the intrepid group of geoscientists we're following for our next film — Humayun Akhter, Paul Betka, "Nano" Seeber and Mike Steckler — as they laid out the day's field plans over breakfast in our hotel in Aizawl, the capital of Mizoram in northeast India. They were joined by local geologist Victor Ralte of Mizoram University and geologist Vineet Gahalaut of India's National Geophysical Research Institute in Hyderabad; Vineet flew in the previous evening just to spend the morning in the field with the group.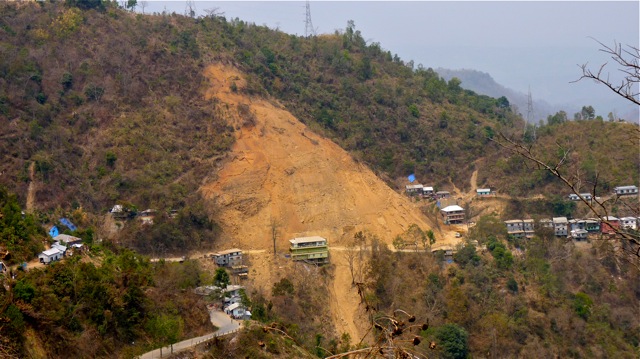 After breakfast, we piled into two vehicles and headed north, aiming for the town of Kolasib about 60 kilometers away (or about 100 kilometers over the rough roads we were to follow). Our plan was to get some good footage of the area's mountains, and to view impressive structures left in the rock by tectonic forces that folded and faulted the lithified delta-deposited sediments. Heavy traffic and windy roads made it slow-going getting out of Aizawl, but it also afforded us chances to film the local people and architecture, and to learn a bit about life here from our driver, a local himself.
Mizoram is the Indian state with the highest percentage of its population, about 94 percent, belonging to indigenous tribal groups. Most people here refer to themselves as "Mizos" — a collective term encompassing the majority, though not all, of these tribes — and speak one of a number of local dialects in addition to English. Hindi, the national language of India, is less commonly spoken. Many of Mizoram's inhabitants dress in modern western styles; the vast majority are Christian; and women appear to run a large percentage of shops in Aizawl. This was one of the last regions of the country to be brought cooperatively under Indian governance; after decades of nationalistic resistance, Mizoram was carved out of Assam as a separate state. Westerners could not visit here until a few years ago, but we feel very welcomed in this fast-paced, fascinating place.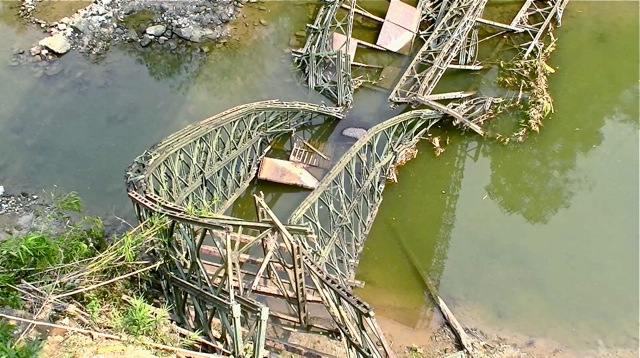 After finally breaking out of the tightly packed city, we pulled off the road at a vantage point offering a great view of the remnants of a gigantic recent landslide that took out several houses and closed the main road to the airport. So massive is the slide that it will probably be another year before the road is passable again.
With an open view toward our destination to the north, we also got a look at the visibility conditions, which were unfortunately not at all good. We're several months into the dry season, and slash-and-burn agriculture is widely practiced here, which leaves the sky a thick smear of haze and obscures the rugged slopes — a challenge for filming sweeping mountain landscapes.
Leaving the slide, we soon crossed a temporary bridge over a small river. Hopping out of the vehicles again, we saw another result — other than landslides — of the powerful monsoons that slam into this steep terrain. In a crumpled heap of steel below us lay the eerie remains of the original bridge, which was ripped from its moorings during a recent monsoon season. After examining the bridge site, we swung by the airport to drop off Vineet Gahalaut for his flight home, and then settled into a pattern of pulling over at each roadcut we passed to inspect the outcrops and film the scientists going about their work.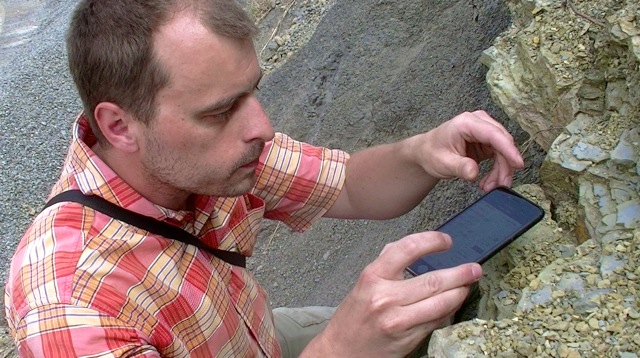 Paul Betka made measurements at each stop with a slick mobile app on his phone called GeoID, which gave him information on strike, dip, latitude and longitude at each site. It also let him take notes and photos, and automatically compiled a trip log as we traversed the landscape. When I did geologic fieldwork, these same tasks would've required a compass, notebook, camera and a lot more time. This new method is amazing, even if it looked like Paul kept holding his phone up to a rock expecting it would speak to someone on the other end of the line!
The scientists' zeal for their work, piecing together the long backstory of the regions' rocks, would surely translate well to film. And with the murk in the air making decent wide shots of the mountains difficult, we concentrated on close-ups of the scientists, the landscape and daily life in the villages through which we passed. In a field of palm trees, we filmed Nano Seeber expressing deep concern over the earthquake hazards in the vicinity. He is a people person and clearly enjoys making new friends among the locals. Born in Italy where big quakes are frequent and preparation for them is part of life, he said he hopes his work here will make an impact before a big one strikes Mizoram.
Another interview was with Humayun Akhter in a rock quarry. He became very animated as he talked about the rocks he had just observed — rocks that told him that the mighty Brahmaputra River had once flowed through this area in the distant geologic past. As the mountains of Mizoram rose up, however, the river's course was forced farther and farther west, to the point where it now flows through Humayun's home country, Bangladesh, 400 kilometers away! Hearing his enthusiasm as he made this point, Diane and I gave each other a knowing, "awesome take" glance; it was indeed a golden moment to capture on film!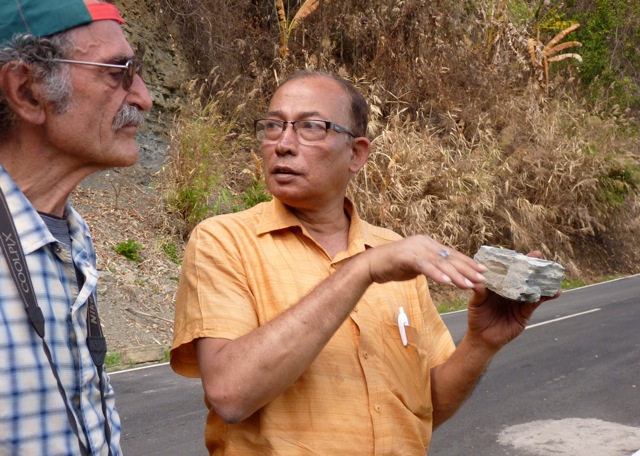 It was a few hours after dark and raining by the time we reached our accommodations in Kolasib. With the power out, we had cold showers and dinner by candle- and flashlight. But the improvised meal, prepared by the hotel staff, was fantastic after a long day's work. From an open window, the sound of chorus singers accompanied by a tribal drum beat drifted in from Wednesday church services, filling the gaps in our conversation.
At our dinner table, the scientists worked on an explanation for the observations they'd just made in the field. But with only sparse data, they were also hatching a plan to gather more observations in the future. Crucial data on the ages of some of the rock units will come soon, as Paul and Nano collected nearly 50 kilograms of samples on their traverse across this region before we met up with them. They just need to get them back to the lab at Lamont-Doherty in New York first — not an easy endeavor — so they can analyze tiny zircon crystals in the rocks.
The next day dawned as murky as the previous had been despite the night's rainstorm, so the views on our trip back to Aizawl were again obscured somewhat. Frustrating though the weather was, we're pretty sure we got enough great shots of the mountains for the film. The best shots came as the sun sank through its final hazy hour, perching for one last dramatic shot on a ridgetop across a valley from us.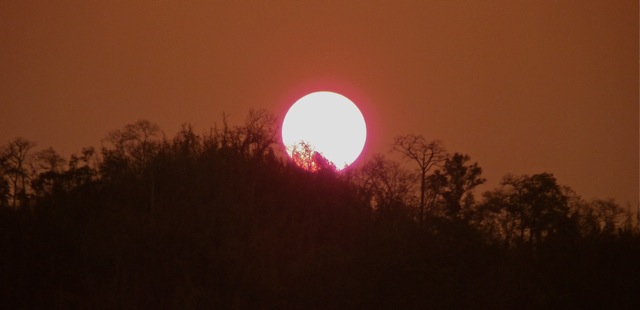 After Nano and Paul packed rocks into every corner of their luggage for the flight back to Kolkata the next day, our group tried to watch impassively as many a hotel porter, cab driver, airport baggage handler and security screener were shocked when they picked up the bags thinking they were ordinary luggage! But geologists are used to this routine, and we were soon on our way.
In Kolkata today, we said goodbye to Nano and Paul, who were leaving India. Humayun and Mike are staying with us for some filming in the city and in the Sundarban Forest Reserve over the next few days. From the mountains of Mizoram, ancient delta sediments that were thrust up above sea level long ago, we now turn our attention to present-day delta sediments still being deposited by the great rivers draining the Himalayas — and, just maybe, a tiger.