Geoscience on Film: Soaking in beautiful Bhutan
by Doug Prose Wednesday, July 6, 2016
June 11, 2016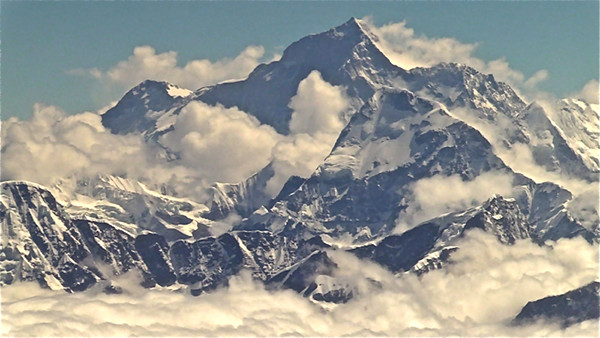 The 50-minute Druk Air flight aboard a two-prop plane from Kathmandu to Paro, Bhutan, was one of the most incredible commercial flights I've ever experienced. The route parallels the great Himalayan peaks at a low altitude of 3,000 meters and about 25 kilometers to the south. Mount Everest (8,850 meters) on the border of Nepal and Tibet, Mount Kangchenjunga (8,590 meters) in India, and finally Bhutan's second highest peak, Mount Jomolhari (7,325 meters), drifted by smoothly above the clouds. My clean, unscratched window afforded amazing shots that cannot be filmed any other way.
Another thrill was in store on the approach into Paro Airport, sandwiched daringly between towering, sharply dipping mountain slopes. Our plane skimmed by so close to the mountains that the faces of farmers flashing by at eye level in terraced fields were plainly visible. There's no room for error in the approach. And to make things more challenging, pilots are required to land under visual flight rules, without instrument aid. Luckily, the cloud ceiling had broken enough to let us swoop in and touch down in the Kingdom of Bhutan.
Arriving in Bhutan, it didn't take long to realize I was in a place seriously different from any other I've encountered in my travels across all seven continents. The workers at the airport, including those on the tarmac, wore colorful traditional dress and were very polite — the norm across the country. At an elevation of 2,200 meters, Paro Valley is refreshingly cool and the air is devoid of pollution. The mountain slopes rising several thousand meters above the valleys are draped in unbroken forests. The valley floors where people live are adorned with beautiful hand-tended terraces of rice and other crops, dotted here and there with large two- and three-story homes built in the pleasing traditional Bhutanese manner required by strict building codes. The government has set a goal that the country's agricultural output, Bhutan's top source of personal income, is 100 percent organic by 2020, a goal observers say is attainable. Bhutan has very little industry, though its main export is hydroelectric power — courtesy of mighty Himalayan rivers like the Mo Chhu, which we will be visiting — much of which is sold to its resource-hungry neighbor, India.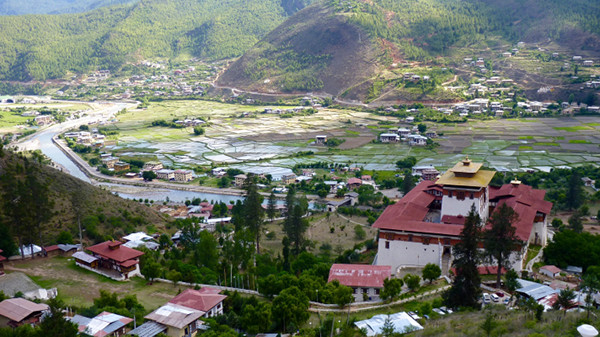 Bhutan currently lacks a permanent seismic network, so we have no instrumented sites on our shooting itinerary. We will tell Bhutan's tectonic story in our film by shooting scenes of the kingdom's landscape and cultural activities, and pairing these shots with animations, scripted narration and interviews with scientists who are experts on the overall tectonics and hazards of the Himalayas.
There are few roads and is no traffic to speak of, even in the capital Thimpu. The country's population of only 700,000 (less than the population of San Francisco) lives in an area slightly larger than Maryland. Bhutan is not a wealthy country in terms of standard economic indicators, but its culture is not oriented toward economic wealth. Instead, the official Bhutanese measure of success is Gross National Happiness, a concept introduced in 1972 by then-King Jigme Singye Wangchuck that most Bhutanese subscribe to, according to those with whom we talked.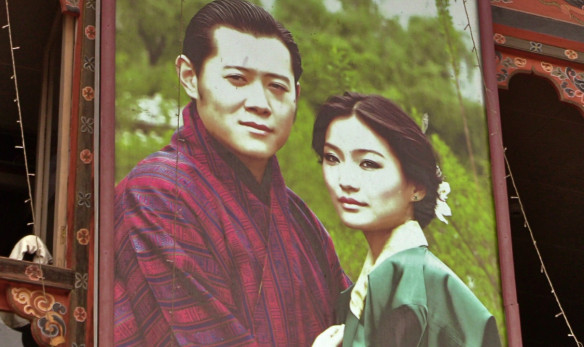 All visitors to Bhutan, except for Indian nationals and a few others, must be chaperoned by a government-approved guide. This set up is not at all our normal mode of travel; we usually make our own arrangements and leave plenty of flexibility for scoping out great shooting opportunities, but our guide Sonam and driver Deepak were friendly and willing to accomodate the numerous spontaneous changes we made in our itinerary.
We landed about noon, and after checking in at the hotel and eating lunch in the small town of Paro we headed up a winding road out of the valley to an ancient watchtower, Ta Dzong (now the National Museum), and to great vantages for filming the mountains. From here we also caught site of a massive thunderstorm noisily marching down a northern valley straight toward us. Figuring we had about an hour before it overtook us, we went into fast-forward: After filming landscapes and storm shots where we were, we zipped down, back into the valley, to the huge 17th-century fortress Rinpung Dzong by the Paro River. We rushed inside to the courtyards, stopping a few times to film exceptional visuals, then headed back out through the massive carved wooden doors and down to a traditional cantilever bridge spanning the river. (This bridge was featured in the 1993 film "Little Buddha," directed by Bernardo Bertolucci.) The sky finally opened up. Thankfully, the bridge is covered and our driver was waiting for us at the other end, so we escaped dry. It poured buckets until the following morning.
June 12
Our fear of rain had led us to schedule the most important objective of our visit for this first full day in the country: the Taktsang Monastery, or "Tiger's Nest," built in 1692. I've wanted to see this iconic symbol of Bhutan for years, and as the morning broke dry and partly sunny we were very excited to set out along the steep trail through pristine wilderness to the country's most important Buddhist temple, which attracts pilgrims from all over. I was also hoping to get great shots of the mountains here, which rise to at least 4,000 meters and whose grey-brown cliffs resemble Yosemite's famed granitic walls. (A later check of the geologic map of Bhutan revealed that these rocks are metasedimentary quartzite, schist and gneiss of Neoproterozoic to Cambrian age.) I would be thoroughly satisfied in my quest. The cliffs rival Yosemite's rocks in beauty in my estimation, and there is a long tumbling waterfall to view and film as well. Yet, everyone else climbing the trail seemed singularly intent on spying a wholly different site: the monastery itself, perched on a cliffside 900 meters above the valley floor.
It took hours to climb the 4.2-kilometer trail to the monastery. A guided pony can be rented for a ride to the halfway point, but almost everyone hoofs it on their own, including some elderly pilgrims who had to be hoisted up by the arms the entire way by family members. We reached the world-famous viewpoint under a glorious blue sky with billowing white clouds dancing across the valley behind the monastery, affording great time-lapse sequences. How fortunate we were to have such an active sky, a cinematographer's dream.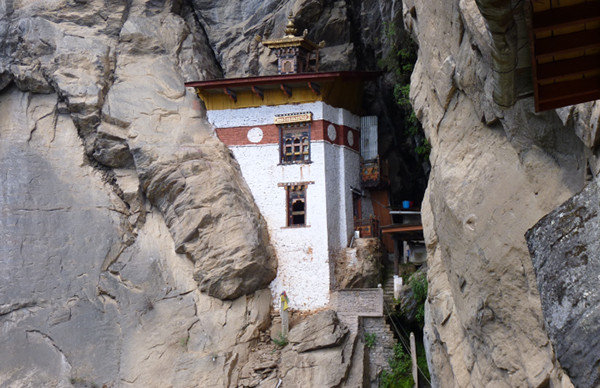 We went inside the monastery to view the altars, statues, offerings and astounding artwork, although we weren't permitted to film inside. After a long while we reluctantly retrieved our hiking boots left at the entrance gate as required and started back down the trail. I barely remember the trek down, especially since clouds rolled in and washed out the view. I was also preoccupied with thoughts of the beautiful scene we'd just shot, and badly wanted to get our priceless footage to the hotel safely to back it up on our drives. As we reached the valley floor, rain began to fall once again. My goodness, our luck in Bhutan has been phenomenal so far. We climbed into our vehicle and headed straightaway for Bhutan's capital city, Thimphu, intent on completing the wet two-hour drive before nightfall.