Geoscience on Film: Revisiting an earthquake-ravaged region, one year on
by Doug Prose Friday, June 24, 2016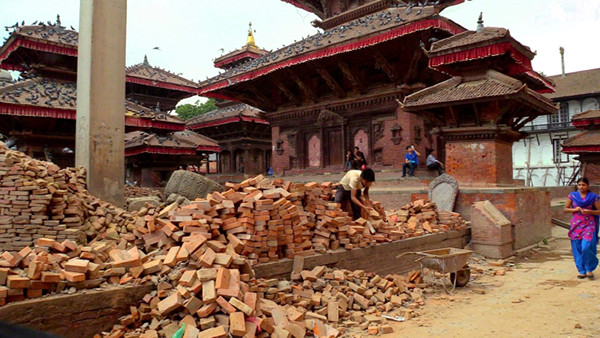 Doug Prose, formerly a geologist with the U.S. Geological Survey, and his wife, Diane LaMacchia, have produced documentaries showcasing Earth and the geosciences through their nonprofit Earth Images Foundation since 1992. Recent films have included "Earth: The Inside Story" and "Italy's Mystery Mountains," both released in 2014 and aired on PBS. In spring 2015, Prose blogged for EARTH while filming on location in eastern and northern India for a documentary delving into the complex interplay of tectonics, natural hazards and humanity in the Himalayan region. Just weeks after their departure, the massive Gorkha earthquake struck, severely damaging parts of Nepal, northern India and Tibet, and prompting LaMacchia and Prose to return to the region this June to investigate recovery efforts in the quake's aftermath. Prose wrote about their recent experiences while there, and filed the following series of posts upon returning home. Read posts in this series, as well as from the 2015 trip, here.
Diane and I are back in the Himalayas to film additional scenes for our upcoming documentary about the tectonics and geohazards that figure so largely in the lives of the people here. We started working on this film in 2012, and this is our fourth trip to the region: We first traveled to Nepal, then Bangladesh in 2013, followed by a trip to India in 2015. We thought we'd gotten all the footage we would need, but when the magnitude-7.8 Gorkha quake hit Nepal on April 25, 2015, the arc of story we were telling had to be changed considerably. It's now a little over a year after that quake, and we flew into Nepal's capital, Kathmandu, on the cusp of the Indian monsoon that normally begins in mid-June. It's a risky time to visit, as torrents of rain would make filming very difficult if not impossible, but a fuel shortage in Nepal prevented our previous attempt to visit last December and our schedule dictated that this is our last chance to make this trip this year. So, here we are, hoping that we have enough dry weather to accomplish what we've set out to do in the two weeks allotted.
Our goal is to film scenes of the aftermath of the Gorkha earthquake one year after it devastated the region and of the ways that reconstruction efforts are being done with earthquake safety measures in mind. We also aim to film buildings — especially schools, a staggering 6,000 of which were destroyed across Nepal by the earthquake — to document how shaking affected different types of structures on varying substrates; and we have scheduled interviews and field-work shoots with local seismologists and geologists to hear their latest thoughts on the tectonic picture and future geohazards of the region.
After spending the first part of our trip in Nepal, we plan to film in Bhutan, the small Himalayan country bordering Nepal to the east. The Main Himalayan Thrust fault runs along Bhutan's southern border, so the country is therefore also subject to Himalayan megaquakes. Bhutan is not prominent in Himalayan geohazard discussions because it is not as well studied as the other countries; before the mid-1970s, the country was not open to foreigners. But the earthquake hazard looms large there, with moderately damaging quakes striking in 2009 (magnitude 6.1) and 2011 (magnitude 6.9) and massive megaquakes embedded in the country's historical record, including a magnitude-7-plus event in 1731 and a magnitude-8-plus event in 1100. In Bhutan, our film will take a look inside the most mysterious of the Himalayan nations and complete our coverage of the tectonics and geohazards of the entire Himalayan realm.
But first, we find ourselves in Nepal.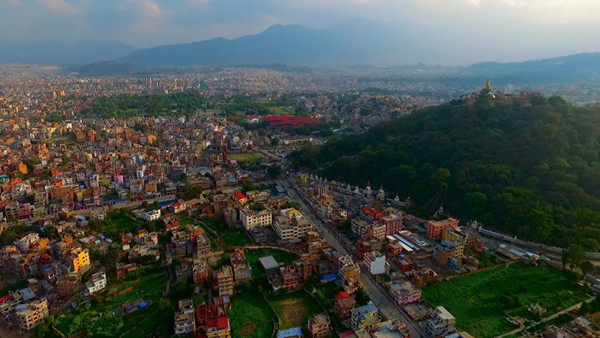 June 6, 2016
Landing in Kathmandu Valley the previous evening, we longingly glimpsed the nearby great peaks before dropping into a stir of clouds that would end up hiding the mountaintops the entire time we were on the ground. Morning broke overcast but dry and we set off on foot into bustling Kathmandu, retracing the steps we'd walked two years earlier from the Royal Singi Hotel, our base, to the fabulous old temples of the city's Durbar Square. An occasional missing building along the way spoke eerily of the destruction wrought 14 months earlier, but mostly the damage has been repaired and things looked almost as before. We thought we'd see more residual signs of the earthquake. But, overall, structural damage was lighter in Kathmandu than had been expected from a large quake due to the unusual way in which the seismic waves from the Gorkha event passed through the sediments that fill Kathmandu Valley. A good share of the high-frequency waves, which typically accompany a large megaquake and do great damage, were somehow dissipated during the quake. Scientists say this phenomenon spared Kathmandu Valley from much of the damage that was predicted for a major quake, although it is uncertain exactly how this occurred.
Kathmandu Durbar Square, the site of stunning royal palaces and temples dating back centuries and a crowded religious site and tourist draw in the city, was another story. It was disheartening to see that the ancient structures were not spared by the quake; many were badly damaged or even obliterated. Bricks and chunks of buildings were still strewn about as if the quake happened yesterday, two-by-fours propped up cracked and leaning palace walls, and tarps covered gaping holes in temples. Workers picked through the bricks by hand, loaded them in wheelbarrows, and wheeled them to other workers who sorted them into piles. This painstaking work will surely take years to complete. Meanwhile, the faithful gathered in front of the remaining statues of Hindu gods and goddesses to make offerings as others streamed by the rubble in the usual preoccupied manner, apparently used to this depressing scene. The sky darkened and rain began to fall, punctuating the gloom and sending us back toward the hotel after filming.
In the afternoon, we drove around the city, filming places that were damaged, such as the fifth-century hilltop Swayambhunath stupa and temple complex, as well as places that were not. We marveled at the many multi-storied, top-heavy concrete and brick buildings that are characterized as seismically "weak" but that nonetheless withstood the impact of the Gorkha quake. While dissipation of high-frequency waves helped prevent the toppling of many buildings, scientists also point out that the recent enactment of strong building codes in Kathmandu, put in place after years of urging by seismologists and earthquake engineers, also contributed to the lower-than-predicted rate of building failure in this sprawling city. We finished filming for the day and made it back to the hotel just as rain fell in dense sheets, pounding down for hours through the muggy Kathmandu night.
June 7
There are puddles everywhere, but like yesterday, no rain in the morning … phew. Our guide today is Ram Uprety, the cousin of Tribhuvan University geologist Bishal Upreti, whom we filmed on our previous film trip to Nepal and who is currently on sabbatical in Africa. We drove to the historic clock tower at Tribhuvan University and picked up geologist Danda Adhikari along with two undergraduate geology students, Samir Dhungel and Mukunda Dhungana, before heading to a GPS station at the National Academy of Science and Technology (NAST) in the city to film the group doing a field check of the station. They were joined by NAST civil engineer Subash Paudel.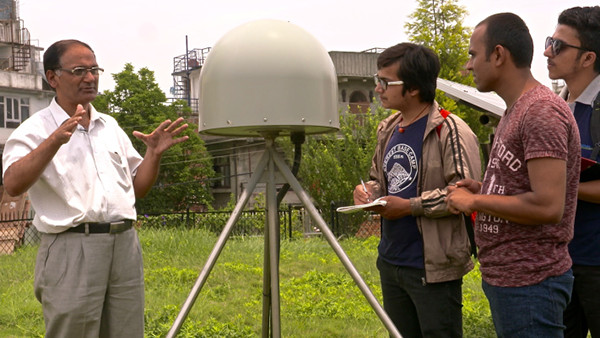 In an interview with Dr. Adhikari, he remarked that GPS and seismic data from Nepal's networks indicated that the Gorkha quake didn't fully release all of the energy that was calculated to be stored on this segment of the Main Himalaya Thrust fault; in fact, enough stress was still pent up to cause a major magnitude-7.3 aftershock on this segment on May 12, 2015, but there's still more. In a recent study that Adhikari co-authored in Nature Geoscience, however, he and his colleagues offered an intriguing new hypothesis based on historical records: that it should take a large quake on an adjacent fault segment to trigger this energy, meaning it's not likely to rupture on its own, at least for the time being.
After filming at this site we headed to the National Seismological Centre, part of Nepal's Department of Mines and Geology. There we interviewed the director, Lok Adhikari, and filmed scenes inside the nerve center of Nepal's seismic and GPS network for the eastern half of the country. This network was the first ever to record detailed crustal deformation data for a large Himalayan earthquake as it occurred, yielding valuable insights into the seismic behavior of this section of the mountain range.
Director Adhikari noted that the network has recorded hundreds of aftershocks greater than magnitude 4 in the year since the initial shock. All that trembling beneath their feet must keep Kathmandu residents on edge and unable to ignore the reality that their home, like mine in Oakland, Calif., sits on dangerously shaky ground.
---
*Update (6/28/16, 3:15 pm EDT) The number of schools in Nepal destroyed during the April 2015 earthquake was changed to 6,000 for accuracy. The post previously reported the number as 8,000.