Geoscience on Film: Innovation meets tradition for earthquake safety
by Doug Prose Thursday, July 7, 2016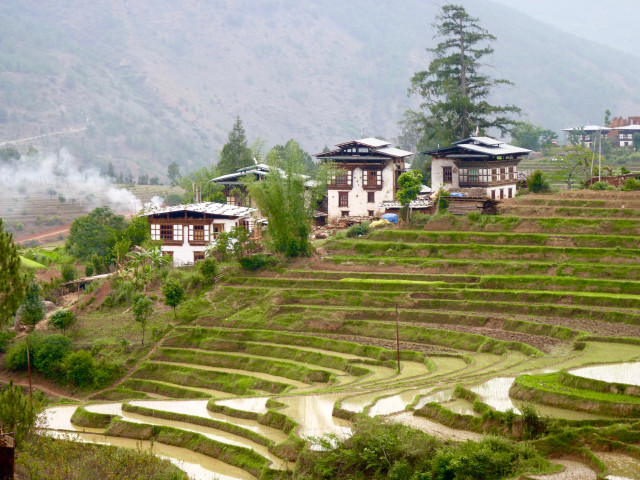 Doug Prose, formerly a geologist with the U.S. Geological Survey, and his wife, Diane LaMacchia, have produced documentaries showcasing Earth and the geosciences through their nonprofit Earth Images Foundation since 1992. Recent films have included "Earth: The Inside Story" and "Italy's Mystery Mountains," both released in 2014 and aired on PBS. In spring 2015, Prose blogged for EARTH while filming on location in eastern and northern India for a documentary delving into the complex interplay of tectonics, natural hazards and humanity in the Himalayan region. Just weeks after departing, the massive Gorkha earthquake struck, severely damaging parts of Nepal, northern India and Tibet, and prompting LaMacchia and Prose to return to the region this June to investigate recovery efforts in the quake's aftermath. Prose wrote about their recent experiences while there, and filed the following series of posts upon returning home. Read posts in this series, as well as from the 2015 trip, here.
June 13, 2016
Thimphu, a city of less than 100,000 residents, sits in the valley of the Raidak River, where it's easily viewed in its entirety from our hotel located across the river at a slightly higher elevation. Buildings are mostly four to six stories high, and virtually all are built in the traditional style, with intricately-painted and carved wooden trim on the windows and doors, and topped by gently-sloped overhanging roofs. Traffic is so light that there isn't a single traffic light in the city (nor in the rest of the country); our guide told us that the authorities proposed installing one a few years back, but there was such an outcry that the plan was scuttled. Instead, a traffic policeman stands on a pedestal at the city's central roundabout directing traffic with mesmerizing, almost ballet-like hand and arm gestures. Everywhere else, drivers are on their own.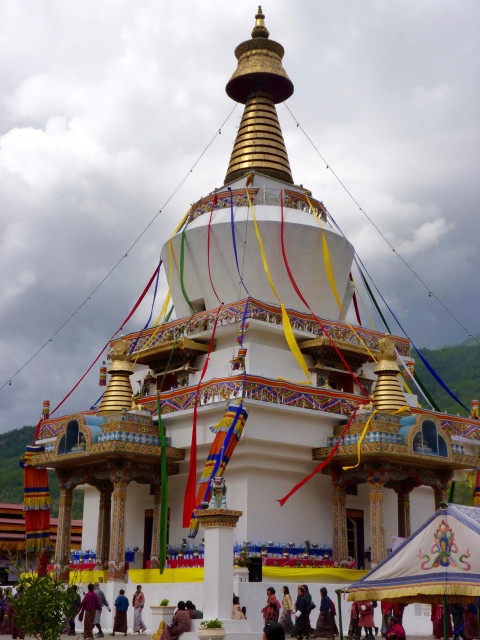 I was awoken at dawn by shouting and chanting outside, across the river. It turned out that an archery tournament was in progress. Archery is the country's national sport, so we headed over and filmed the expert archers firing arrows with powerful compound bows 150 meters across a field at a target the size of a skinny tombstone.
Next we went into the city center, bustling with people walking in and out of buildings that mostly appeared sturdily-built, not apt to collapse in a large quake. Of the numerous new buildings going up around the city, all of the ones I saw were supported by concrete pillars with a lot of rebar built into them. Bhutan enacted building codes in 1998 that require earthquake-resistant designs, but studies have estimated that more than half of Thimphu's buildings are aging and vulnerable to shaking from a strong earthquake.
Medium-sized quakes caused damage in Thimphu and around Bhutan in 2009 and 2011, but the most recent large temblor to hit Bhutan, a magnitude-8-plus megaquake, was in 1897. That event was actually centered beyond the country's southern border in Assam, India. And it has been about 300 years since a megaquake ruptured a fault within Bhutan itself, so the terrifying experience of a large quake is not present in people's minds here. Yet, data from a recent temporary seismic network deployment in the country revealed that the southern part of Bhutan, where the Main Himalayan Thrust lurks, is indeed undergoing active brittle deformation, and many scientists warn that the seismic gap traversing the country could be breached at any time.
Such warnings, as well as extensive damage to the nation's schools caused by moderate quakes in the 1990s, prompted a novel approach to earthquake safety in Bhutan. In a collaboration between the American non-governmental organization Geohazards International and the Bhutanese government, a pair of Israeli engineers designed a super-strong, inexpensive "Earthquake Desk" to be built locally by furniture makers in Bhutan starting this year. The desk was successfully tested just a few months ago. (To see an amazing demonstration of this desk, check out this video produced by Geohazards International.) Bhutan plans to deploy these desks en masse across the country and, in the meantime, to work on retrofitting its school buildings, which will take many years.
June 14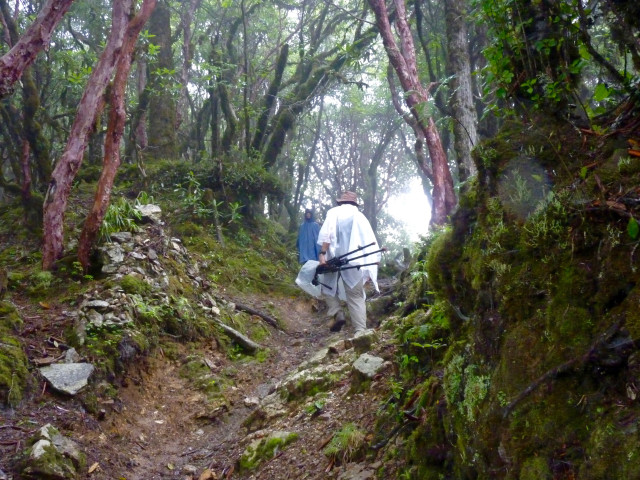 Today we drove to the 3,100-meter-high Dochula Pass northwest of Thimphu to hike a gorgeous trail through an old growth forest of hemlock, birch and rhododendron up to Lungchutse Monastery. The monastery, built in the 18th century, is perched high on a ridgetop for an unfettered view of the highest peaks in Bhutan. Our expectation for seeing the peaks at this time of year was very low, however, and when we left the hotel in the morning we were greeted by rain and fog, which only thickened as we reached the pass. Oh well, maybe it would clear by the time we ascended 550 meters and two hours up to the ridge?
Not a chance. Rain fell the entire time, and we reached the monastery in a driving wet wind. I managed to shoot a few interesting shots of giant hemlocks strung with prayer flags, as well as the monastery itself. A handful of monks invited us in for tea and let me film them sitting cross-legged and making elaborate altar adornments from wax and butter. After this pleasant experience, we slogged back down the trail to a fine hot lunch of smoked fish, fried noodles, sauteed vegetables and my favorite, spicy green chiles in a thick yak cheese sauce, in the restaurant at Dochula Pass. Then it was a long drive down, down a winding road, which happened to be under construction and was channeling a stream of rainwater, to a hotel in the village of Punakha.
June 15
At a modest 1,200 meters elevation and about 29 degrees Celsius, Punakha Valley was much warmer than Dochula Pass or Thimphu. The plan today was to drive to and film the picturesque Punakha Dzong fortress situated at the confluence of the Pho Chhu and Mo Chhu — the "He" and "She," or "Father" and "Mother," rivers. Then we'd continue to a footbridge across the "She River" and hike through farm terraces and into the forest up to the Khamsun Yulley Namgyal Chorten — a Buddhist temple, or stupa — far up the mountainside.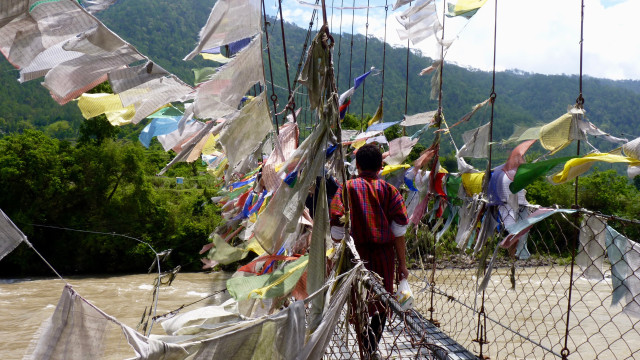 Sonam told us to expect to share the trail with a lot of people, as it was a national holiday celebrating the birthday of Guru Padmasambhava (known by everyone as Guru Rinpoche), the 8th century Buddhist master said to have established Tiger's Nest when he flew into Bhutan from Tibet on a tiger to meditate in a cave for three years, three months, three days, three weeks, and three hours. (The cliffhanging Taktsang Monastery we'd filmed a few days earlier was not built for another nine centuries.) Sonam was right: hundreds of beautifully dressed pilgrims made the strenuous hike up to the temple in oppressive heat and dazzling sunlight. The filming was superb; the mountains, the winding and powerful river, the people, the stupa, the terraced lower valley — this was classic, beautiful Bhutan.
It was sweltering when we finished the hike. A quick hop into the river near our waiting car looked terribly tempting, but we had to get going to stay on schedule; we needed to film examples of the traditional rammed-earth houses built in this region, and we still had to drive all the way back to Paro.
Most of the homes in western Bhutan are constructed using a centuries-old design: Parallel wooden forms, which will shape a home's walls, are erected about 50 centimeters apart over a foundation of stone masonry and mud mortar. Then, soil is poured in and pounded down hard with a wooden pole by workers, usually women. When a section of wall is finished, the forms are moved and the process repeated until all the walls are completed. Carved wood panels are inserted for doors and windows, the roof is added, and finally the house is wired and painted. The whole effort is undertaken by a group of neighbors who help build each other's houses when the need arises.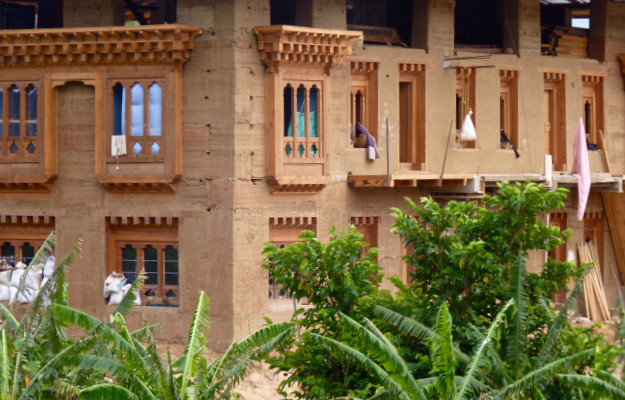 These are large, beautiful homes, often three stories high (no two-bedroom Oakland bungalows here), and our guide said that they last a hundred years or longer. However, earthquake engineers find fault with the structures if they're not built with very thick, well-packed walls. In general, the unreinforced structures possess little horizontal shear strength and perform poorly during big earthquakes, cracking easily when shaken hard, so efforts are underway by some local engineers to add strengthening measures to the traditional home design.
By noon we'd finished filming a number of rammed-earth houses, and had lunch in one that was converted into a lovely little restaurant. Hoping they were built strong enough to withstand a possibly large earthquake in the near future, we returned to our ride and Deepak stepped on it driving back to Paro. The rain started in mid-afternoon and was pelting down when we reached Paro at sunset, which we didn't see. We still needed to back up the footage onto three drives — each to go in separate pieces of luggage — and pack everything properly to meet the strict luggage restrictions for the small aircraft that would carry us across the Himalayas.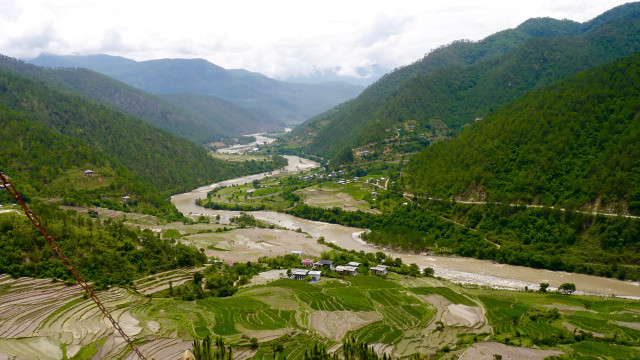 Our flight back to Kathmandu left the next morning, bringing an end to our fabulous visit to the Kingdom of Bhutan. Our time there was amazing, even dream-like, and it went by too fast. Every turn around a mountainside, over a pass, and around a roundabout in town, brought highly pleasing and unusual sights to the eye and had me raising the camera for another shot. I could not film enough of Bhutan.
---
Back home in Oakland a few days later, it has been great fun beginning to review and process the footage we just shot on our trip halfway around the planet. For some reason, footage always looks a lot better when we get back to our studio, and this trip is no exception. We can't wait to dive in and update our film with scenes of what've just experienced and learned in Nepal and Bhutan.