Geomedia: Toys: LEGO® geoscientists break through the brick ceiling
by David B. Williams Thursday, August 6, 2015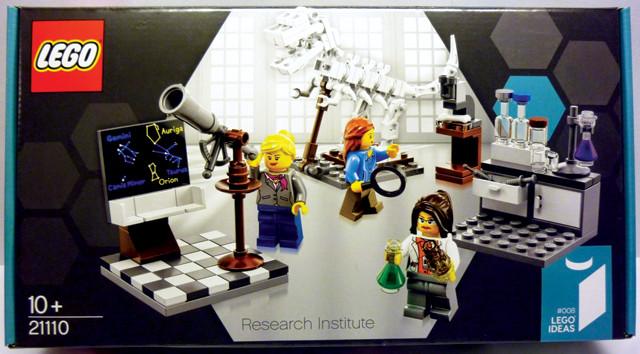 Many adults probably remember the childhood fun of LEGO® toys, the plastic bricks from which you could build forts, cars, houses, planes, cities and even whole universes. The few simple shapes and colors encouraged unlimited creativity, limited only by the number of LEGO pieces you had, which could total in the thousands.
Today's LEGO world is far more complex, with elaborate shapes and new colors that have allowed users to take their LEGO universes into new realms. Nowhere is this more apparent than in several geology-themed projects initiated by two adult LEGO brick users. One set includes a field geologist and petrographic laboratory, another features a biologist, archaeologist and geologist, and a third features a LEGO dinosaur skeleton.
The projects are part of an initiative called LEGO Ideas, where people can submit ideas for new LEGO brick sets. Suggested kits are then open to public scrutiny, and people can comment and vote on them. If a project receives 10,000 votes within a year (if it reaches 1,000 votes, the LEGO Group adds an additional six months; 5,000 votes gets a project another six months to get to 10,000), the LEGO Group reviews it and decides if they will make, market and sell it. Project designers receive a percentage of sales.
Ellen Kooijman is a Dutch geochemist and a senior researcher in isotope geology at the Swedish Museum of Natural History. She is also passionate about LEGO toys (she refers to her pre-LEGO-toy years as her "Dark Age") and, in April 2012, she submitted a kit to LEGO Ideas. It consisted of three sets of figures: an astronomer and telescope, a chemist in the lab, and a paleontologist examining a dinosaur. After taking nine months to reach 1,000 votes, the kit then went viral and reached the 10,000 level in the next five months.
Just over a year later, the LEGO Group produced a kit containing the three science sets, known as the Research Institute. It was the eighth LEGO Ideas set. The 165-piece kit sold out in days and quickly became a sought-after item at outlets such as Amazon.
What makes the Research Institute unusual is that all three scientists are women, making it the first LEGO product with a woman in a professional setting, as opposed to the more typical LEGO female at a beach or riding a horse. This simplified, stereotypical portrayal had bothered Kooijman, who wanted to reflect the world she knew.
Kooijman's successful project is even more astonishing considering the LEGO Group has now approved 12 projects. The LEGO Group will not confirm, even broadly, how many ideas have been submitted. Of those 12 approved, six have movie, TV show or video game tie-ins, and two are based on spacecraft. Kooij­man also designed one of these, based on the TV show "The Big Bang Theory," which means she has added five female scientists to the LEGO universe. Only one other LEGO Idea has a natural history theme: birds, which includes a robin, hummingbird and blue jay.
"As a geochemist, I started with designs close to my own profession … and then expanded," wrote Kooijman, also known as Alatariel Elensar, on her blog. She eventually designed 12 vignettes of scientists, three of which became the Research Institute. Three newly designed sets, including a field geologist who carries a rock hammer, compass and geologic map, make up her second LEGO Ideas submission, Science Adventures. It has also received 10,000 votes and is under consideration by the LEGO Group for commercial development.
Kooijman says she has been overwhelmed by the positive response from fellow scientists, as well as from parents from around the world who have sent in pictures of their children playing with the sets. The kit may also have influenced the LEGO Group. "If you look at the LEGO [brick] sets of 2015, there is a much larger number of nonstereotypical female mini-figures compared to previous years. I don't know if this is the result of the success of Research Institute, but it's certainly a very welcome change," Kooijman says.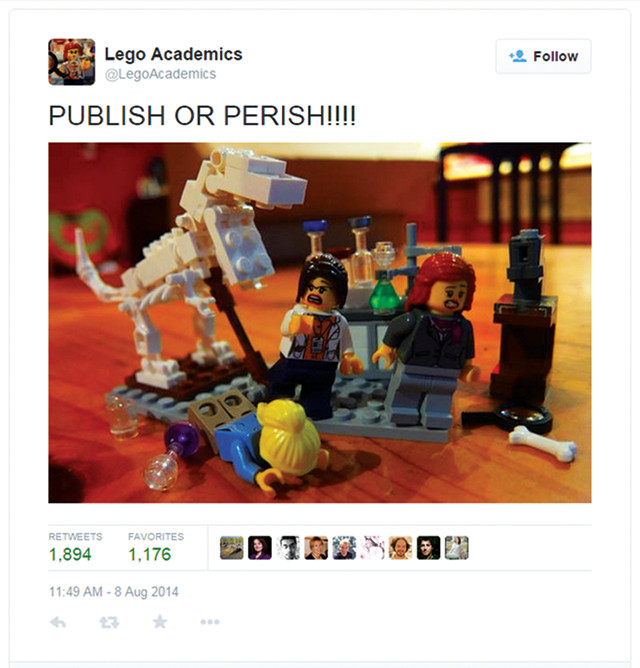 One person she influenced was Circe Verba, a research geologist who specializes in wellbore integrity at the National Energy Technology Laboratory in Albany, Ore. As someone who fell in love with geology in eighth grade, and who designed her own major, Verba wanted to show that geology is not just "rocks for jocks." It's a complex science that requires knowledge of other subjects, field study and lab time, she says. "I wanted to create a kit that has a full representation of geology."
In early 2015, she submitted a two-scenario kit to LEGO Ideas. In one set, a male and female geologist and their field dog are exploring a cave, where they have found amethyst crystals. The second scenario is a petrography laboratory, which her LEGO Ideas submission page notes includes "a scanning electron microscope complete with an electron backscatter detector to distinguish [mineral] phases and an energy dispersive X-ray spectrometer to determine elemental composition using microanalysis software."
When Verba first began to design the kit, it had more than 2,000 pieces. She knew it was too big, so she worked to reduce it by using the LEGO Digital Designer, which is a free application that can be downloaded from the LEGO Group website. One challenge Verba noted is that standard LEGO bricks do not come in purple; if the LEGO Group makes the kit, they would create the new pieces.
Like Kooijman, Verba wanted to get away from the stereotype of pink and purple for women. "While I included both genders in my set, I wanted to highlight that women can be scientists too," she said in an interview with lifehacker.com. "I strongly believe that we can impact young minds and pave the way for future scientists. We can change the world, one geek at a time."