Geomedia: Radio: "Big Picture Science" aptly named
by Sarah Derouin Monday, September 18, 2017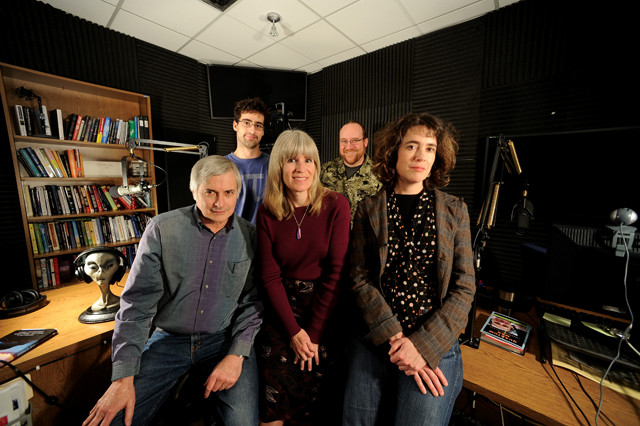 Titles can sometimes be a hard thing to live up to, but "Big Picture Science," a weekly radio program broadcast on about 100 stations nationwide, delivers on its name. The show, which cleverly covers everything from a study of frogs in pants to efforts to create a compassionate computer, lives up to its mission of presenting a wide-angle view of science and technology.
The program is hosted by Seth Shostak and Molly Bentley and recorded at the SETI (Search for Extraterrestrial Intelligence) Institute in Mountain View, Calif., where Shostak is also a senior astronomer. Puns abound in each episode, and humor is the backbone of the pair's presentations.
"Seth and I — we do have a certain chemistry in that we both have a goofy sense of humor," Bentley says. She describes her co-host Shostak as "a bona fide, Borscht-Belt comedian meets astronomy professor" and says that their ability to see the humor in all things science is what makes the program successful. "We're willing to be playful and not dry, but are faithful to the science. We're not trying to be entertainment, although we want to be entertaining."
Many episodes cover the science behind everyday topics. A recent show called "How Low Can You Go?" discussed how using extremely cold temperatures in health and longevity treatments is gaining in popularity. Bentley says ideas for episodes are everywhere. "You would be surprised what you're collecting in the world at large — reading newspapers, following what books come out, and talking to other scientists." Patterns in topics emerge in planning meetings, and these grow into themes for the show. "The truth is, we all have ideas rattling around in our heads."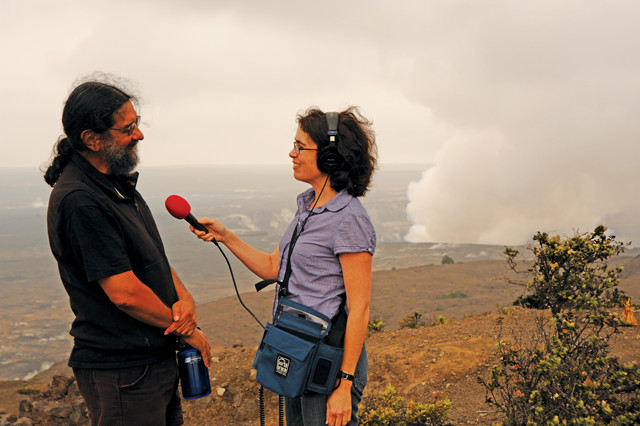 I experienced that planning firsthand at a production meeting in August. Sitting around a conference table at SETI, Bentley and Shostak were joined by Producer Gary Niederhoff — who also happens to provide a plethora of voices and accents for sketches in episodes — and intern Daniel Merino. The team dove right in, hammering out the details of upcoming shows, discussing how to link topics, and highlighting the latest news that might make a great show. I tried to sit back and observe, but the mood was contagious; soon I was suggesting puns and throwing out new topics. You can listen to the comedic and creative chaos for yourself at the link below.
Many episodes start with a broad, umbrella topic before delving into several seemingly divergent subtopics that, in the end, come together to form a cohesive picture. "Geology is Destiny" (aired Jan. 16, 2017) is a great example. Bentley and Shostak meandered through discussions about how glaciers carved out paths that became travel routes and created natural, protective moats around land masses. Then the conversation jumped to the limiting geography of an island and its role, in the case of Mauritius, in the extinction of the dodo; and finally, they wrapped up with how human influences have changed the planet enough to create a new epoch: the Anthropocene.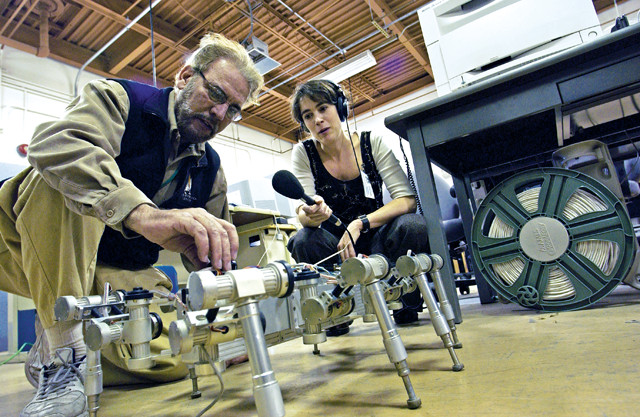 While listening, I wondered how these topics could be linked, and was delighted by the end-of-episode summary: Geology has helped humans, geology can shape evolution and possibly hinder adaptation, and geology can be altered and influenced by humans. I wasn't expecting to get a history and biology lesson with my geology, but it broadened the show in a unique way. As a geologist, I did have a cringeworthy moment hearing the pronunciation of a couple of terms, which made me long for a geologist to have been a bigger part of the conversation. Minus my possibly over-attuned ear, I enjoyed the conversational discussion of such diverse topics by Shostak and Bentley and the overall presentation tone. The show was lighthearted, humorous, and gave me a new perspective on geology.
In addition to regular shows, one episode a month is devoted to critical thinking, something they call "Skeptic Check." Bentley describes the recurring skepticism episodes as a crucial part of their programming. "To understand what science is, you have to understand what it is not." Coming from the SETI Institute, she says, carries its own burden of pseudoscience with it. "It was important to elevate the science of astrobiology and also the hunt for extraterrestrial life … listening for radio signals is not the same as taking calls from people who [claim to have] spotted little green men." A science program should be able to separate the science from the pseudoscience and create room for thinking critically, she says.
Presenting a topic under the guise of skepticism also allows the hosts more range to discuss thornier issues, such as the perks and pitfalls of gluten or asking why politicians never seem to discuss science in any detail. I particularly enjoyed the "Science and the Election" episode (aired Oct. 10, 2016), which dealt with the movement to inject science into our political system.
"Big Picture Science" is a quirky, stimulating program that can entertain and enlighten in equal measure. If you are an equal opportunity science fan, love a good pun, and are curious about the strangest scientific facts out there, I'd encourage you to tune in. More episodes can be found at http://radio.seti.org/episodes.