Geomedia: Gifts: Holiday Guide
by Meg Marquardt Monday, November 3, 2014
For the Home and Office
Chemist's Spice Rack | $49.99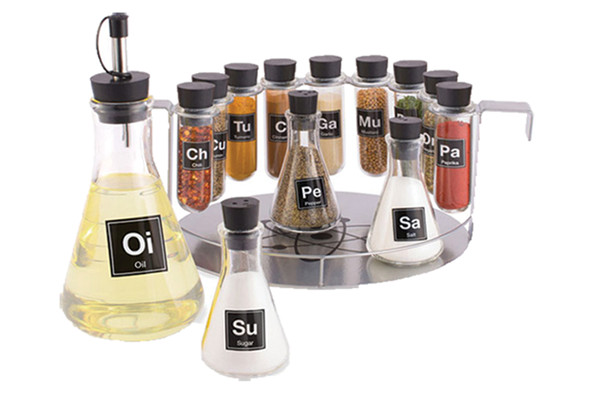 www.perpetualkid.com/chemistry-set-spice-rack.aspx
If cooking is chemistry, then your kitchen should be stocked with the right equipment to make delicious science. Nine glass test tubes are ready to hold whichever spices are the most important in your culinary arsenal. The kit also comes with a set of periodic table-style labels for the tubes. Also included are pre-labeled salt, pepper and sugar flasks along with a larger flask for oil. Spices and oil not included.
---
Molecular Gastronomy Kit | $49 to $65
www.uncommongoods.com/product/molecular-gastronomy-kit-cuisine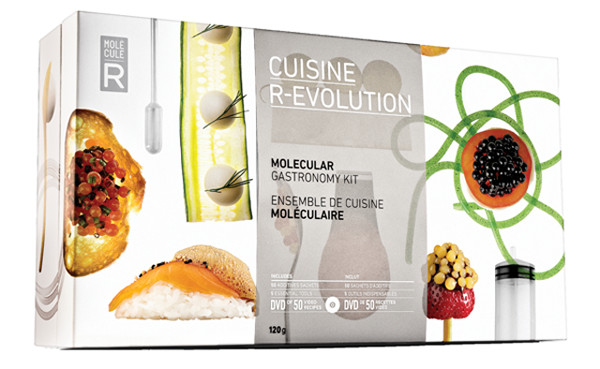 Want to be a wizard in the kitchen? Well, now you can with a molecular gastronomy kit that combines savvy science with culinary creations. This kit contains everything you need to make dishes such as an airy chocolate wind dessert and bright green arugula spaghetti. DVD with 50 different recipes is included.
---
Terra-Time Watch | $145
http://projectswatches.com/shop/terra-time/
The Terra-Time Watch is perfect for your favorite geologist or cartographer. Invoking topographic maps, the watch is sure to attract attention around the water cooler in the office or the water jug in the field. Six layers of different shades of gray give the watch a definite 3-D feel. Encased in sand-blasted stainless steel, the watch measures 40 millimeters in diameter.
---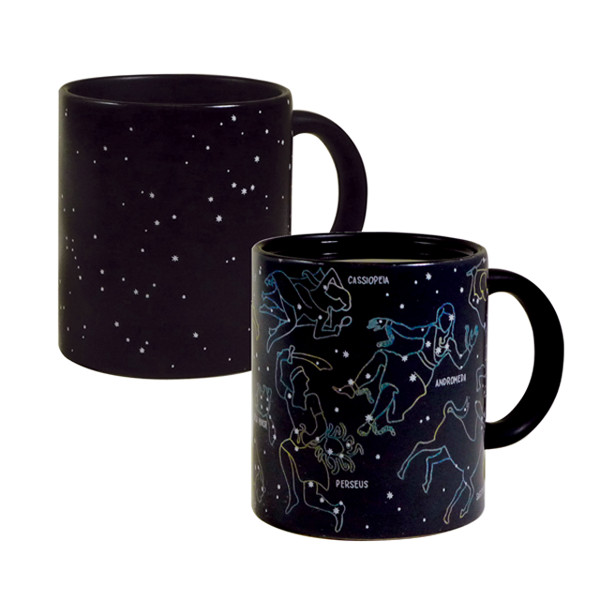 Constellation Mug | $12.95
www.philosophersguild.com/Constellation-Mug.html
When the stars go to sleep might just be when you need your first pick-me-up of the day. Face the morning with a hot cup of astronomy with this constellation mug. When hot liquid hits the cup, the mug lights up with labels and constellations like Perseus and Cassiopeia. As it cools, the lines go away, but the stars remain. Mug is microwave but not dishwasher safe. (Incidentally, this site also has a cool dinosaur mug that starts with living dinosaurs walking the planet and fades to museum pieces when you add hot liquid.)
---
EcoSphere® | $79.99 to $489.99
Impeccable for the home or office, these tiny self-sustaining ecosystems can beautify a space for years without any maintenance. With a perfect balance of seawater, bacteria, shrimp and microorganisms, the EcoSphere® can thrive in either artificial or natural light. EcoSphere® ecosystems are available in spherical and teardrop shapes in various sizes.
---
For the Kids (and Young at Heart)
Go Extinct! | $25
www.trycelery.com/shop/goextinct
Go Extinct! is a new spin on the classic game of Go Fish! By collecting animals with similar characteristics and ancestry, a player can defeat their opponents with evolutionary science. And even though the game looks simple on the surface, playing it will help kids learn about a complex scientific idea. The game comes with 54 animal cards and an evolutionary tree board.
---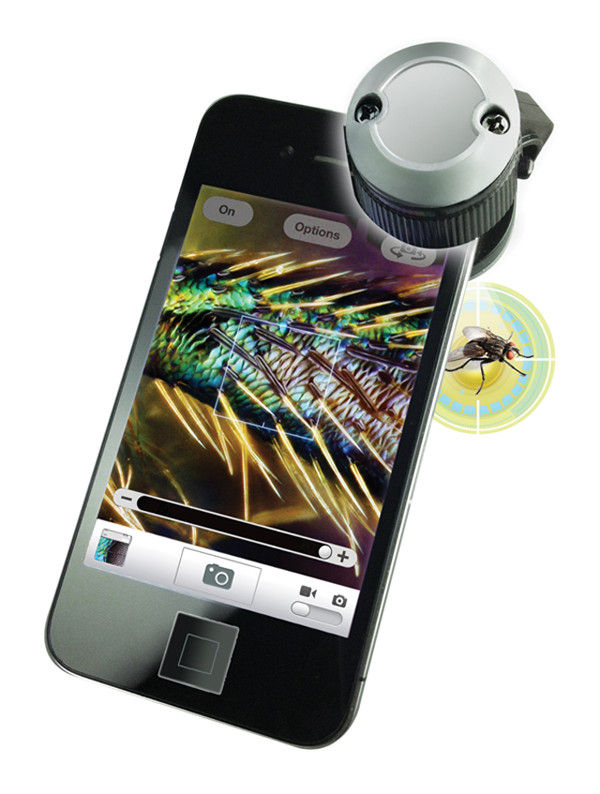 Quick-Attach Microscope | $9.98
www.toysrus.com/buy/role-play/prank-star-quick-attach-microscope-01299-21592406
For the curious explorer, this slide-on magnifier is the perfect way to explore the world around you. The magnifying lens enhances the photo lens of cameras on smartphones and tablets. Offering up to 30-times magnification, the microscope can bring out the details on bugs, plants and other small organisms and objects. Works with iPhones and most Android devices.
---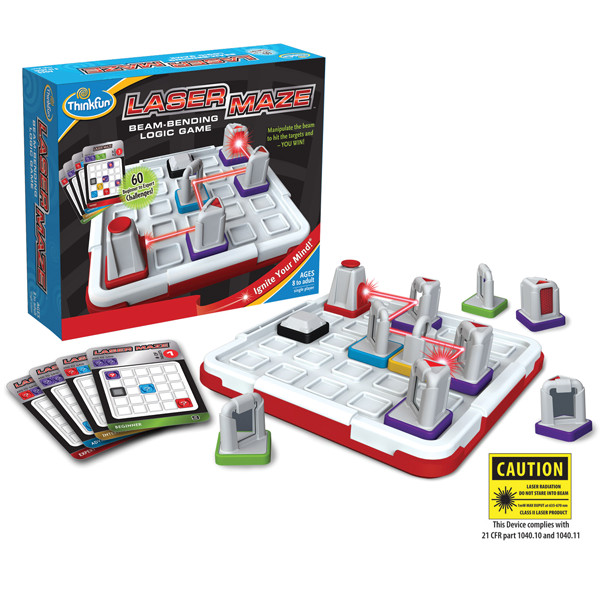 Laser Maze | $29.99
A game of logic and physics, Laser Maze puts kids' spatial reasoning skills to the test. Each new card has a challenging layout in which to place the mirrored pieces on the board. From there, kids have to figure out where to place the laser to hit each target before reaching the goal. And once they have mastered the board, there are daily tournaments online at www.thinkfun.com/playonline/lasermaze.
---
Photographic Card Deck of the Periodic Table | $20.90
www.amazon.com/The-Photographic-Card-Deck-Elements/dp/1603761985
Perfect for chemistry beginners and whizzes alike. Each element gets its own brightly decorated 5" x 5" card, the reverse of which holds a collection of facts and trivia. Beyond the essential periodic table details, these cards give common uses, discovery details and more. The card set, which comes in a sturdy box, could work as both a study tool or an interactive coffee table "book" to wow (and educate) your house guests.
---
Break Open Real Geodes Starter Science Kit | $19.99
www.fatbraintoys.com/toy_companies/discover_with_dr_cool/break_open_real_geodes_starter_science_kit.cfm
Geodes are a sparkling way to get kids interested in geology. Although they might look plain on the outside, the bejeweled interiors are a great surprise. This hands-on kit offers four geodes that can be cracked open to reveal brightly colored crystals. And, when kids are done with the multitude of learning activities that are also included in the kit, the geodes work as beautiful decorations as well. Fat Brain Toys also offers a couple of other options of Break Open Geodes kits.
---
Geeky T-shirts
Who doesn't love a geeky geology- or science-themed T-shirt? "Igneous Is Bliss," "Coprolite Happens," "Volcanoes Kick Ash" or "Gneiss Chert" are just a few of the classics. You can find even more below, at a few of our favorite T-shirt shops:
Mental Floss: www.mentalfloss.com/store/T-Shirts/
UnEarthed Tees: www.unearthedtees.com
Neatorama: www.neatoshop.com/catg/Science
Café Press: http://www.cafepress.com/+geology+t-shirts
Zazzle: www.zazzle.com/geology+tshirts