Geomedia: Film: 'A Beautiful Planet' inspires with vivid views of life on and off Earth
by Elizabeth Goldbaum Thursday, April 28, 2016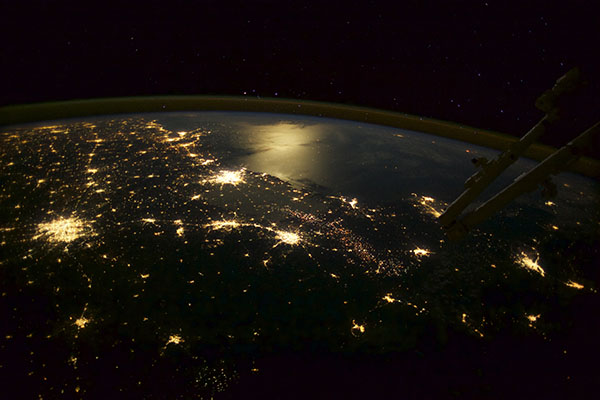 An endless sea of bright dots surrounds you amid the otherwise darkened expanse as you slowly approach a swirling, recognizable cloud of glowing light — the Milky Way. As the galaxy grows to fill the screen, you feel as if you are heading home toward Earth. This sensation of being a crewmember on a spaceship stays with you throughout the new documentary film, "A Beautiful Planet," as well as after it's over — which is just what the filmmakers intended.
The 45-minute film, which opens nationwide today, creates such an immersive experience with help from a massive IMAX screen and 3-D glasses. Produced by IMAX and NASA, "A Beautiful Planet" was written and directed by Toni Myers, whose past projects include "Blue Planet," "Space Station 3D," and "Hubble 3D." It was shot from the International Space Station (ISS) between November 2014 and December 2015 by an international group of astronauts after they'd received training from cinematographer James Neihouse, who had previously trained astronauts to shoot in space for "Hubble 3D."
"I can't tell you how thrilled I was with [the footage that] came back," Myers told EARTH at a pre-release screening of the film. She said she'd been motivated to work on the new film by the completion of the ISS and the expanded opportunities for filming Earth that it afforded (portions of "Space Station 3D" were shot aboard the space station while it was under construction). And her main challenge in making the film, she said, was to pare down the 10 to 12 terabytes worth of digital footage and roughly 250,000 still photos collected during filming into the finished product.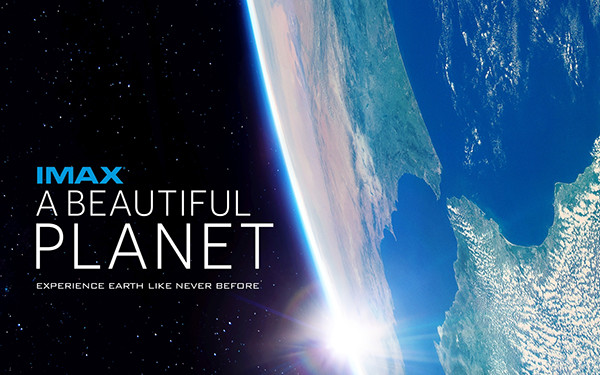 Although the visuals at the beginning of the film came from a digitized simulation of the Milky Way, the majority of the film showcases astronauts' aerial scenes of Earth from above, as well as their daily routines aboard the ISS. Some of the most enjoyable and memorable scenes were surprisingly mundane: Watching NASA astronaut Terry Virts wash his hair, for instance, and seeing European Space Agency astronaut Samantha Cristoforetti jump on NASA astronaut Barry "Butch" Wilmore's spacesuit to help him wriggle out of it were funny reminders of how different the simple aspects of life are away from Earth.
When the astronauts weren't taking care of personal and research duties, they took their filming equipment to the space station's dome-shaped Cupola module to capture views of Earth from one of the its seven panoramic windows. As their many portraits of Earth appear on screen, the film's narrator, actress Jennifer Lawrence, details pertinent facts about the locations. More often than not, Lawrence is pointing out how humans have altered Earth's surface, both intentionally and unintentionally.
Lawrence's well-enunciated overview is a plus for the film. But, it is the astronauts' own voices and words that are most engaging. During production, each astronaut shared informal and unscripted reflections with the director off-camera, elements Myers included as voice-overs in the film because she felt she couldn't improve on what they'd said in those moments, she said. Complete with all the "ums" and "ahs," these reflections also add a sense of intimacy.
On screen, the astronauts also share their favorite views of Earth during the film and highlight where they see evidence of human impacts. They note, for example, that while humans on Earth are invisible from space during the day, we're a vibrant presence at night, especially around populous cities. Other signs of change obvious from space are highlighted as well, like drought conditions in the Colorado River Basin and around the Himalayas.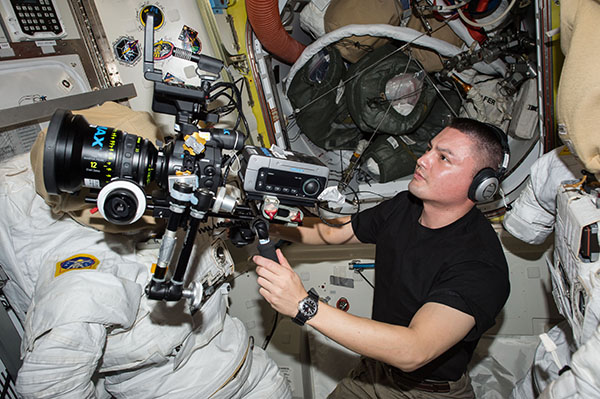 For viewers accustomed to the now-routine release of photos from NASA and other space agencies, such breathtaking, detailed scenes of cities illuminated at night, as well as of hurricane clouds and volcanic eruption plumes spread over wide areas and aurorae dancing over the horizon may not be entirely novel. Nonetheless, seeing it all on a massive IMAX screen, and listening to crewmembers wax poetic about their involvement in capturing this imagery, is a moving experience.
The film aims to inspire people, especially children, to take an interest in what happens to their home planet, NASA astronaut Kjell Lindgren told EARTH. Although Lindgren and his fellow astronauts call on viewers to take care of Earth, they avoid sounding preachy by focusing on solutions and success stories rather than on blame.
During a question-and-answer session at the advance screening, Lindgren recalled how it was considered nearly impossible to capture a photo of Beijing from space because of the heavy air pollution above it. Yet, one weekend, the haze mysteriously cleared and Lindgren was able to catch the unusually exposed city. It was only later, while watching a news program aboard the ISS, that he realized how he'd managed to glimpse Beijing — the city had stopped traffic for a few days to make way for a parade. Human impacts, like the pollution in Beijing, are not always irreversible, Lindgren said.
"The best part of being an astronaut is looking back at our home planet," one ISS crewmember notes during "A Beautiful Planet." Earth is a spaceship, Cristoforetti adds, and it's important that people think of themselves as crewmembers rather than passengers.