Geomedia: Documentaries: Bearded ladies doing paleontology
by Lucas Joel Tuesday, September 22, 2015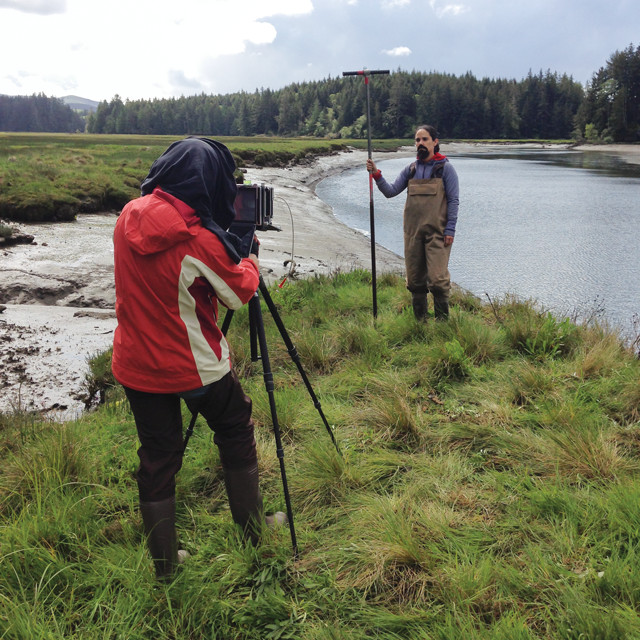 A paleontologist at a dig site wipes sweat from her brow, drinks from a water bottle and scratches her beard before peeling it off to expose her bare face to the cool air. If that sounds odd to you, it is meant to be. This is the Bearded Lady Project (BLP), a new documentary film project headed by filmmaker Lexi Jamieson Marsh and University of Wyoming paleontologist Ellen Currano. BLP, which launched in summer 2014 with funding from Currano's National Science Foundation early career development grant, aims to highlight geoscience gender stereotypes, which include bearded men in plaid shirts doing dangerous fieldwork that women cannot or should not do, the filmmakers say.
BLP began as a conversation between Currano and Marsh in which Currano said, half-jokingly, that she felt that, in her male-dominated profession, her job would be easier if she had a beard.
As Marsh and Currano note on the project's website, female paleontologists "have come a long way" since the early 1800s, when Mary Anning discovered and excavated some of the first fossil marine reptiles from the cliffs of Lyme Regis in England, but had to turn them over to men for scientific study. "But there are still miles and miles to go," they note.
According to the BLP website, women represent just 16 percent of U.S. geoscience faculty, 17 percent of Paleontological Society professional members (not including students), 13 percent of Paleontological Society Fellows, 9.5 percent of winners of the Schuchert Award (the top society award for a paleontologist under age 40), and, over the course of the Paleontological Society's 100-year history, about 5 percent of the officers. And, the filmmakers note, no woman has ever been awarded the society's Strimple Prize for amateurs.
The project entails Marsh and her crew visiting female paleontologists working in the field to film and interview them, and to take portraits. Before filming, they glue fake beards to the paleontologists' faces. "We want to connect the face of women to fieldwork, and show that women can be scientific, outdoorsy, strong leaders," Marsh says. "We're challenging an image of fieldwork, which is: Men being men doing hard work."
The project conducted its first film shoot in Wyoming, where Currano does fieldwork. Since then, BLP has visited paleontologists in the field across the country. Recently, the team visited an all-female team from the University of Michigan (UM) at their field site in California's Mojave Desert where they were excavating Miocene-aged mammal fossils. The landscape, part of the Mojave's colorful Rainbow Basin, was perfect for filming, Marsh says. "You could point your camera in five different directions and have five equally stunning backdrops."
"It was nice to be part of something that highlights women scientists in the field. It felt empowering," says UM doctoral candidate Tara Smiley, one of the paleontologists BLP filmed in the Mojave. "I think the beard, even though it felt bizarre and weird on my face, made our work more relatable to pictures we're used to seeing from this kind of fieldwork."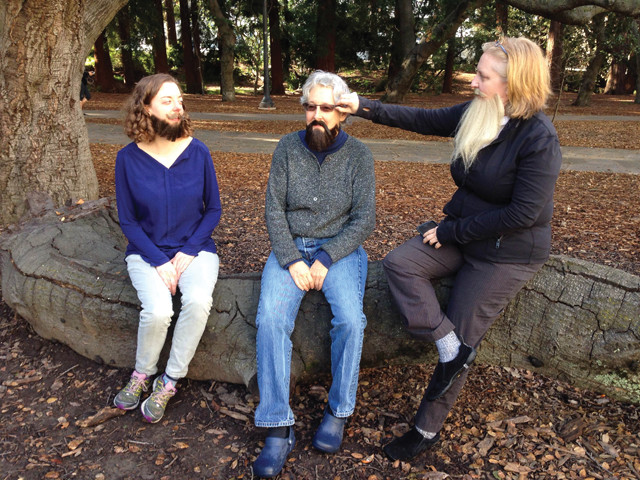 EARTH informally polled a few female paleontologists not involved with BLP and received varied responses. Some raised questions about the project's impact on young girls' perceptions of women in science, technology, engineering and math (STEM) fields.
"I definitely support the underlying mission of the Bearded Lady Project — advancing women in science and paleontology — but I'm not sure the manner in which they're addressing the problem of female underrepresentation is as effective as it could be," said one. "We would all love to see more women win the Schuchert Award," she said. "But while I appreciate the BLP's goal of promoting women and challenging gender stereotypes, I do wonder if they're not just attacking a straw man; I don't and have never pictured paleontologists as burly bearded men. I think Dr. Ellie Sattler [the female paleobotanist portrayed by actress Laura Dern in the 1993 movie "Jurassic Park"] probably did some good work in coloring the general public's perception of paleontologists, at least among our generation."
"Why not document women scientists in the field, arrayed in their natural level of femininity?" she added. "I get that the beards are supposed to be tongue-in-cheek, but I feel like more real and accurate images of women in science would give more exposure to our research and more fully support little girls choosing STEM fields in the future."
Another female paleontologist said: "I have mixed feelings about the BLP. On the one hand, any exposure to women in science, especially for young girls, seems like a good thing. On the other hand, this seems overly silly to the point where it takes a serious field scientist and makes her look like she's playing dress-up, which might have the opposite effect on young girls." Also, she noted, the filmmakers might be unwittingly sending another message. "The classic bearded lady at the circus is part of the freak show — that doesn't seem like a good thing."
BLP filming continues, and the final documentary, which will be about 40 minutes long, is scheduled to be released in early 2017. Portraits will be on display at the 2016 annual meeting of the Geological Society of America in Denver, and trailers and images are available on the BLP website. More information about the project can be found on Twitter @beardedladyproj or email the team at info@thebeardedladyproject.com.