Geomedia: Books: Breaking New Ground
by Jacob Haqq-Misra Tuesday, April 7, 2015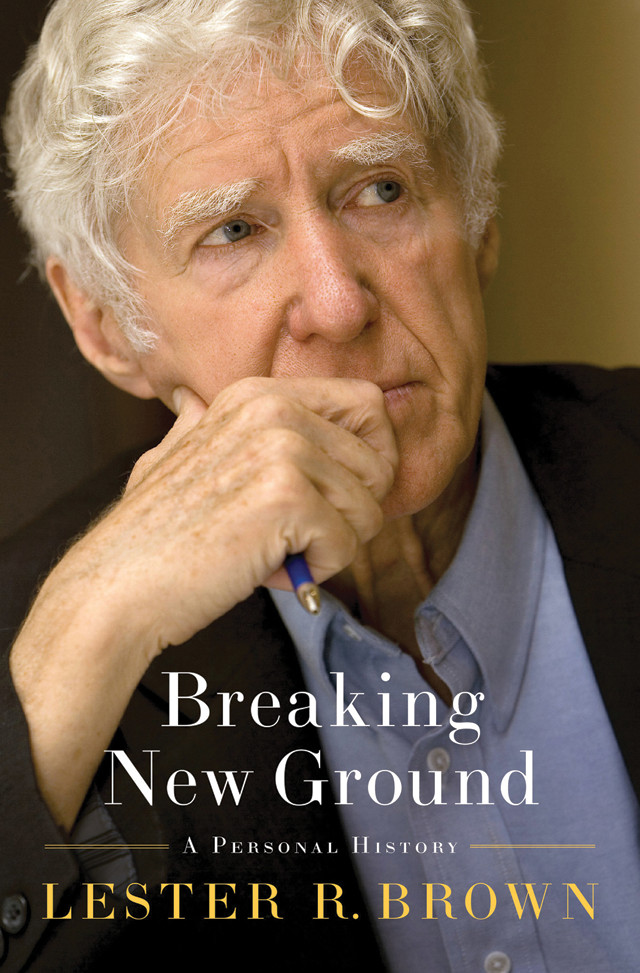 Agricultural scientist Lester Brown ponders the global future of agriculture, but his roots as a tomato farmer make him keenly aware of the local challenges of feeding a growing population. A 1986 recipient of a MacArthur Fellowship for his pioneering interdisciplinary work in the field of sustainable development, and the founder of the Worldwatch Institute, Brown reflects on his life and career in his autobiography, "Breaking New Ground: A Personal History."
As a child, Brown watched his father climb from farmhand to farm owner, giving Brown a grounded upbringing and a model for hard work and success. Brown and his brother began their own tomato business while still in school, waking early before classes during the harvest or planting periods, and they managed to secure a modest income by selling their produce to nearby canning factories. Even after earning a full scholarship to study agricultural science at Rutgers University, he still managed his tomato harvest in tandem with his classes. For a time, Brown could not imagine abandoning his farm, and even today, he writes, he still finds joy in the unmistakable aroma of tomato plants.
However, his foray into farming was cut short by his nomination in 1956 to the International Farm Youth Exchange program, which sent him and nine other recent college graduates on a six-month tour of rural India. Brown's experiences living among Indian villagers profoundly affected him, and upon returning home, he found himself seeking more than the life of a simple farmer, so he set his sights on improving global agriculture. After obtaining a master's degree in agriculture economics from the University of Maryland, he was hired by the U.S. Department of Agriculture's Foreign Agricultural Service (FAS) in 1959 as an analyst for Asian agriculture.
While living in India in 1965 during his FAS service, Brown began noticing systematic shortages in the nation's grain harvest resulting from widespread drought due to seasonal monsoon failures. The situation signaled to Brown the need for urgent action to prevent millions of Indians from starving. Impressed by Brown's foresight and understanding, President Lyndon B. Johnson called upon him to draft a plan to improve India's agricultural policies before shipping grain reserves from the U.S. to India with haste. Data collected after the harvest that year confirmed the massive shortfall of Indian grain, and suggested that Brown's keen insight and quick action may have forestalled one of the greatest famines in history.
In 1974, Brown founded the Worldwatch Institute to focus on interdisciplinary research in global environmental issues. The institute has become a leader in analyzing global commodities trends and developing strategies for sustainable development. Moreover, its ability to influence development policies enacted around the globe has grown tremendously as a result of Brown's effectiveness in marketing his research to the right policymakers, reporters and thinkers.
After passing management of the institute to the next generation, Brown founded the Earth Policy Institute in 2001 as a think tank to advocate for practical solutions to the most pressing environmental and economic problems.
Today, Brown continues to preside over the Earth Policy Institute, and his passion for shaping humanity's trajectory remains as strong as ever. He acknowledges the serious challenges that humanity struggles to address, such as food security and clean water, and his optimism for the future seems nearly equaled by his dismay over our inability to act. Given that so many of our problems are tied to global sustainable development, however, Brown writes that he intends to continue his ambitious work "as long as mind and body permit."