Geologic Column: Snow globes, light shows and t-shirts
by Lisa A. Rossbacher Friday, January 20, 2012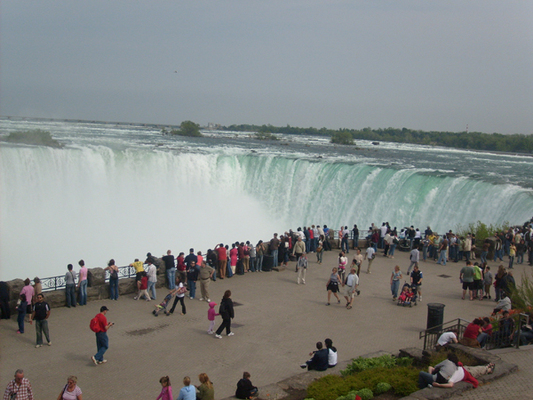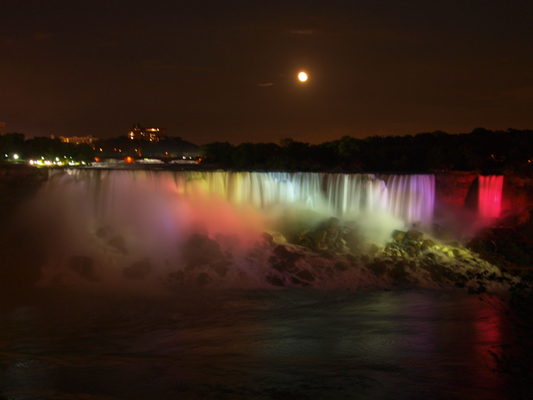 It seemed like a simple question. "What do you think the most commercialized geologic site is?"
My curiosity had been piqued by a trip through Wisconsin Dells, a glacially carved river valley that has the world's largest concentration of water parks (complete with the requisite fudge shops, tchotchke shops and miniature golf courses). Before that trip, my top nominee would have been Natural Bridge in Virginia, which has featured the seasonal sound-and-light show, "Drama of Creation," since 1927. Today, the site can be rented for a conference or a wedding.
The answers that I received when I posed this question to a group of colleagues were more complex. Some responded with specific examples of commercialized sites centered on geology. Others replied with questions of their own such as "What do you mean by commercialism?" or "How does commercialization relate to preservation of geologic sites that are important for scientific, cultural or historical reasons?"
Of course, these responses are all closely linked. The specific examples help define commercialism, which can lead to metrics for monitoring risk to valuable natural resources. Defining commercialization may help us figure out how to avoid it.
So here's my plan. I am going to address all three types of responses. In this column, I will share an initial list of suggestions for "most commercialized geologic features" — and invite more ideas. (My e-mail address is listed below.) In future columns, I will develop a working definition of commercialization, and then explore the implications of commercialization on geologically unique or sensitive sites.
Let's start with the easy one: examples of commercialized sites and features that quickly come to mind, as described by geoscientists.
The top candidates suggested to date are:
• Niagara Falls (New York). David Griffing (Hartwick College) notes, "It receives more than 8 million visitors per year and is still renowned for the evening illumination by colored lights. Although the Maid of the Mist still makes trips to the plunge pool area, you can also frolic in the downstream waters via jet boat." Souvenir snow globes include both American and Canadian flags — and you can get one that plays the theme to "Love Story."
• Howe Caverns (New York). Kate Johnson (U.S. Geological Survey) describes the highlights of this site, open to tourists since 1843: "Privately held, underground boat tours, [artificial] sound and light." This site drew particular scorn for misleading the public about the geology. Mike Kelley, a geologist in Virginia, comments, "They actually glued a big stalactite upside down on the floor of one room and tell people it is a natural stalagmite." The good news: in recent years, geology students have been hired as summer guides. And the gift shop doesn't sell snow globes. Just shot glasses.
• Grand Canyon (Arizona). Bruce Johnson (a retired federal employee) says the "First place that comes to mind for me is the Grand Canyon, particularly the south rim, ugh! What with the burros, the helicopters, and the inn at the bottom, I think they have done a pretty good job [of commercialization] for a place that's essentially difficult to access." And then there is the glassfloored "Skywalk" over the Canyon. Not only is the structure widely seen as an intrusion on the natural feature, but the "no personal items" policy (including cameras and cell phones) has disappointed many visitors to "Grand Canyon West," which is actually five hours west of the South Rim of Grand Canyon National Park and costs a pretty penny. You can choose between snow globes that play either "Happy Trails" or "Nocturne."
Other categories that were mentioned less frequently, though emphatically, include:
• Caves. Beyond Howe Caverns, many others were noted: Fantastic Caverns (Missouri), Lost River Caverns (Pennsylvania), Grand Canyon Caverns (Arizona), Mammoth Cave (Kentucky), Luray Caverns (Virginia), and Carlsbad Caverns (New Mexico). Most of these are privately held, which seems to be only a partial factor in the degree of commercialization.
• Popular national parks (aside from the Grand Canyon), including Yellowstone, Yosemite and Carlsbad Caverns.
• Iconic features around the world, such as Mount Fuji (Japan), Mount Kilimanjaro (Tanzania) and Cappadocia (Turkey).
• Mines, including Sutter Gold Mine (California) and Phoenix Mine (Colorado).
• Locations that frequently appear in television commercials (a different type of commercialism), including Mount Rushmore (South Dakota) and Ayers Rock (Australia).
One location that deserves special mention is Meteor Crater in Arizona. Because the land is privately owned, the opportunity for commercialization is great — and some of this has been realized. (Recent visitors have wondered, "Is Meteor Crater sponsored by Subway?") Past the entrance fee, the gift shop and the museum on the rim, however, the experience can be remarkably natural.
So what do these examples suggest as defining characteristics of commercialization? Well, traits proposed so far include: the proximity of motels, restaurants, fast food franchises and T-shirt shops; artificial lighting; cost of admission; and geologic features with cute names. And, of course, there's the snow globe factor. If you have suggestions, please send them along.