Geologic Column: Combining art and geology in the sand
by Lisa A. Rossbacher Tuesday, September 2, 2014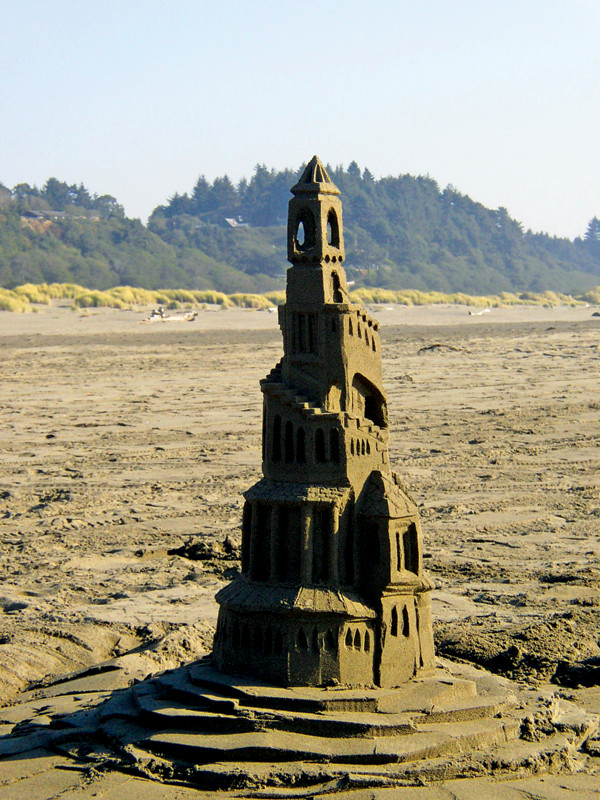 Every summer, millions of people descend on beaches, many intent on building sand sculptures — some even with the hopes of winning fame or fortune. Once upon a time, sculptures made of sand were mostly castles, built by children and families on summer vacations to the beach. Today, sand sculpting is also a serious business, with competitions, prize money, festivals, corporate promotional campaigns, organized team-building exercises, and entries in the Guinness Book of World Records for traits including the tallest (more than 10 meters high) and longest (more than 10 kilometers long) sculptures. The subjects range far beyond castles: 3-D representations of historical artwork, and abstract designs like giant eyeballs aren't unusual. However, castles continue to be a mainstay of the medium. There's something about a moat that just makes sense on the beach.
Building sand sculptures involves both art and science. The science has a great deal to do with geology, and even artists with no formal background in geoscience have an intuitive understanding about the earth materials that help them create the result they want.
Obviously, the construction process for a sand sculpture begins with the sand, which should ideally be relatively fine-grained and angular with a consistent grain size (which are, of course, characteristics geologists use to define sand). A good indicator of appropriate sand is whether the beach surface just below the waterline feels hard packed and easy to walk on. Digging a few centimeters beneath the surface is also a common technique to evaluate the quality of the sand, because this is likely to be more indicative of the general beach material than the surface layer. A field test of the quality of sand for sculpting is to scoop up a golf-ball sized chunk of wet sand, pack it into a ball and check whether it holds together when you roll the ball around in the open palm of your hand. Sand that includes pebbles, shells, or other materials is less desirable for construction — and tends to elicit colorful language during the building process.
Sand sculptors use tools from the worlds of science and art to construct and shape their creations. Shovels, trowels and buckets will be familiar to geologists. Paint brushes, putty knives, straws, wires and a variety of handmade tools are valuable additions from the artist's trade. (In a pinch, sticks, stones and human hands can also be key pieces of equipment.)
Selecting a location for a beach sculpture also combines art and science — along with a dash of philosophy. A fundamental question is the desired fate of the structure. Some sand sculptors want to preserve their art as long as possible for others to enjoy, so building just above the high-tide line, which offers the greatest longevity, makes sense. Building below the high-tide line ensures that a structure will soon be carried away by the sea, which may sometimes be the intent. Letting the sculpture wash away — wiping the slate clean, in effect — is a metaphor for the impermanence of all things and the opportunity to start each day (or each tidal cycle) anew.
Whether the goal is for the structure to persist or be erased, the ephemeral nature of the result makes sand castles a place where geology and nature meet performance art. Practical advice for either goal: Know your tide tables and bring a camera. All that persists after a sand sculpture is gone are the photographs and your memories.
The Buddhist nun Pema Chödrön captured a sense of the deeper meaning of sand sculptures as an analogy for living: "We are like children building a sand castle. We embellish it with beautiful shells, bits of driftwood and pieces of colored glass. The castle is ours, off limits to others. We're willing to attack if others threaten to hurt it. Yet despite all our attachment, we know that the tide will inevitably come in and sweep the sand castle away. The trick is to enjoy it fully but without clinging, and when the time comes, let it dissolve back into the sea."
Of course, the attachment, enjoyment, philosophy, art and science all start with the sand.