Geologic Column: "Collect Rocks Day" offers opportunity for inspiration
by John Copeland Friday, August 3, 2018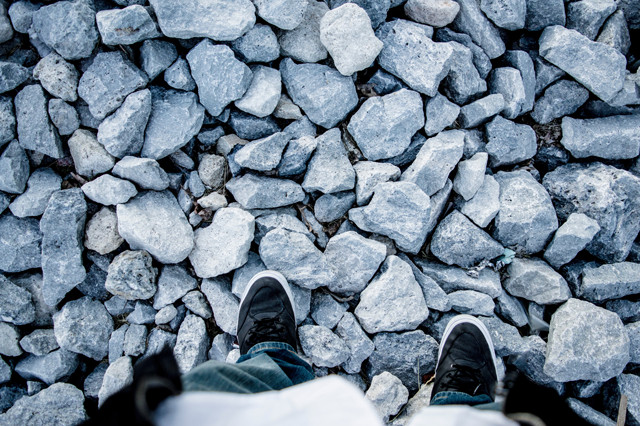 I have been intrigued by rocks since I was a kid. In fact, as I write these lines I am surrounded by rocks I have collected over the years. On my window sill is a piece of shale containing several preserved ammonites, obsidian from Iceland, dolerite from Tasmania, and a sedimentary rock bearing fossilized sand ripples attesting to former currents along the western edge of the Western Interior Seaway, which stretched from the Gulf of Mexico to the Arctic during the late Mesozoic.
Sept. 16 is National Collect Rocks Day, which has only been commemorated since 2015. I have not found any reference to who first observed this day or why, but that does not really matter. It offers a good excuse to celebrate Earth and science, to indulge your inner geologist, and to learn fascinating things about the material that makes up Earth's surface.
Rocks seem to have always drawn the interest of humans and have been a valuable resource throughout human history. Starting hundreds of thousands of years ago, ubiquitous rocks served as tools for our hominin ancestors. Some of the earliest weapons and musical instruments were made from rocks, as were building materials and jewelry. The first geologists were prospectors looking for valuable minerals and gemstones, and mining rock has made it possible for humans to use metals and other materials in developing technology.
Today, while an interest in rocks draws some people to geology as a profession, it brings many more to the field as a hobby, mainly for the beauty of rocks and minerals. My grandparents were avid rock hounds who made treks to the California desert in search of geodes. They collected beautiful specimens and spurred their grandchildren's interest in rocks. We all had rock collections growing up — and some of us still do. (Who says you have to give up your rock collection when you become an adult?)
Rock collecting is a great endeavor, for kids and adults alike, for many reasons. Anyone can participate, anywhere. And it's highly individualistic. Although there are of course rock and mineral guides, there are no books telling you specifically what rocks you should collect or listing values for each and every rock specimen. When it comes to rock collecting, beauty is indeed in the eye of the beholder. This brings me back to Collect Rocks Day — and inspiring young minds.
Many of the earth scientists I know and have worked with on natural science documentaries over the years became interested in rocks, fossils and minerals when they were young, and their interest stayed with them into adulthood. I still remember the first time I held a piece of shale with the fossil of a trilobite embedded in it. For a moment, I felt transported into the deep past of our planet and marveled at what this strange creature's life would have been like. An experience such as this can be life-altering for a curious mind. Collect Rocks Day is an ideal opportunity to help spark the interest of a young person in what may become a lifelong pursuit. There are endless possibilities for celebrating Collect Rocks Day: Take a trip to a fossil-filled beach in search of rocky treasures, or to a rock and mineral shop, or even just to a nearby roadside outcrop to scout for interesting specimens and structures.
Many of today's pressing issues involve the geosciences, from climate change to managing natural resources. That is why it is so important to encourage children's interest in science and the natural world. There is a myth that we have to convince children that science is fun. For young learners, science is just an extension of their everyday world. We don't have to teach young children how to wonder and ask questions, or how to discover and explore through play, because they do it naturally.
Although I did not pursue a career in earth science, I have had an interest in it since childhood. And I have been very lucky to be able to combine filmmaking with science, meeting a whole host of earth scientists and continuing to learn about the planet's interconnected systems in the process.
This Sept. 16, take a young person out to collect rocks. You never know where their curiosity and wonder will lead them on life's journey.