Geoheritage: Preserving Earth's legacy
by Terri Cook and Lon Abbott Monday, June 8, 2015
A few years ago, we toured southern China's world-class karst topography. Steering our rusty, gearless bikes along the bumpy, dirt road required our full attention, but the views made it hard to focus. Surrounding us were dozens of sheer, gray limestone towers rising dramatically above a lush, emerald-green plain covered in rice paddies. China's Guangxi Province is famous for this gorgeous karst scenery, the result of long-term chemical weathering of a thick stack of limestone. The character and appearance of this land, as well as its distinguishing features — towers, peaks, gorges, caves, sinkholes, springs and disappearing streams — govern which flora and fauna thrive here, and are integral to the social fabric and daily lives of the region's people.
This connection between people, landscape and earth history forms the foundation of the concept of geological heritage, or geoheritage. Embodied in geological features with significant scientific, cultural, educational or historical value, geoheritage is increasingly being harnessed to develop and celebrate this linkage, with the ultimate goal of reconnecting humans to the remarkable planet we call home.
A Common Heritage
The geoheritage movement is particularly strong in Europe, where the grassroots organization ProGEO: The European Association for the Conservation of the Geological Heritage has been a leader in geological conservation.
"The only record of the history of our planet lies in the rocks beneath our feet: rocks and the landscape are the memory of the Earth. Here, and only here, is it possible to trace the processes, changes and upheavals [that] have formed our planet over thousands of millions of years…" begins the ProGEO mission statement. It concludes with the organization's raison d'être: "The record preserved in the rocks and landscape is unique, and much of it is surprisingly fragile … what is lost can never be recovered, and therefore, there is an urgent need to understand and protect what remains of this, our common heritage."
The shared heritage of our planet was first widely recognized at the First International Symposium on the Conservation of our Geological Heritage, organized in 1991 by ProGEO under the patronage of UNESCO. Held in Digne, France, the symposium convened more than 120 specialists, representing more than 30 countries, who unanimously endorsed the declaration of the Rights of the Memory of the Earth, part of which emphasizes the concept of a shared legacy: "We and the Earth share our common heritage. We and governments are but the custodians of this heritage."
An important vehicle for raising awareness of, and preserving, this 4.5-billion-year legacy has been the establishment of "geoparks," sites that not only conserve special geological features within their borders, but also capitalize upon those features to attract visitors. Thus, in addition to commemorating notable geologic landscapes, features and events, a vital function of such parks is to promote geotourism.
During the late 1990s, in direct response to the Digne declaration, UNESCO facilitated efforts to create an official program promoting a global network of sites with special geological features. The program was intended to complement existing UNESCO programs, including the World Heritage Convention and the Man and the Biosphere Programs.
However, despite these steps, in 2001, at the 161st session of UNESCO's Executive Board, the majority of delegates declined to support the development of a formal geoparks program, instead choosing to "support ad hoc efforts within individual Member States as appropriate," according to the UNESCO website. UNESCO continues to provide ad hoc support to national geopark initiatives, which are coordinated through the voluntary Global Geoparks Network, established in 2004.
The Global Geoparks Network provides guidelines for developing national geoparks and outlines the specific criteria that a park must meet if it is to be included in the global network. Global geoparks do not carry any formal legislative designation. The host nation and, if applicable, private landholders, retain complete control over the land, but each park must be protected by extant national land policies and comprehensively managed in order to retain its UNESCO status, which is reviewed every four years. Further guidance is provided by the International Union of Geological Sciences (IUGS) Geosites program, a science-based program developed by ProGEO to establish criteria for selecting important geological and geomorphological sites.
Geoparks: An Integrated Concept of Protection
Today, the Global Geoparks Network, operating under UNESCO's umbrella, offers the most significant international framework to conserve Earth's geoheritage. Its "landscape approach" encourages participating countries to develop national geoparks by combining multiple sites of particularly important, rare or aesthetically appealing geoheritage into a single unit, which is then coordinated according to an integrated concept of protection, education and sustainable development. To be considered a geopark, a region's attractions, educational opportunities and materials should be scientifically and thematically linked.
Global geoparks differ from both UNESCO biosphere reserves and UNESCO World Heritage Sites. Biosphere reserves are site-specific examples where local communities are actively involved in learning about and experimenting with sustainable development. Like members of the Global Geoparks Network, biosphere reserves are first established by individual countries, then later formally recognized by UNESCO. World Heritage Sites, by contrast, are properties that have been inscribed under the World Heritage Convention for their outstanding universal value. Such sites must meet at least one of 10 selection criteria, only one of which refers specifically to geology.
On the Greek island of Lesvos, for example, the Lesvos Petrified Forest Geopark includes a core zone of 15,000 hectares plus a 20,000-hectare buffer that encompasses the remnants of a Miocene-aged forest entombed by volcanic activity that occurred in the north Aegean Sea 20 million years ago. In addition to 22 fossil sites, five of which are submerged beneath the sea, the park includes: more than a dozen volcanic sites; several faults, folds and caves; half a dozen thermal springs; and three ancient mines.
In southern France, the Luberon Geopark, which encompasses 1,840 square kilometers, incorporates dozens of sites exploring the region's unique heritage. These include: Oligocene plant and animal fossils preserved in ancient lake deposits; fossilized mammal bones and footprints; old quarries and mines where coal, ochre and other mineral resources were harvested; the type section for the Aptian stage (125 million to 113 million years ago); a paleontology museum; and scenic natural sites like the Oppedette Gorge.
UNESCO also supports the creation of regional networks, which facilitate networking opportunities, promote the establishment of additional geoparks and improve geopark governance. In 2001, the organization established a partnership with the European Geoparks Network, which coordinates Global Geoparks Network membership within Europe. An Asia Pacific Geoparks Network was established in 2007, and an African Geoparks Network was founded in 2009.
After adding 11 new parks in September 2014, the global network now includes 111 sites, representing 32 nations. The newest member countries are Denmark and Morocco, where the Geopark M'Goun, located in the High Atlas Mountains, became the first global geopark in the African-Arabian region. Also added to the network last year was Tumbler Ridge in British Columbia, which became Canada's — and North America's — second global geopark, joining Stonehammer Geopark in New Brunswick. The United States, despite its abundance of remarkable geosites, is not currently represented.
In many cases, some or all of the sites incorporated into a national or global geopark have been previously protected via other measures according to local traditions and regional or national legislation. In Greece, Lesvos Petrified Forest was conserved in 1985 by the government as a Protected National Monument. France first protected the Luberon as a Regional Nature Park in 1977 before naming it a Geological Nature Reserve in 1987. Both later applied for membership in the global network when it was established in 2004.
More than any other country, China has embraced the model of developing national geoparks and then promoting them as Global Geoparks Network applicants. Of the current 111 global parks, 31 (28 percent) are in China. (Spain holds second place with 10 sites.) China has also been extremely successful at popularizing its burgeoning geopark network.
Chinese Geoparks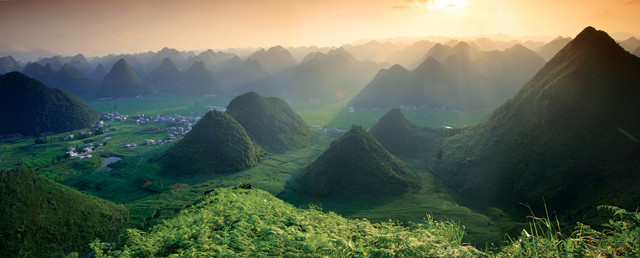 China is an enormous country, and its 3.6-billion-year geologic history is reflected in tremendous geodiversity, ranging from the summit of Mount Everest (which lies on the border of Tibet and Nepal) to the Inner Mongolian loess plateau to southern China's karst topography. In addition to the 31 global geoparks in China, the country has also established 241 national and 159 provincial geoparks.
With this rapid expansion have come a number of achievements, as well as challenges, as Zhao Zhizhong, a professor at the Chinese Academy of Geological Sciences in Beijing, and co-authors wrote in a 2015 book, "From Geoheritage to Geoparks: Case Studies from Africa and Beyond." China's national geoparks now cover more than 70,000 square kilometers in 31 provinces. Managers of the parks have installed more than 20,000 interpretive panels, distributed 5 million copies of scientific pamphlets and hosted more than 16,000 scientific activities. By promoting geotourism, Chinese geoparks have also boosted economic development, raised local income levels and created employment opportunities, Zhizhong and colleagues wrote.
Some of the challenges they noted include poor management and funding shortages. To continue fostering sustainable development via these parks, China is currently revising and implementing all of its National Geopark plans, which define the methods of protection, popularization, research and interpretation. The Chinese government is also simplifying the process by which it approves new national geoparks, which currently occurs once every two years. Funding is also an important issue for Chinese geoparks. Construction can only begin after a park's finances have been approved, a process that is undertaken by members of the national and local governments as well as geopark management. The national government currently contributes about 6 percent of a geopark's costs, the local government about 19 percent, and the remainder is funded by geopark income. Consequently, one of the key objectives of Chinese geoparks is to develop geotourism.
Geotourism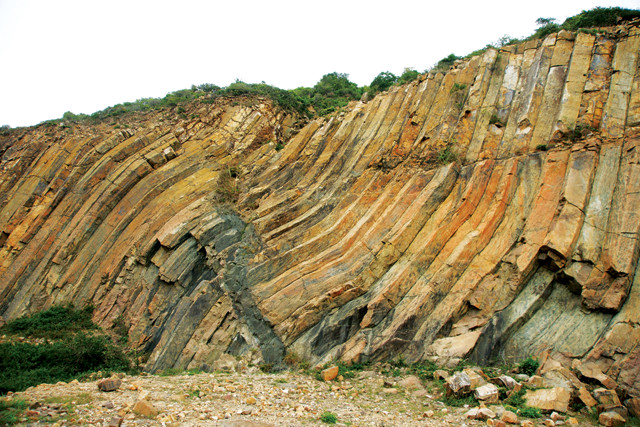 Geotourism is an integral part of geoparks and is essential to their development. It encompasses both landforms — for example, outcrops and rock types — and geological processes, such as volcanism or glaciation. This focus on abiotic features adds an important third dimension to ecotourism, which has traditionally focused on flora and fauna, wrote Ross K. Dowling, a professor of tourism in the business school at Edith Cowan University in Australia, in a 2011 article in the journal Geoheritage.
Geotourism can occur in both natural and urban settings — wherever there is a significant geologic feature of interest to tourists. For example, China's Hong Kong Geopark highlights the geology underlying and surrounding this metropolis, including striking hexagonal volcanic columns, unusual fossils and spectacularly folded sedimentary rocks. Many geoparks, such as Ireland's Copper Coast Geopark and Italy's Tuscan Mining Geopark, preserve old mines and other "disturbed" geosites, often in spectacular settings.
Through firsthand exploration and educational programming, visitors are exposed to the geologic events and processes that created the park's noteworthy features. Successful geoparks also heavily promote visitor activities, which can take many forms, from glacier walking in Iceland's Katla Geopark, to soaking in the hot springs at Batur Global Geopark in Indonesia, to exploring one of Arabia's most beautiful dripstone caverns at the Al Hoota Cave in Oman. In addition to outdoor and adventure activities, many geoparks offer events that integrate the region's geology with its local culture and history. Examples include listening to open-air musical performances at Ireland's Cliffs of Moher and feasting on traditional bread or so-called trilobite cookies at the "geobakery" in Portugal's Geopark Naturtejo.
Kanawinka Geopark: Limestone and Volcanoes
Kanawinka Geopark — Australia's first — offers a case study of the great potential, as well as some of the challenges, faced by geoparks around the world. At roughly 40,000 square kilometers, slightly larger than the state of Maryland, Kana­winka is the world's largest geopark. It features nearly 100 different geosites spread across 400 kilometers of the continent's southern coast. Some of these are Pliocene- and Pleistocene-aged volcanoes; others are karst features dotting the limestone plain that comprises the western portion of the park. Park visitors can hike up volcanic summits, scuba dive in spectacular cenotes — sinkholes filled with strikingly clear freshwater — or tour a botanic garden in the bowels of the Umpherston Sinkhole. The geopark also hosts the most diverse mammal tracksite in Australia, which includes a trackway from Diprotodon, the biggest marsupial known to have lived.
The park's dual geo-themes of limestone and volcanoes are especially on display at Blue Lake, which is nestled inside a young volcanic crater near the South Australian town of Mount Gambier. Blue Lake is renowned for its dramatic, seasonal color variation — from cobalt blue to steel gray — caused by geochemical changes. During the summer, the warming of its surface waters to 20 degrees Celsius causes temperature stratification. This allows microscopic crystals of calcite, formed from the combination of calcium and carbonate ions supplied by the underlying limestone, to precipitate. These crystals scatter blue wavelengths of light, thereby producing the lake's vibrant blue color. Winter cooling leads to more mixing between the lake's surface and deep waters, which fills the lake with sediment and tannins that change the color back to steel gray.
The connections between this singular landscape, its geologic history, and the flora, fauna and people whose lives have unfolded upon it are strong. Many of the eruptions, which occurred as recently as 6,000 years ago, were witnessed by local aboriginal people and thus feature prominently in their creation stories, known as the "dreamtime." Local legends and petroglyphs highlight the aboriginal people's long association with the cenotes, several of which also host artifacts from early European settlement. Some cenotes host rare invertebrates as well as unusual freshwater stromatolites.
Kanawinka's director, Ian Lewis, noted in a 2010 article in the book "Global Geotourism Perspectives" that some of the park's biggest challenges stem from its vast size. Many visitors don't have the time or the inclination to traverse the park's entire 400-kilometer length. To accommodate the needs of this clientele, the geopark promotes regional hubs from which tourists can see many attractions during short day trips or focus on particular themes that appeal to them, such as caves, shipwrecks or seafood. The geopark has also broadened its appeal by providing information about other attractions, including nearby agriculture, wineries and the arts.
Another challenge presented by the geopark's sprawling size is the question of how to engage the small and widely dispersed gateway communities. A given community will take pride in its local geosites but may lack awareness of more distant ones. This means, according to Lewis, that few of the park's neighbors, who stand to gain the most from the geotourism the park makes possible, are aware of the big picture into which those local features contribute. To address this lack, Kanawinka administrators have developed educational efforts targeted to school groups and local community presentations that present a "big picture" overview of the park's history and how each community can contribute to and benefit from the park.
Raising this awareness is crucial, Lewis wrote in his 2010 article, because some local councils have chosen to contribute funds to specific local attractions rather than the geopark, fearing that the impact of their investment will be diluted if contributed to such a geographically large entity. In the very competitive national and regional tourist market, many councils prefer to develop an identifiable brand for their local attractions. An example is the World Heritage Fossil Caves at Naracoorte, South Australia, which lie just outside Kanawinka's northwestern boundary.
Perhaps the biggest marketing challenge that Kanawinka has faced was the loss of its designation as a global geopark. Originally added to the network in 2008, Kanawinka was up for recertification in 2012. However, because the Australian government had not officially recognized UNESCO's global concept, the organization did not renew Kanawinka's status, Lewis wrote in a 2013 article in a local Australian newspaper, the "Camperdown Chronicle." Although this lack of certification is something of a setback, Lewis wrote that there have also been certain advantages to the change. For example, UNESCO requires global geoparks to develop educational, social and cultural programs, which, due to Kanawinka's enormous size, have been difficult to implement. Since losing its Global Geoparks Network status in 2012, Kanawinka has refocused on the basic tasks of identifying and promoting its attractions, Lewis wrote.
America's Geoheritage
There are no global geoparks in the U.S. "Geoheritage is largely a European concept," says Thomas Casadevall, a scientist emeritus at the U.S. Geological Survey and a leading advocate"for geoheritage in the U.S. Casadevall cites two primary reasons why the "oncept has not caught on here. The first is due to the U.N. connection. "There's a perception that we lose sovereignty if we designate anything as a UNESCO-approved kind of property," he says.
Second, Casadevall says that the National Park Service appears very hesitant, for historical, political and managerial reasons, to manage properties that are not pristine landscapes. "We're talking about trying to institute a culture change here," he says, "whereas in Europe and in Asia, because they don't have national park systems like ours for pristine, wilderness-style areas, they have to take into account … previous anthropogenic activities in those areas."
The U.S. is also compromised in what it can currently introduce and recommend at UNESCO because the country has not paid its dues to the organization for nearly four years, since the UNESCO General Conference voted to grant observer status to Palestine. The problem with this, according to Casadevall, is that geoparks proposed to UNESCO have to come from a member state, a status the U.S. has lost, and such proposals have to come from national governments. In countries like Canada and China, for example, a national committee receives and vets proposals for aspiring geoparks before passing them on to UNESCO. Local communities cannot apply directly, Casadevall says.
Although a number of locally organized groups, including two in Colorado and one in Michigan, have expressed interest in becoming national geoparks, the U.S. does not yet have a formal process for evaluating potential candidates. Casadevall, who says he has seen firsthand the economic benefits that can be derived from geotourism, is working to organize a national geopark committee that could institutionalize the process.
Meanwhile, the Global Geoparks Network may change later this year. The various working groups that prepare decision documents for the UNESCO General Conference, which meets every fall, have approved and are recommending that UNESCO now proceed with a formal geopark program, upgrading the existing ad hoc approach to create the UNESCO Global Geopark Bureau.
Ultimately, the U.S. has many sites that could be designated as geoparks, and U.S. agencies — including the National Park Service — are often hailed globally for their best practices. However, as Wesley Hill, the geoheritage representative for the Geological Society of America, remarked at a recent workshop on America's geologic heritage, America's voice is missing at the international level. That may soon change. This summer, Hill and Casadevall will be representing the U.S. at the first meeting of the International Union for Conservation of Nature's Geoheritage Specialist Group, which will be held in Guangxi Province amid the famous karst scenery we bicycled through, now near the Leye-Fengshan Global Geopark.