Geocorps America: Putting geoscientists to work on federal lands
by Sara E. Pratt Monday, December 8, 2014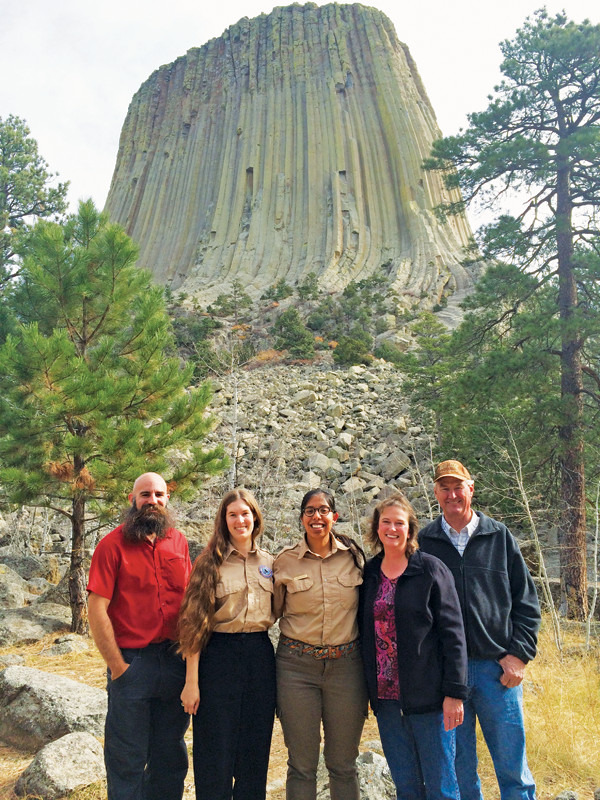 In 2009, when Erica Clites was completing her masters in paleontology at the University of California at Riverside, she didn't know what her next career move would be. Since the economic downturn beginning the previous year, unemployment for recent graduates had been high. "I didn't really think I was going to be able to find work in the field of paleontology," she says. But Clites had a fallback plan, which turned out to be a springboard to the career she always wanted.
Clites' roommate in graduate school had participated in the GeoCorps America program the previous year, and she encouraged Clites to apply. The program is a partnership among the Geological Society of America (GSA), the National Park Service (NPS), the Bureau of Land Management (BLM) and the U.S. Forest Service (USFS) that puts geoscience students, recent graduates, and professional and retired geoscientists to work on short-term projects on federal lands.
Clites applied, was interviewed for several positions, and was offered a position with the NPS Center for Urban Ecology in Washington, D.C. Her project entailed assessments of paleontological resources at Manassas National Battlefield Park in Manassas, Va., Fort Washington Park in Fort Washington, Md., and Chesapeake and Ohio (C&O) Canal National Historical Park headquartered in Potomac, Md. What was supposed to be a three-month project turned into a six-month project. The work experience eventually led to a full-time position at NPS — something that has happened for dozens of GeoCorps interns over the nearly two decades since the program was established.
From its inception in 1997 as an undergraduate summer internship program through the NPS's Geoscientists-in-the-Parks program with just two positions, GeoCorps has now grown to encompass projects in more than 60 national parks, 15 national forests and 15 BLM lands. Today, with more than 1,500 applicants vying for about 150 positions annually, the program is larger than ever and still growing.
Revolutionary Resources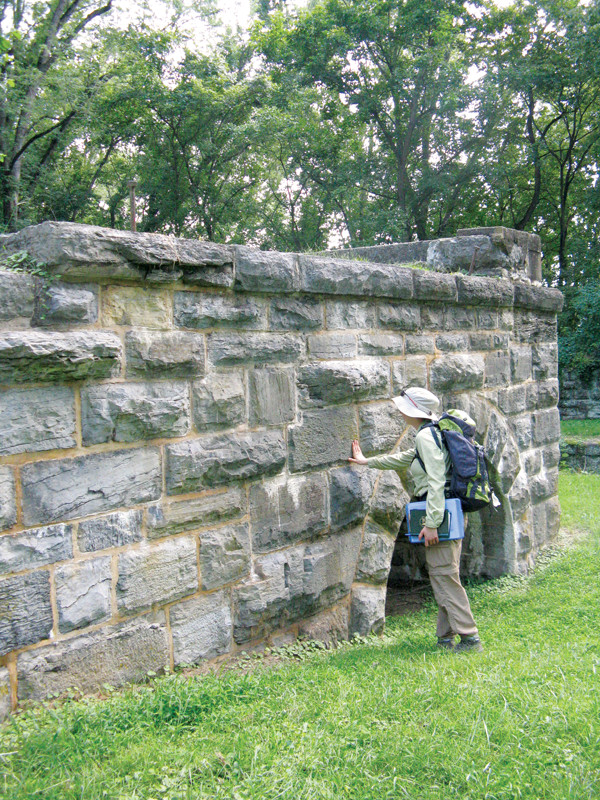 The C&O Canal is a 300-kilometer-long park along the Potomac River that traverses several physiographic provinces, including the Piedmont, the Valley and Ridge, and the Appalachians.
"It's known as a historic park, but it really has an interesting geologic story and the rocks that are exposed there are extremely fossiliferous — mostly marine invertebrates in Paleozoic limestone," says Vincent Santucci, senior geologist and paleontologist in the NPS Geologic Resources Division, who supervised Clites' GeoCorps America project.
"Erica did the first ever paleontological resource inventory of that park," Santucci says. "She did a wonderful job developing the first report on the paleontology of C&O Canal, after which we realized that some of the resources there are at risk from landslides, flooding and other threats."
Two successive GeoCorps America participants then developed and implemented a monitoring and management plan, which included the development of a volunteer site steward program to monitor fossil sites on a regular basis.
"The National Capital region is not an area where you typically think of fossils, but through the efforts of these three GeoCorps America interns, we have now been able to create a sophisticated level of paleontological management," Santucci says. "What was once not even considered a geologic park is now a leader for the park service in terms of how to manage nonrenewable fossil resources."
Clites' work on the C&O Canal project led to an offer of a return stint with NPS, as a GeoCorps America guest scientist coordinating outreach for the first National Fossil Day, held in 2010. "The work involved contacting a lot of organizations like professional societies, museums and universities and working with them to plan events," she says. "It was very helpful experience for me because I hadn't seen such a broad view of the field before. It put those places on my radar when I was looking at my next career move."
That next move was to Glen Canyon National Recreation Area in Utah, where she worked for several years doing field monitoring of vertebrate trackways in the sandstone units around Lake Powell.
Today, Clites is a museum scientist at the University of California Museum of Paleontology (UCMP) where she is curating a collection of 100,000 invertebrate fossils donated by the U.S. Geological Survey in Menlo Park in 1997. UCMP received a grant from the National Science Foundation to re-house the collection and make information about the fossils available online.
"I'd definitely recommend GeoCorps America to people," Clites says. "One of the things I think that is great about the program is that the positions are really well thought out. You get real work experience."
And that, says GeoCorps America program coordinator Matt Dawson, who heads up administration of the program through the Education and Outreach Department of GSA in Boulder, Colo., is exactly the goal of the program.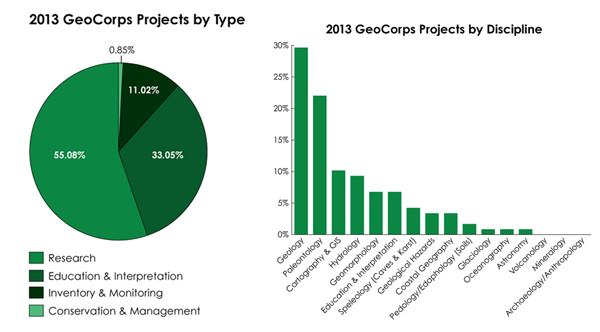 "These are not just trail maintenance jobs. A lot of the positions involve mapping, cave inventories — especially with the spread of White Nose Syndrome — paleo protection, climate change research, and soil, air and water science," he says. However, he adds, interns might occasionally have to help out with other park duties."Every once in a while, you may have to raise the flag or go check on a pit toilet," he says.
Santucci says each project is formulated to ensure it is an educational experience for the intern as well as accomplishing much-needed scientific work for the park. "What I strive to do is make sure the experience is enriching for them," he says. "We develop a real project [based on] a need we have in the national parks … and the park service gets real work done that it wouldn't otherwise be able to do." In addition, he adds, frequently the intern "ends up doing a presentation at a national conference or publishing a report." On a few occasions, the interns' projects have become their undergraduate or doctoral theses. "It's definitely a win-win for everybody," he says.
A Landslide of Opportunity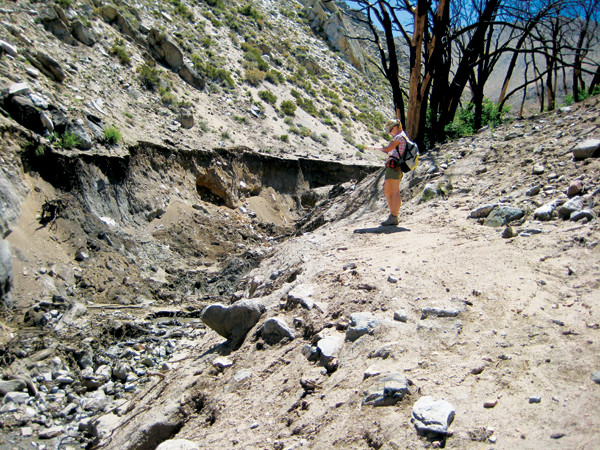 Margie DeRose's 2008 GeoCorps project resulted in some real hands-on field experience, as well as a publication on which she was an author.
After completing her undergraduate degree at California State University at Fullerton, where she focused on paleoclimate studies, DeRose worked at a consulting firm for four years and obtained her professional geologist license. She returned to graduate school at the University of California at Riverside and was looking for a different kind of work experience when she applied to GeoCorps America. She was accepted for three GeoCorps internships and chose a BLM project in Inyo National Forest near Bishop, Calif., near the site of her graduate field research.
The initial plan for DeRose's GeoCorps America project was to develop interpretive information for the hot springs and the general geology of the area, but a sudden shift in the landscape altered the course of her internship. "On my first day, there was a big debris flow," she says. "We went out to assess the damage and just started mapping the source area, flow and deposition."
The occurrence of the landslide, in which no one was seriously injured, turned out to be "incredible timing," says DeRose, who worked with another volunteer geologist and a geologist retired from the California Geological Survey to map the 65-square-kilometer flow. Their work resulted in the publication of a California Geological Survey special report and geological map, which De­Rose has since presented at scientific conferences. She also developed interpretive materials and led field trips to the site.
"I didn't know much about land-managing agencies before I did GeoCorps, so it was basically the pathway for me. I was able to learn what a geologist's role is. I just wish everybody could do it," says DeRose, who was ultimately hired by both BLM and USFS, where she now works as a geologist and program manager in Coronado National Forest in Tucson, Ariz.
Expansion and Diversification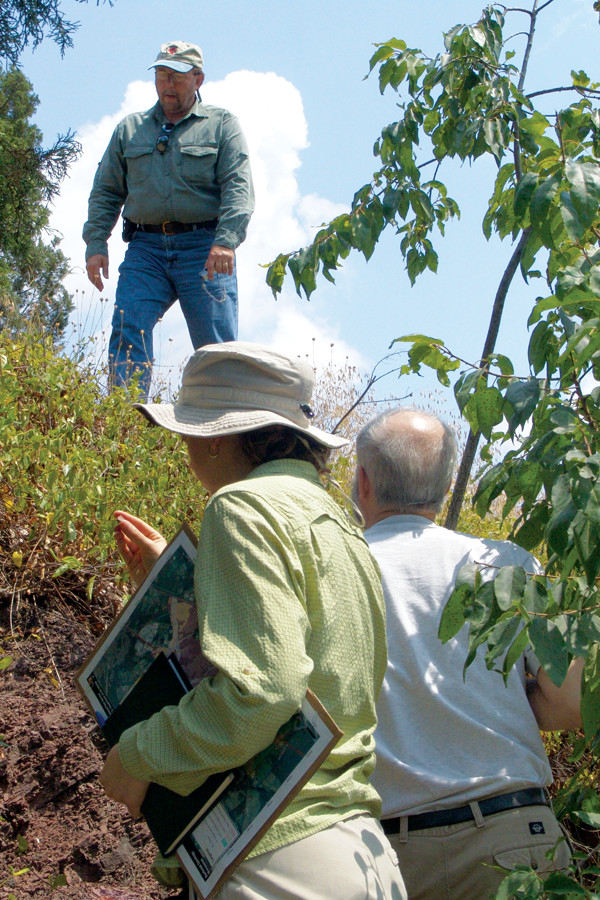 In 2014, the program had more than 140 spring and summer positions and more than 20 fall and winter positions — the latter were added for the first time in 2010 because some parks have geoscience needs in the offseason.
"The program has changed substantially," says Santucci, who has been mentoring participants since the program's inception. "There are greater opportunities for students. And we're getting many more highly qualified applicants now — young students who are eager to apply what they've learned in the classroom."
There are four types of positions: standard internships, guest scientist positions, diversity internships, and Mosaics in Science internships. Students or recent graduates are best suited for the internship positions, which pay a stipend of at least $2,750 for a three-month project and include housing or a housing allowance. Some, but not all, positions cover travel costs as well. The guest scientist positions require more significant science experience and would be suitable, for example, for a retired geologist or geology faculty member on sabbatical, Dawson says. Former GeoCorps participants can apply to guest scientist positions, but cannot repeat the internship program.
One of the main goals of the GeoCorps program, Dawson says, is to increase diversity in the geosciences. Thus, GSA partners with societies such as the Society for Advancement of Hispanics/Chicanos and Native Americans in Science, the National Association of Black Geoscientists and the Association for Women Geoscientists to help recruit geoscience students from traditionally underrepresented groups.
In addition, in partnership with the NPS Geologic Resources Division and National Park Service (NPS) Youth Programs Office, GSA has also instituted a new program called the Mosaics in Science program. The aim of the program, which began in 2013 with 12 positions, is to increase diversity in STEM and other disciplines. In addition to earth science, the program seeks participants with backgrounds in chemistry, physics, engineering, mathematics, computer science, ecology, hydrology, meteorology, the social sciences and the humanities. Participants spend 11 weeks working on a project at an NPS site, after which they travel to Washington, D.C., to present their work and participate in a career workshop. In 2014, there were 21 Mosaics positions in various locations across the United States.
Mapping Mines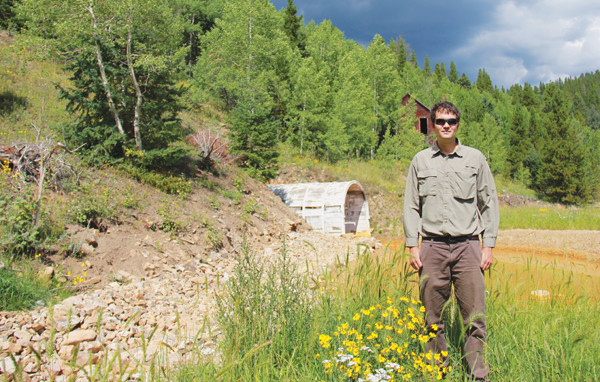 Despite a long list of tantalizing projects in some of the most scenic and geologically significant locations in the country (see sidebar), not all positions involve fieldwork. Several of the more than 100 positions each year are based at national headquarters in Washington, D.C., or at NPS, USFS or BLM field offices around the country.
In 2011, GeoCorps America participant Jason Frels worked as a GIS specialist in the BLM's Division of Recreation and Visitor Services in Washington, D.C., developing a database of transportation and access routes on BLM land and an appendix for the bureau's travel-planning handbook.
Frels, who had been looking for a way to gain work experience in GIS, decided to apply for the GeoCorps program the summer after he finished his undergraduate degree in geology at Trinity University in San Antonio, Texas. Frels was selected for the project in the BLM headquarters for a term of three months, but was extended to six months.
The experience launched Frels on the path to his current position as a physical scientist at BLM's National Operations Center in Denver, Colo., where he applies GIS to geophysical investigations and site characterization for a broad range of projects. One of his current projects involves updating BLM's national database of abandoned mines and hazardous materials sites to utilize spatial data types, which it presently does not.
"We're going through a big geospatial overhaul in the database, and I've been leading the development of the proposed geospatial solution," he says. "Ultimately, we hope to have a geospatial Web app available on mobile devices so that BLM personnel can create or manage abandoned mine or hazmat data in the field."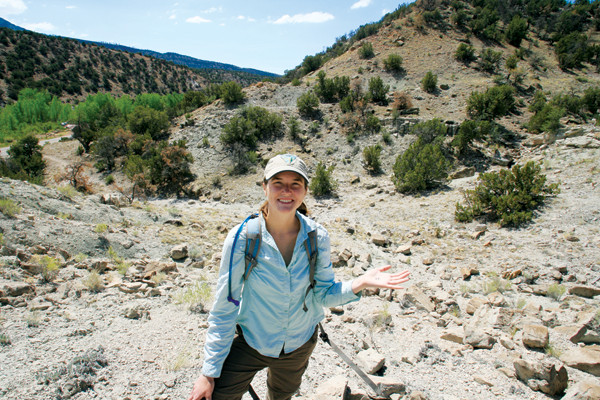 Sarah Doyle also worked on a project involving abandoned mines. She applied for a GeoCorps internship after completing her master's degree at the University of New Mexico, where her research involved using satellite imagery to investigate depositional processes on alluvial fans.
"I found one that fit pretty well," she says of her internship as an abandoned mine lands assistant at BLM's Royal Gorge field office in Cañon City, Colo., during which she applied her remote sensing and GIS skills. But it was the "abandoned mines that really drew me to it because they are interesting to study, especially how and why it is important for public land managers to clean them up." The three-month position was extended to a year. Roughly 10 percent of GeoCorps positions are extended, some for just a few weeks, some for up to one year, which mainly depends on available funding.
"I started working on an abandoned mine database that needed to be updated and cleaned up, but at the same time I was learning to code with Python [a software language], so I could create tools to manage the spatial data," Doyle says. "That was a skill that kept me there the rest of the year."
The Real World
Doyle is now a physical science technician with the NPS at Glen Canyon Recreation Area where she fulfills a lot of different geoscience needs, including researching the effects of grazing and climate change on soil resources and monitoring abandoned mine lands and paleontology resources.
"I don't think I really knew what I wanted to do until I started my GeoCorps position," Doyle says. "You're in school and you're studying something you're interested in, but you don't really know if your specific background in earth sciences will be useful in the real world. That internship really opened my eyes," she says.
"In fact," Doyle adds, "I would really like to enlist a GeoCorps intern [to help at Glen Canyon Recreation Area] next summer."
Former participants becoming mentors is not unheard of, Dawson says. In fact, past GeoCorps participants are often uniquely qualified to mentor current interns. But even if mentors have not been through the GeoCorps experience themselves, the mentor-intern relationship can still be rewarding for both participants.
"Clearly it's mutually beneficial," Santucci says. "But I would have to say that I [as a mentor] benefit more than the intern does," he adds. "I learn something new from each one."