First building blocks in Oahu found
by Mary Caperton Morton Wednesday, September 3, 2014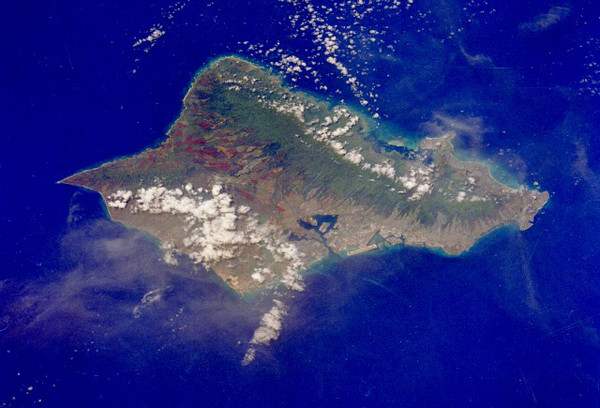 The Hawaiian Islands that jut above the waves are merely the tops of a string of towering volcanoes known as the Hawaiian-Emperor seamount chain. These mountains have formed flow by flow, eruption by eruption, over the past 28 million years as the Pacific Plate moves over a hot spot in the mantle.
A team led by John Sinton of the University of Hawaii at Manoa, along with colleagues from the Monterey Bay Aquarium and the French National Center for Scientific Research, has found the first building block for the island of Oahu: an ancient volcano they named Ka΄ena, which began forming about 5 million years ago.
Located in a region of shallow water extending about 100 kilometers west-northwest from Ka΄ena Point at the western tip of Oahu, the newly mapped volcano would have emerged above sea level about 3.5 million years ago, reaching a height of 4,000 meters from the seafloor and a maximum height of 1,000 meters above the waves before eroding and resubmerging with rising sea levels.
The nearby Waianae and Koolau volcanoes, also associated with Oahu, are younger and likely built on the flanks of Ka΄ena. The study, based on seafloor observations, geochemical data and geophysical surveys of the new volcano, was published in the GSA Bulletin.