From field scientist to filmmaker: Doug Prose
by Timothy Oleson Thursday, February 20, 2014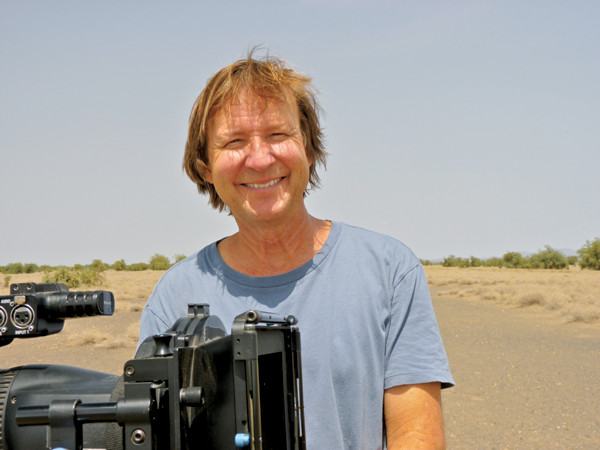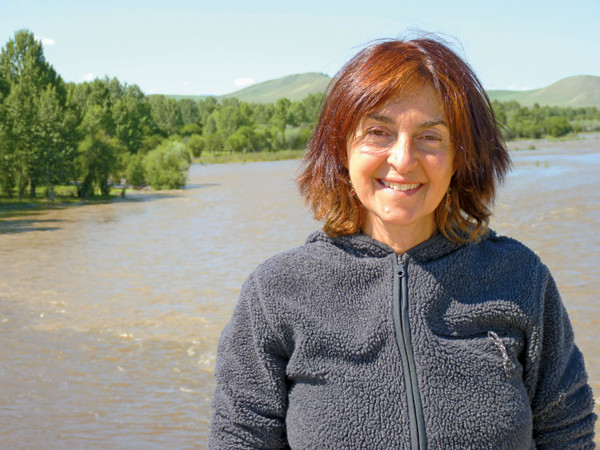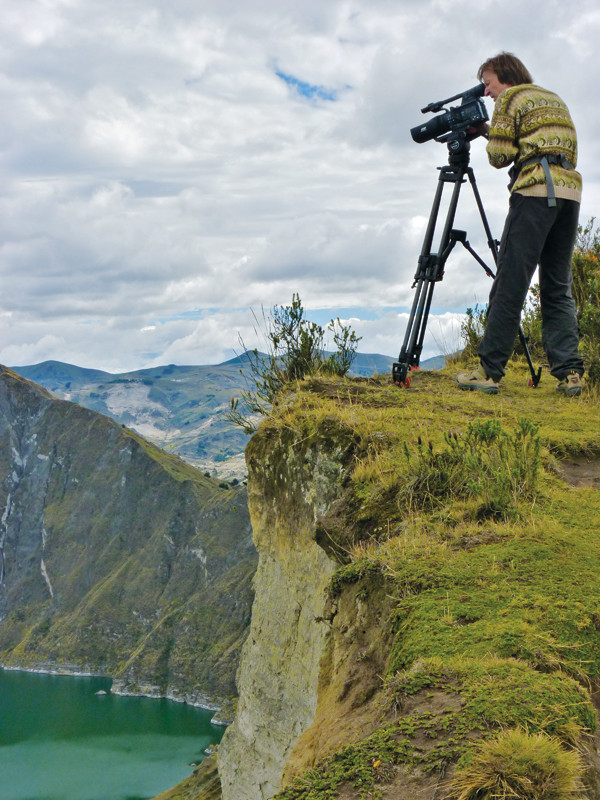 Ask Doug Prose what his favorite part of producing geologically themed documentaries is and he'll tell you it's filming nature and science in the field that excites him most. In particular, it's the company of awe-inspiring landscapes, eminent experts and eager students; it's capturing science in action, and researchers' reactions at moments of discovery; it's even logistical elements like composing camera shots and, when needed, managing curious onlookers crowding sometimes camera-shy scientists.
Moments later, though, he'll tell you the fine-cut editing stage — when interviews, narration, visuals, music and other elements are blended together to finalize the documentary's narrative thread — is another favorite part. And after that, he may also mention how much he enjoys hearing the response from audiences when they watch one of his films: "That's an amazing experience too," he says. It "makes all the time sitting in a dark room hour after hour [worthwhile]. It makes you realize why you do it."
Indeed, if you listen long enough, you'll likely hear Prose describe almost every aspect of the documentary process with unmitigated and infectious enthusiasm. (The ever-present challenge to find funding for his projects may be the only notable exception.) Altogether, ample evidence shows why the one-time field geologist turned to filmmaking early in his career. And it's easy to see why, after two decades of traveling the world and producing films for TV, museums and other outlets with his wife and co-producer, Diane LaMacchia, Prose has no plans to quit soon.
An Indirect Path to Filmmaking
Prose's path to becoming a geo-documentarian wasn't straightforward (if such a path even can be), despite his now-obvious fit in the profession. An earth science class in ninth grade that stressed rote memorization of rock and mineral samples sitting on tabletops offered little inspiration and left him wondering "why anybody would care about geology." But a series of chance encounters and opportunities subsequently led him back to the field and eventually uncovered a passion for storytelling through film that he hadn't dreamt of while growing up.
When Prose was attending the University of South Florida in Tampa, his neighbor — a geology professor at the school — convinced Prose to take a course he was teaching in environmental geology. "He taught how geology related to real life and people, and how Earth works," Prose says. "It was the most amazing [class]," and when it was done, "I decided right then and there to major in geology."
Prose finished a dual undergraduate degree in earth science and environmental studies at the University of California at Santa Cruz in 1982, after which he took a job helping produce geologic maps of the western U.S. with a branch of the U.S. Geological Survey (USGS) in Menlo Park, Calif. He loved being part of a team of field scientists who pursued "geology on the ground," he says. "You could go out in the field … and just see how geology was done."
After several years with USGS, he was asked to assist in producing a small video project for the survey's administration division. He'd had a hand in making a few music videos for the local band in which he played at the time — the other half of his "parallel life" involving "rocks in the day and rock and roll at night," he jokes — making him the resident "expert" on film production. Prose agreed to help and quickly became enamored with the medium, realizing it was both "a really interesting way to communicate science" and "a way to combine all of the things that I liked to do," he says. "There was the writing aspect, the music, and putting it all together in a story — in a video."
Turning Point
Despite his budding interest in film, Prose says he was still on track to go to graduate school and continue in geology until the Loma Prieta earthquake hit the Bay Area in October 1989. When it happened, he recalls, "I was actually editing a little [video] piece in an office … at the USGS, and the whole building almost collapsed. The windows broke, the air conditioning unit fell through the roof, all of my editing machines were dancing around on the table and rock boxes were falling all around me."
While the news media focused on "the social part of the story" in the aftermath, Prose rented a video camera and spent more than a month following USGS scientists as they observed the earthquake's effects on the natural landscape. The hour-long, unnarrated video he produced for in-house use at the USGS somehow caught the attention of a producer at the BBC, who ultimately incorporated Prose's footage into an episode of the network's "Horizon" science series and also aired Prose's original video in its entirety as a stand-alone special. It was this sudden introduction to the world of making TV documentaries that served as the real turning point in his career, Prose notes. In 1990, he began producing films full time at USGS.
Although he remained with USGS until 1995, he created the nonprofit Earth Images Foundation in 1992 as an outlet to pursue independent funding for his own artistic interests: namely, creating films for general audiences to display the wonders of how Earth works. Around the same time, he met and began collaborating on films with his future wife, Diane LaMacchia, a writer who was producing science documentaries for the University of California at Berkeley. Finally, in 1995, the pair each left the comforts of their respective institutions and decided to pursue independent filmmaking full time together. "We pretty much just jumped off the cliff," Prose says with a laugh, "and it has been that way ever since."
Perks (and Perils) of the Trade
In their 20 years of working together, Prose and LaMacchia have traveled to every continent and had their fair share — or more perhaps — of memorable experiences. In addition to having the opportunity "to meet and film top scientists who are doing cutting-edge research," Prose says, "the beauty of being filmmakers is that … we can swoop in and learn these amazing things and be a part of this process of scientific discovery, without all of the work."
Without all of the scientific work, that is. Producing a documentary from start to finish is a laborious process that can take years in its own right. "It always takes at least twice as long as you think it will, sometimes 10 times," Prose says. The technical and artistic process of filming, crafting a narrative and editing a film takes time, of course, but production can be slowed by many other factors, including the science itself. "You can't really tell a story until the scientists get their data processed" and reviewed, Prose says.
One of the pair's most ambitious projects to date took them to the remote Pakistani Himalayas to film scientists trying to understand why an 8,120-meter-tall peak named Nanga Parbat is growing faster than any other mountain on Earth. It turned out that various powerful erosive forces, including the Indus River cutting away at the mountain's flanks, were combining to rapidly remove mass from Nanga Parbat and, thus, allow it to rise faster even than its Himalayan neighbors.
"This was a new idea at the time," Prose notes, which wasn't well-established when they began filming in the early 2000s. It was exciting when this mechanism of erosion-enhanced growth emerged from the scientists' observations, he says, because suddenly, between the visuals captured on film and the science, "we had this incredible story to tell."
Typically behind the scenes while in the field, and thus mostly a spectator to the action he's filming, Prose says he still sometimes has the urge to put down his camera, "pick up a hammer or hand lens and start being a scientist" again.
But on occasion, he says, he has also seen a little bit too much action while working. There was the time a quick hand from his wife saved him from slipping off a precipice in Greece, camera and tripod in hand, while pursuing an ideal shot of an outcrop. ("Diane has actually saved my life at least twice," he notes.) Prose almost lost his own hand to frostbite while taking part in cold-weather survival training in Antarctica. And he also once filmed from the unstable edge of a volcanic vent on Mount Etna in Italy: "We did our filming … and then left and it was fine. But within 12 hours, that entire section [of the volcano] collapsed and went down into the caldera."
Scientists will go anywhere to get data, Prose says. "To be a good geologist, you have to go for it and not be afraid … And if we want to get the shots, we need to follow them."
Covering Earth Without a Roadmap
Even with 16 programs for PBS under his belt — some of which have also aired internationally, and some of which have garnered awards — as well as others used in museums and classrooms, Prose says he thinks he's just now "getting the knack of how to make a film." It seems an understatement, but as he notes, there aren't any roadmaps for shooting documentaries and each project is completely different.
"For me, Earth and earth science are so exciting that it's hard to imagine anyone not being interested in it," but figuring out how to make a film that the public and nonscientists will not only understand but also hopefully get excited about is a "huge challenge" every time, he says.
With no plans yet to retire from filmmaking, Prose has time to continue working on his chosen craft — a boon for fans of seeing earth science on the screen. So much fascinating work is being done in geology, he says, "I would need 10 lifetimes to adequately cover" it all.
For more information about Prose and LaMacchia's work and to watch clips from some of their documentaries, visit www.earthimage.org.