Everything's bigger in Texas, including the Wink sinkholes
by Mary Caperton Morton Tuesday, September 20, 2016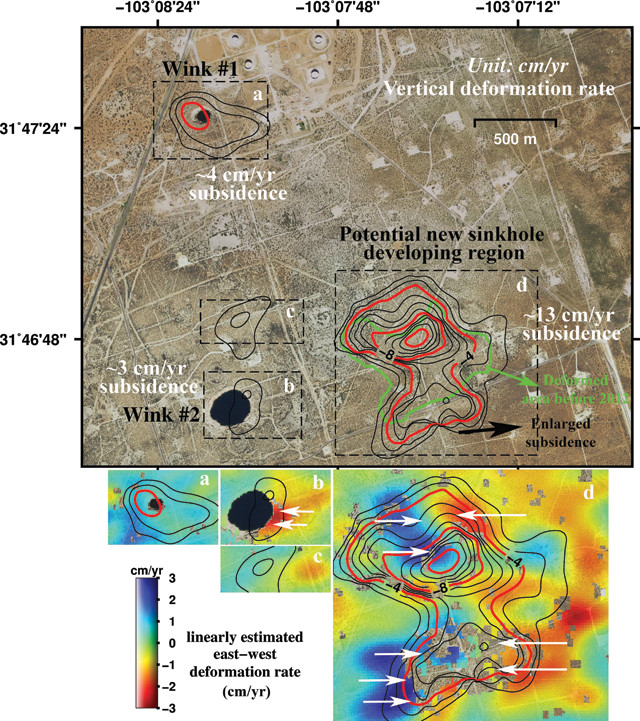 Residents of the neighboring West Texas towns of Wink (population 940) and Kermit (population 6,000) have had decades to get used to a pair of large sinkholes that opened a couple of kilometers apart between their towns, the first in 1980 and the second in 2002. But according to a new study, the ground around the two holes is subsiding and unstable, opening up the possibility that they could collapse into one giant sinkhole.
The two sinkholes, named Wink Sink 1 and Wink Sink 2, are the result of long-term oil and gas extraction above layers of easily dissolved salt beds, said lead author Jin-Woo Kim of Southern Methodist University in Dallas in a statement. Intrusion of freshwater underground from the oil and gas production "can dissolve the interbedded salt layers and accelerate the sinkhole collapse," he said.
Wink Sink 1, currently 110 meters across, is the smaller and less stable of the two, with a 500-meter-wide oval-shaped area of deformation around the sinkhole that is subsiding at up to 4 centimeters a year, Kim and his colleagues reported in the journal Remote Sensing. Wink Sink 2, closer to the town of Wink, is currently 270 meters across and shows fewer signs of subsidence. However, the eastern wall is collapsing at a rate of about 3 centimeters a year, and the ground east of Wink Sink 2 has also been sinking at an alarming rate — 4 centimeters during the study period between April and August 2015 — suggesting a new sinkhole may be forming.
Chain link fences surround both sinkholes and nobody lives in the space between the two, but a major collapse could be dangerous for the overall stability of the region, Kim and his colleagues wrote in the study. "We are collecting more high-resolution satellite data over the sinkholes and neighboring regions to monitor further development and collapse," Kim noted.