Energy's the hot topic this week on the Hill
by Carolyn Gramling Thursday, January 5, 2012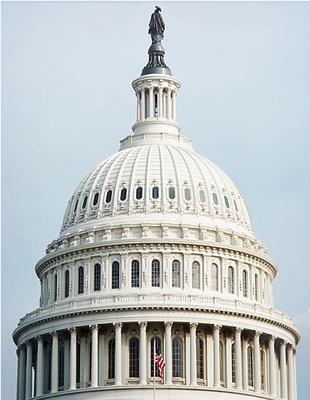 UPDATE: The House energy bill, which will allow offshore drilling and gives states incentives by sharing the revenues from drilling leases with them, passed yesterday (Sept. 16). The Senate bill is still pending, but a vote is likely sometime this week.
There's lots of activity on energy in Congress this week. The House may vote on an energy bill that will repeal the ban on offshore drilling. And the Senate's looking at the New Energy Reform Act, sponsored by the "Gang of 20" (formerly Gang of Ten), a bipartisan group that supports increased offshore drilling, as well as tax credits for renewable energy production and investments. Those credits would be paid for by repealing tax credits to oil and gas companies.
Stay tuned.
And in presidential election 2008 news...several weeks after Barack Obama finally answered sciencedebate2008's request to outline his position on key issues of science and technology, John McCain has finally, finally put up his own responses. You can read a side-by-side comparison of the presidential candidates' answers to "the top 14 science questions facing America" here.
A few highlights:
Climate change?
Obama: Anthropogenic. Market-based cap and trade, to 80 percent below 1990 levels by 2050.
McCain: Anthropogenic. Market-based cap and trade, to 60 percent below 1990 levels by 2050.
Alternative energy?
Obama: Federal investment in clean energy R&D up to $150 billion over ten years, for: Green buildings, solar, wind, geothermal, nuclear (prioritizing cost, safety, waste disposal). Voted for renewable tax credits.
McCain: Nuclear power, first and foremost. Voted against renewable tax credits; renewable energy R&D should be market-driven.
U.S. math and science scores are dismal. Plans?
Obama: Improve STEM (science, tech, engineering and math) educational materials and technologies, teacher training and recruitment, new STEM education committee in OSTP to coordinate federal efforts
McCain: Improve community college system to retrain displaced workers, involve private corporations, professional development programs for teachers, performance bonuses for teachers
National security?
Obama: Double basic defense research funding (esp. bio and cyber), renew DARPA, increase for manufacturing tech and energy research to reduce foreign dependence
McCain: Modernize military technology, R&D for military
Space research?
Obama: Re-establish a National Aeronautics and Space Council to oversee all U.S. space activities (e.g. those of NASA, DoD, the National Reconnaissance Office, the Department of Commerce, DoT), include international partners and the private sector
McCain: Space exploration is top priority, including manned spaceflight, continue to fund Constellation project, extend space shuttle program until Constellation is ready