Energy mission: "Kilowatt Ours"
by Cassandra Willyard Thursday, January 5, 2012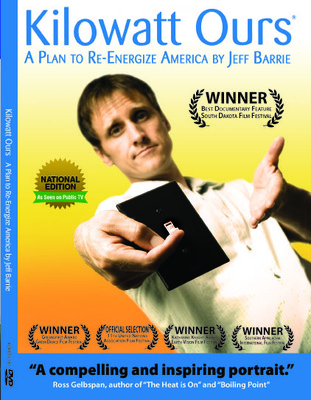 "What if every time you flipped a light switch, a mountain exploded in West Virginia?"
In the new documentary "Kilowatt Ours," filmmaker Jeff Barrie explains why that idea isn't as preposterous as it sounds.
Over half the nation's electricity comes from coal, some of which is mined through a process called mountain-top removal. This process not only turns once-verdant mountains into vast, barren plains, Barrie points out, it also harms streams because the mining companies dump waste rock into the valleys below. And coal's ill effects extend far beyond West Virginia: "Kilowatt Ours" also discusses how coal combustion pollutes the air and makes people, especially kids, sick.
But Barrie's main message is much larger than coal: He wants everyone to know that by adopting simple measures, Americans can use energy much more efficiently and reduce their demand for electricity.
Don't think you're wasting energy? Think again. Are you still using incandescent bulbs? Does your fridge say Energy Star? Do you leave your computer on all night? Do you, like one woman Barrie interviewed, have an electric hand lotion warmer? Ok, maybe you don't. But almost everyone can find places in their homes where electricity is being needlessly wasted.
Barrie doesn't just talk the talk, he walks the walk. Or rather, his wife does. In what is perhaps the film's most endearing footage, the camera follows Barrie's wife around their modest apartment as she replaces incandescent light bulbs with compact fluorescents.
Barrie also visits people around the country who are taking conservation seriously. My favorite example was a restaurant in Chicago called Taco Burrito King, which became the first in the nation to use water heated by the sun. If Taco Burrito King can do it, why not McDonalds or Burger King? Why not Starbucks?
The 45-minute "Kilowatt Ours" doesn't employ fancy filmmaking techniques, celebrities or adorable animation, but maybe that's why I liked it. Barrie is just a guy with a camera. While his reporting is far from unbiased — he clearly thinks coal and nuclear are bad and that solar and wind are good — his message resonates. Do I really need to buy that electric can opener? Maybe not.
A DVD of "Kilowatt Ours" is available through the Web site. The show will also be appearing on public television stations across the country. The full schedule is also available at the site.