Elemental Traces in the Atlantic: An encouraging start, an inauspicious end
by Jeremy Jacquot Friday, January 20, 2012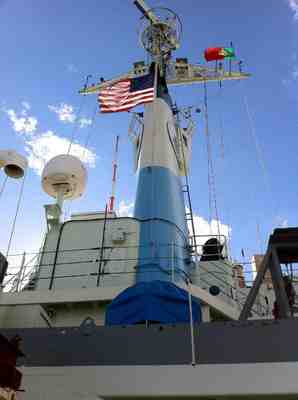 Follow my blog at EARTH online, "Elemental Traces in the Atlantic," over the next couple of months, where I'll be writing from the ship and detailing the scientific journey. And stay tuned early next year, when EARTH and I will bring you a wrap-up of the cruise. Read the original story here.
It's been just over two weeks since we set sail from Lisbon, Portugal, on our 52-day journey across the North Atlantic. Over that brief span of time, we've already managed to collect, filter and analyze hundreds of seawater samples and begun to generate what will likely be the most comprehensive dataset of the region.
Yet, I'm sad to report, this historic cruise will soon be coming to an end — not because some of us are getting cold feet about braving the strong winds and rain that will be coming our way soon, and certainly not because of the loss of sleep or seasickness (both of those, after all, are hallmarks of any respectable oceanographic cruise). Put simply, a part in our ship (the R/V Knorr) broke down — the port (left) thruster, to be more specific.
I wouldn't say that ship malfunctions are a rarity in this field, but it is quite unusual to have such a serious problem crop up so early during a cruise, particularly one that is as high-profile as GEOTRACES. The loss of the port thruster is significant to the operation of the ship: If the port thruster doesn't work, neither does the ship's left propellerhead. In other words, we only have one propellerhead, on the starboard (right) side, with which to continue our journey.
There is another propellerhead on the bow, but it is mainly used to stabilize the ship while we're stopped for sampling. Before the port thruster went belly up, we were steaming at about 12 to 13 knots (1 knot = 1.2 nautical miles/hour). Without it, our speed has been cut almost in half. Though that may not seem like a show stopper, there is always the risk that we could also lose the starboard thruster, which would force us to rely on the bow thruster and slow us down to an anemic 3 knots. 
Our expedition's chief scientist (our "leader," so to speak) and the captain have decided to sample from four closely spaced stations off Mauritania before wrapping it up and heading off to the Cape Verde Islands for an inspection of the ship. In the likely case that the repairs can't be made at Cape Verde, most of us will have to fly back home while the ship slowly makes its way back to a U.S. port.
A handful of us will remain to collect aerosol and surface water samples, which can be done while the ship is under way. It sometimes seems difficult to not consider this cruise a failure, or at least a major disappointment, but it's worth noting that we did still accomplish a fair number of objectives and got a lot of sampling out of the way. Also, aside from a few hiccups at the first sampling location (including a small fire in one of our labs), everything else went swimmingly: We were all working together as a team and the data we obtained reflected that. Many of us, as graduate students, were hoping to use the data for our theses (including myself), so there is an obvious element of disappointment there.
Considering how long it takes to plan and schedule these long cruises, it's hard to predict when GEOTRACES Part 2 will take place. Based on the rumblings I've heard so far, it seems like late 2011 or early 2012 are possible time frames. Another U.S. GEOTRACES cruise, the Pacific section, is still slated for 2012.
As much as I hate to kick off the blog on such a downer note, I thought it was only fair for those of you expecting to see my posts over the coming two months to know what our situation is. In the next post, I'll liven things up a bit with a description of our last frantic week of sampling and our different areas of work in general.