EIA: Worldwide oil demand will plummet in 2009
by Brian Fisher Johnson Thursday, January 5, 2012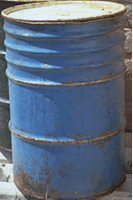 Blogging on EARTH
The Department of Energy's Energy Information Administration is projecting that the global demand for oil will plummet even faster next year than it did this year — largely because of lower forecasts for global economic growth.
Throughout 2008, oil consumption has decreased by an average of 50,000 barrels per day, according to the report. But in 2009, the trend will intensify to 450,000 barrels per day — also marking the first time in three decades that world oil demand will be in decline for two consecutive years, the report said. China, the Middle East and Latin America are expected to consume more oil during those two years, but the drop in demand by North America, Europe and Australia will more than offset that growth.
The unusually low demand for oil may also force OPEC members to "higher-than-usual compliance" with production cuts, according to the report.
OPEC plans to meet December 17 to discuss further production cuts; in October, OPEC members cut production by 1.5 million barrels per day.