Earthquake shakes southern New Zealand
by Zahra Hirji Thursday, January 5, 2012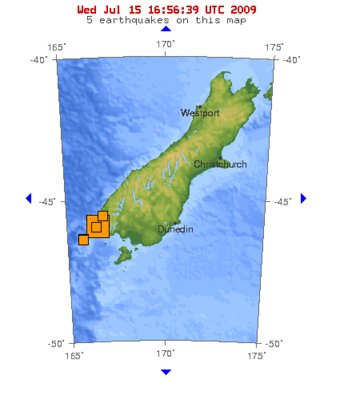 A magnitude-7.6 earthquake rattled the South Island of New Zealand at 8:22 p.m. local time Wednesday. No serious injuries or damages have been reported.
The quake's epicenter was 150 kilometers west of Invercargill, off the coast of New Zealand's South Island at a depth of 12 kilometers, according to the U.S. Geological Survey's Earthquake Hazards Program. Subsequent to the major tremor, the region has experienced several aftershocks ranging in magnitude from 5 to 5.8.
Following the initial quake, NOAA's Pacific Tsunami Warning Center in Ewa Beach, Hawaii, issued a tsunami warning, but canceled the warning once the waves were discovered to be less than .17 meters (approximately 7 inches). At this time, the center is predicting no Pacific-wide tsunamis.
Over the past two decades, New Zealand has experienced five earthquakes with magnitudes of at least 6.4. The most recent occurred in August 2003, when a magnitude-7.2 earthquake caused minor damages in Otago and Southland and produced landslides around the Fiordland region.