Earthquake rocks Sumatra
by Brian Fisher Johnson Thursday, January 5, 2012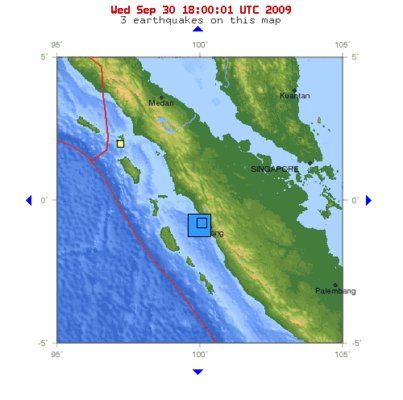 Updated on Oct. 1:
A second, magnitude-6.6 earthquake struck southern Sumatra, Indonesia, today at about 8:52 a.m. local time; this time, the epicenter was 215 kilometers southeast of Padang, West Sumatra. The death toll from both events has risen to at least 531 people.
Although the earthquake hit within 16 hours of yesterday's magnitude-7.6 temblor and occurred along the same plate boundary between the subducting Australian Plate and the overriding Sunda Plate, the U.S. Geological Survey is not calling today's event an aftershock, given its different location and direction of motion, says Don Blakeman, an earthquake analyst with USGS' National Earthquake Information Center. Wednesday's magnitude-7.6 quake was an oblique-thrust motion — a combination of thrust and strike-slip motion — that occurred 80 kilometers below the seafloor, while today's event likely resulted from a strike-slip motion at just 15 kilometers deep.
Still, it is possible the two earthquakes are related, Blakeman adds: The release of stress from yesterday's earthquake may have contributed to today's event.
It's also possible that both earthquakes are related to the 2004 magnitude-9 earthquake that spawned a devastating tsunami in the Indian Ocean, USGS seismologist Tom Parsons told NPR's Morning Edition today.
Original story posted Sept. 30:
A magnitude-7.6 earthquake hit southern Sumatra, Indonesia, around 5:16 p.m. local time on Wednesday. The quake killed at least 75 people and trapped thousands more beneath destroyed buildings, according to Indonesian authorities speaking at a press conference late Wednesday. 
The epicenter was about 45 kilometers west-northwest of the city of Padang, according to the U.S. Geological Survey. The survey reported that the quake originated along a thrust fault near where the Australian Plate is subducting beneath the Sunda Plate — and at 80 kilometers depth, the survey noted, the temblor "was deeper than typical subduction thrust earthquakes."
NOAA's Pacific Tsunami Warning Center initially announced a tsunami watch for Indonesia, India, Thailand, Malaysia and other areas of the Indian Ocean region, but cancelled the watch just over an hour later.
Indonesia's Ministry of Health said Wednesday that 40 doctors and specialists will be flown into the area tomorrow morning, according to The Jakarta Post.
Only a few weeks ago, in early September, a magnitude-7.0 earthquake and resulting landslide killed dozens of people on the Indonesian island of Java.