Earthquake rocks central Italy
by Erin Wayman Thursday, January 5, 2012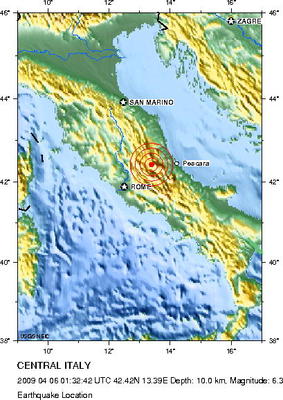 Updated on April 7:
As of April 7, the death toll from the magnitude-6.3 earthquake that struck central Italy on April 6 has risen to more than 200 people. Italian Prime Minister Silvio Berlusconi declared a state of emergency on Monday. On Tuesday, he told reporters that rescue efforts would continue for two more days.
Meanwhile, anger in the region is growing over one scientist's prediction that a large quake would occur, which officials had dismissed. Following repeated tremors over the past few months, seismologist Giampaolo Giuliani of the nearby Gran Sasso National Laboratory said he detected increased radon gas emissions, and warned that a major earthquake would strike March 29. When that did not occur, the Italian civilian defense agency issued a statement April 1 decrying such attempts at earthquake predictions as causing needless public panic. The tragedy has brought the controversial issue of earthquake prediction into the forefront, as many scientists do not consider radon gas emissions to be reliable indicators of an impending earthquake.
Original story posted April 6:
A magnitude-6.3 earthquake struck central Italy this morning at about 3:30 a.m. local time. The 30-second-long quake killed at least 90 people, injured at least 1,500 and destroyed historic buildings dating to the Renaissance and Medieval periods, Agence France-Presse reported.
The hypocenter of the earthquake was 95 kilometers northeast of Rome at a depth of 10 kilometers, according to the U.S. Geological Survey's Earthquake Hazards Program. And within hours of the initial quake, at least three powerful aftershocks with magnitudes of at least 4.3 hit the region, CNN.com reported.
This part of Italy is no stranger to seismic activity. In 1997, a series of earthquakes with a magnitude of 5.0 or greater hit central Italy from September to November. The largest, a magnitude 6, killed at least 11 people, injured more than 100 and damaged tens of thousands of buildings, according to USGS.