Earth science rocks at the USA Science & Engineering Festival
by Lisa Song Thursday, January 5, 2012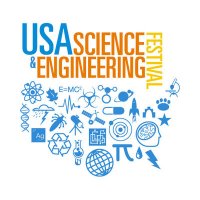 A jazz-improvising robot; an Einstein impersonator; Van de Graaff generators that make your hair stand on end: These were just some of the attractions at the inaugural USA Science & Engineering Festival, which included an expo held on the National Mall in Washington, D.C., on Oct. 23 and 24, 2010.This celebration of science, where NASA astronauts mingled with awestruck kids and families competed in robotic soccer tournaments, featured 1,500 hands-on activities and attracted 500,000 visitors.
On the earth science side, researchers used a "make your own earthquake" activity to teach people about seismology, and students learned about ocean science while building buoys out of PVC pipe and Frisbees. (For more, watch the video above.)
Sarah Yue from the NOAA Office of Education hosted an exhibit on ocean acidification, one of the results of increasing greenhouse gases in the atmosphere. When carbon dioxide dissolves in water, it makes the ocean more acidic, which can hinder the growth of corals, clams and other marine creatures. Yue dropped dry ice in water to simulate the process. "Dry ice is always a lot of fun," Yue said. The smoke and bubbles create a "wow factor," she said — but hopefully, kids would also walk away with an understanding of how climate change affects oceanic ecosystems.
Her goals matched perfectly with the festival's mission of promoting science through entertainment and education. "The premise behind the festival is that society gets what it celebrates," said Larry Bock, the festival's executive director. "We celebrate Britney Spears and Lindsay Lohan and we generate a lot of (Spears and Lohan) wannabes. But we don't celebrate science and engineering — so why not?"
There were plenty of festival performers ready to show that science can be fun. Francis Collins, director of the National Institutes of Health, sang some of his own songs about the human genome. The Amazing Nano Brothers used juggling and circus acts to teach basic nanotechnology. In the festival's closing act, Bill Nye the Science Guy presented the 2010 Kavli Foundation Science Video Contest awards for the best student-made videos about why science is cool.
Bock was hopeful that the festival would inspire future scientists and engineers. "The fact that people are waiting in line 100 deep to go to a science event makes (this) look really important. … My favorite story is the number of scientists who (have) come up to me and said, 'Thank you for putting on this event, because for the first time, I look cool in front of my kids.'"