Down to Earth With: Yosemite's first park geologist Greg Stock
by Lucas Joel Tuesday, February 2, 2016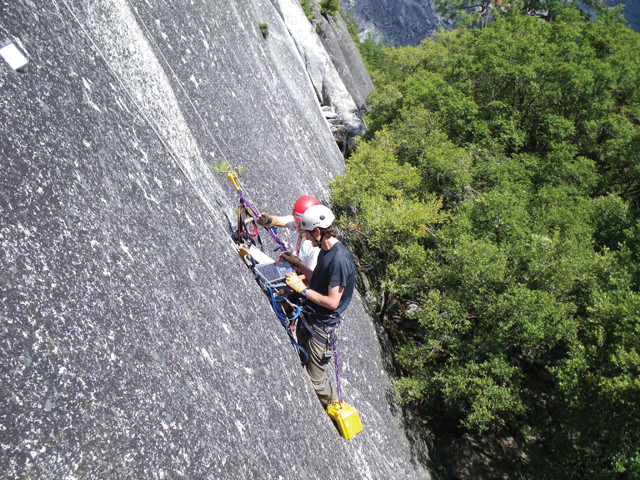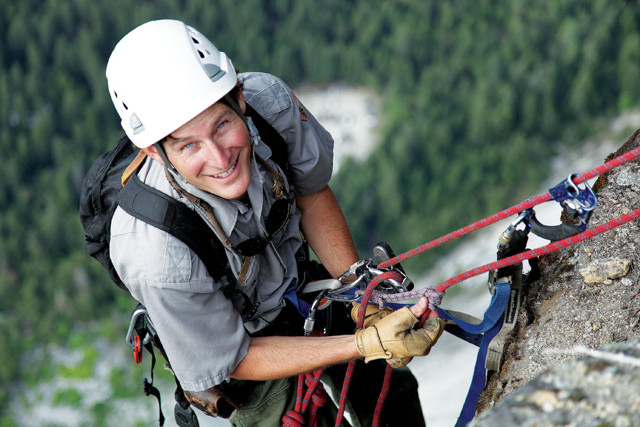 As a child growing up in the foothills of California's Sierra Nevada Mountains, Greg Stock and his family took frequent trips to Yosemite National Park. One of his first memories is of hearing and seeing a giant rockfall tumble down the face of El Capitán. Today, Stock studies such rockfalls and how they impact safety in the area as the first park geologist employed at Yosemite.
In high school, Stock spent much of his free time exploring the many small caves around his hometown of Murphys, Calif. He went on to study these caves and how the sediments they hold can help answer questions about how mountains form for his doctoral research at the University of California at Santa Cruz. Stock's love for the geology of the Sierra Nevada, along with his research on the mountains, made him the ideal candidate when Yosemite announced in 2005 that they would be hiring the park's first geologist.
Crediting John Muir — whose 19th-century explorations and writings brought national attention to Yosemite — as a major inspiration, Stock now spends his time traversing and studying Yosemi­te's rapidly retreating alpine glaciers, as well as trying to understand what, exactly, triggers the park's many rockfalls. Stock has published extensively on Sierra Nevada geology and is co-author of the popular field guide "Geology Underfoot in Yosemite National Park."
EARTH spoke with Stock last fall about what led him to Yosemite, what caves have to tell us about rivers, and the similarities between rock climbing and surfing.
LJ: What kindled your interest in geology?
GS: Caving, climbing and being in the outdoors overall is what steered me toward geology. As a kid, caving led to rock climbing. And I had questions about the cliffs: how they formed, why they had cracks in them, and why they were shaped the way they were.
LJ: What did you do after graduating with an undergraduate geology degree from Humboldt State?
GS: I had a really nice couple of years working for the National Park Service, spending summers in Sequoia & Kings Canyon National Parks and winters in Hawaii Volcanoes National Park. I was mostly mapping caves, and so I was toggling back and forth between the Sierra Nevada and Hawaii, with a couple months off in between to travel around the Western states and see more national parks. It helped me realize that I still had a ton of questions about geology. So I went back to graduate school at UC Santa Cruz, where I mostly studied cave development and how that played into the uplift and erosion history of the Sierra Nevada. When I was working in Sequoia Kings Canyon, I thought that the caves there could be used as indicators of past river position. A cave high in the walls of a deep river gorge can be a marker of ancient river elevation, and if you can find sediment to date in the cave, then you can come up with an incision rate of the canyon. And we were able to do that for a bunch of caves and measure river downcutting rates over a few million years.
LJ: What were some of the major findings of your doctoral work?
GS: The main thing we found is that the cave sediments did provide pretty robust ages for the caves — they made nice stratigraphic sense — and the river incision rates were also very reasonable. Unfortunately, river incision can't be tied directly to mountain uplift because changes in climate can also cause the incision rates of rivers to change. But, based on the combination of the spatial and temporal patterns that we saw, we think the work provides support for a recent pulse of uplift of the Sierra Nevada in maybe the last 3 million to 5 million years.
LJ: How did you become Yosemite's first park geologist?
GS: During a one year post-doc at the University of Michigan in 2005, a colleague from Sequoia Kings Canyon dropped me an email and said, "Hey, there's a position open for the first geologist in Yosemite. You should put in for it." At the time I wasn't thinking of a career with the park service — I was much more focused on an academic career. But I love the Sierra Nevada and Yosemite, and I had spent enough time working for the park service to know that I really liked the agency. I like their mission, and I like the people who work for the park service. So I was intrigued. I applied and I got the job.
LJ: Do you know how or why the position was created?
GS: The park needed to have a geologist based here who was available not just to respond to rockfalls or debris flows, but to help the park try to anticipate those events. That's really the kind of thing that requires somebody in the park on staff to not only be able to do the science effectively, but to be the bridge between the science and the decision-making.
LJ: So you're an on-call geologist?
GS: Yes, in the literal sense. I get phone calls at three in the morning sometimes if there's a big rockfall that requires a response.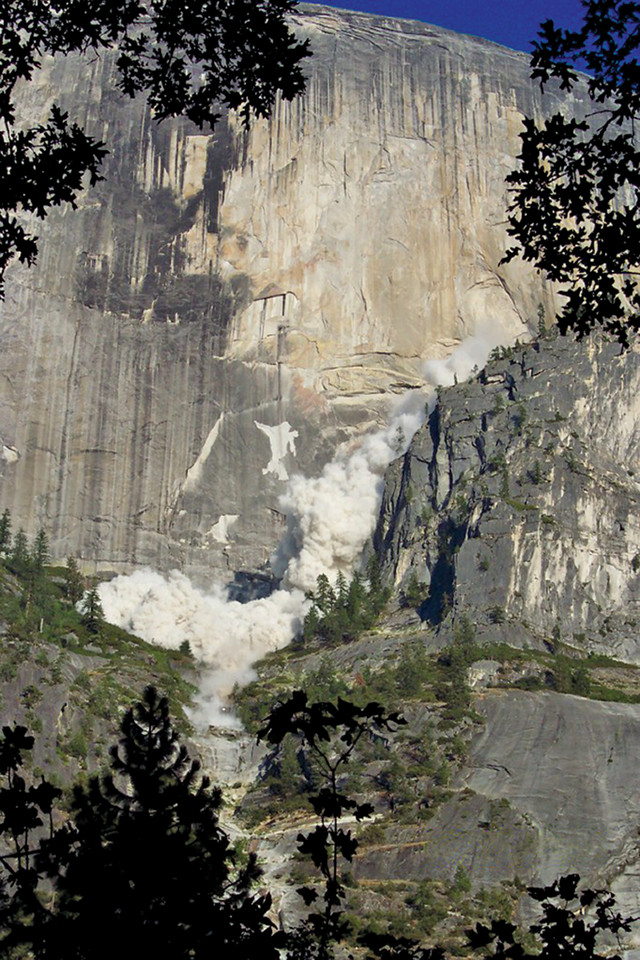 __LJ: How do you feel about having that sort of uncertainty in your work? __
GS: Every day is different, which is part of what I love about this job. There could be a day when I go to the office and I'm prepared to work on a report, but suddenly I get a call from dispatch telling me there's been a big rockfall from Glacier Point, and then I spend the next two weeks working on that rockfall. The main thing I do as park geologist is help the Park [Service] understand and plan for geologic hazards, and, in Yosemite Valley, that primarily means rockfalls. We have rockfalls from cliffs about every week, on average. But just in the past 10 days, we've had about 20 rockfalls, probably associated with the first stormy weather that we've had in months.
A lot of these rockfalls are not a big deal — they happen in remote areas of the park and they're primarily just of scientific interest. But, occasionally, they will land on roads, they'll land on trails, and in the past they've even landed on buildings, and that's not good.
LJ: What are some of the results of your rockfall hazard work?
GS: I've worked extensively with the U.S. Geological Survey to map out rockfall hazard zones in Yosemite Valley, and to evaluate the risk to people within those zones. We published a report in 2012 that outlined the hazard and risk in Yosemite Valley from rockfalls. By the end of that year, the park had taken steps to reduce the risk to structures from rockfalls by 95 percent, which is a huge risk reduction. That was done primarily by removing or relocating buildings in the rockfall hazard zones, or in some cases repurposing a building to a lower-risk use — for example, converting a dormitory to a storage unit. It was a big effort a couple of years ago, and we're already starting to see the benefits: In February 2014, a rockfall in Curry Village — not a big one, but big enough — landed right in the footprint of a cabin we had removed from the hazard zone a year before, and that rockfall happened at 3 a.m. Most likely there would've been people sleeping in that building if it had still been there.
LJ: Is there a predominant type of rockfall trigger?
GS: There's a huge list of potential triggers. We've seen just about everything occur at one time or another. For example, earthquakes are definitely a rockfall trigger. The 1872 rupture of the Owens Valley Fault triggered many large rockfalls in Yosemite Valley, and John Muir was even in the valley to witness one of those. He wrote quite excitedly about it.
If you look at the stats from our rockfall database, the first thing you'll find is that roughly half of the rockfalls have no known trigger, meaning there wasn't enough information about the environmental conditions at the time of the rockfall, or, more interestingly, even when those conditions are known, we don't know what the trigger was — it was apparently a spontaneous event. Those are the most interesting to me because we don't understand them very well.
We're investigating the effects of heat, or thermal expansion and contraction of exfoliation sheets. We're trying to evaluate progressive propagation of cracks that lead to destabilization of flakes [of rock on cliff faces], but which may not record any specific trigger like a freeze-thaw event. But the most common conditions under which rockfalls occur here are just after rainstorms. The addition of water to cracks just behind these exfoliation sheets is a primary trigger.
LJ: Do you ever think about rockfalls when you're rock climbing?
GS: Oh, of course. I'm probably the most paranoid person in the world when it comes to rockfalls. But I still climb, and I understand that I am assuming the risk. I do it because the rewards are great. But it does factor into what I do — I certainly don't climb during rainstorms or right after them. I'll wait a day or two. I always wear a helmet. I avoid places that have recently been active, because often one rockfall area can be active over several days, weeks or months. I sometimes think that it's similar to surfing an incredible wave in shark-infested waters. The chances of a shark attack are really, really low, and you're going to enjoy an incredible wave, but it is something that is always possible out there, and we need to think about it.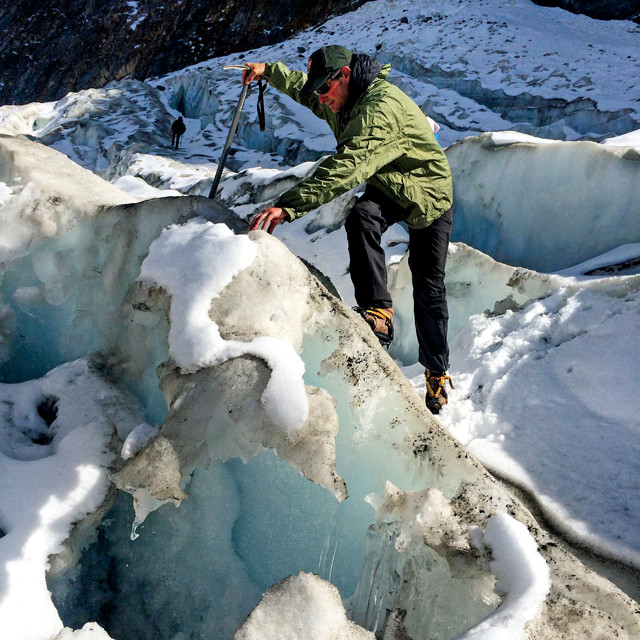 LJ: I saw a video in which you cite John Muir as a major inspiration. Do you feel like you're following in his footsteps?
GS: Yeah, I do feel that way. Part of it is that he was in love with Yosemite, and I feel the same way, so we certainly have that in common. But, more recently, I have literally followed in his footsteps. In 1872, Muir pounded a couple of stakes in the Maclure Glacier, and over a 46-day period he measured the movement of the stakes, measuring the movement of the glacier, which, as far as I know, is the first time anybody did that with any glacier in North America. In 2012, 140 years later, we went up to the Maclure Glacier and reproduced his experiment. We put stakes in the ice; the glacier is less than half the size it was in Muir's time, so it's a very different glacier. The really cool thing is that we got the same result: The glacier was moving at more or less the same speed in 2012 that it was in 1872. So, at those times I do feel a real connection with Muir, because it's like I'm experiencing not just the same landscapes, but the same scientific results.