Down to Earth With: Pat Pringle
by Timothy Oleson Tuesday, January 27, 2015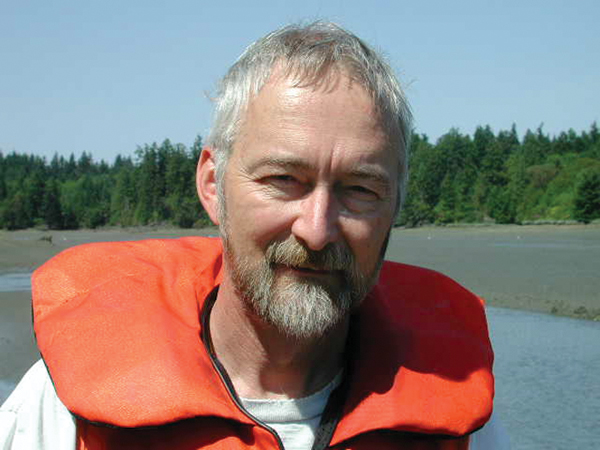 After finishing a master's degree in geology at the University of Akron in 1982, Pat Pringle left the relative flatlands of Ohio's Allegheny Plateau and went west to pursue his passion. More specifically, he went northwest, to the U.S. Geological Survey's (USGS) Cascades Volcano Observatory, lured by the steaming vents and layered debris flows of the recently awakened giant, Mount St. Helens. He was smitten.
During a 23-year career with USGS and the Washington Department of Natural Resources, he explored up and down the Cascades, collecting tree-ring data from logs buried in volcanic deposits or submerged in landslide-dammed lakes to help date recent geologic events. Along the way, he found time to author roadside geology guides of Mount St. Helens and Mount Rainier, and was among the experts called upon to brief Washington's then-governor, Gary Locke, in the immediate wake of the 2001 Nisqually earthquake — the Puget Sound region's last sizeable shaker.
As a professor at Centralia College in Centralia, Wash., since 2005, Pringle's professional priorities have shifted to other passions: teaching and outreach. But the itch to roam the Cascades and elsewhere looking for trees to date and geologic mysteries to solve hasn't waned. EARTH's Timothy Oleson pulled Pringle away from the garage full of subfossil wood samples to which he was attending last summer long enough to ask him about his past, present and future as a geoscientist, and why he's been hooked on the Northwest for nearly 30 years.
TO: You're taking off shortly for a stint in the field. What's the focus of your upcoming work, and where is it taking you?
PP: I'm working with Oregon City High School teacher Chris Hedeen on a Partners in Science project funded through a grant from the M.J. Murdock Charitable Trust. The Partners in Science program allows a high school science teacher in the Pacific Northwest to work with a researcher in the field or in the lab for two summers. It's really a cool program because the teachers get a stipend to go out into the field and to do lab work, and then they can take the research back into the classroom.
This is my third [Partners in Science grant]. We're looking at the ghost forest on Mount Hood. It is a dead forest that has been described for many decades standing at timberline. The main cohort of these ghost forest trees is right where there's a thick pyroclastic surge deposit that's about 200 years old. Our working hypothesis is that this ghost forest is probably one that was defoliated or traumatized by the hot pyroclastic debris a couple hundred years ago.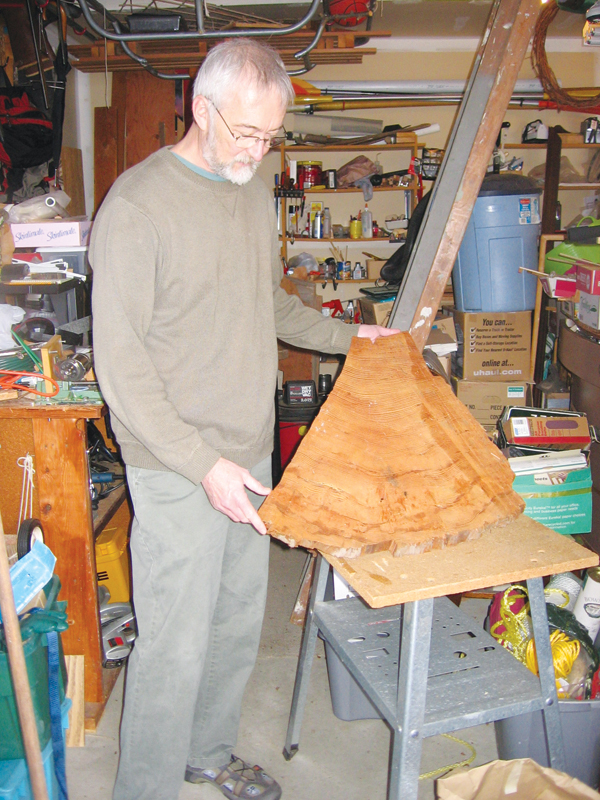 TO: What does the ghost forest look like?
PP: You see many [tree] species, but the whitebark pines stand out because they are kind of like bristlecones. They are very pitchy, and once they die, they are very well preserved. They also are kind of freeze-dried at that elevation. They've just been there for a long time. Nobody really knows how long; nobody has ever carbon-dated them. We've never been able to look at the tree rings and make any cross correlations. So that's what we're doing; we're hoping to tie them in with buried trees we've dated.
Tree ring dating is helpful for establishing pretty precise dates for geologic and environmental events. And if you're lucky, for example, you could find out that it correlates with another geologic event. In the case of a giant landslide, that might imply an earthquake.
TO: I recently came across a reference to a nickname that you picked up earlier in your career. Do you still go by "Stumps"?
PP: [Laughs] That was a nickname not of my choosing, but apparently it stuck among certain people at USGS, since I spent so much time collecting wood. There are worse nicknames, I'm sure. A guy who is 6 feet 4 [inches], to call him "Stumps" is kind of funny.
TO: Dendrochronology and tree-ring dating of lahars, landslides and the like has been the main focus of your career, though, correct?
PP: Right. [Laughs] You know I'm not sure I've been very productive at this lately. I've got all these samples, but what's hampered me is a lack of equipment. But now I have a good lab at Centralia College, so I'm hoping to get a lot of the lab work done and publish this stuff pretty soon. And I keep finding more buried forests!
But I'm predominantly a teacher now, not a researcher. So as passionate as I am about research, since I stepped over to the full-time teaching world in 2005, I haven't really had a lot of time to do it. But I think it's important to make the time. In fact, I think it's important to introduce undergraduates to research. One of the things I did was set up this tree-ring lab for undergraduate research at Centralia. It's just getting going. It's kind of neat because when I have taught weather and climate, for example, my students have gone out and done a dendrochronology project for which they collect and process the samples and make the measurements.
TO: Tell me more about your transition to teaching after 23 years as a researcher.
PP: I happened to see this job [at Centralia] open up, and I thought, "Well, it's time to do something new." So I jumped at the chance. Part of it is that I've always enjoyed outreach. I've always given a lot of talks, and the two roadside geology books I wrote [on Mount St. Helens and Mount Rainier] were driven by a sense of wanting to put something out there for earth science-interested people. I thought, "How can we put something together that is accessible for a broad spectrum of people and yet is a piece of scientific work that's a value to researchers and teachers too?" That is similar to teaching in the sense that you're sharing geologic information with more [people] than just other geologists.
The workload is huge and I teach so many different classes and labs, but the other thing is that it's exciting and I'm learning a lot being there. With all of the preparation, sometimes it's not very pretty, believe me, but I do my best. I love it! I'm enjoying exploring earth science and earth systems with students. It's just so great to see the light bulb go on and see students learning about the Earth.
TO: You went to work at the USGS Cascades Volcano Observatory in 1982. Arriving in the aftermath of Mount St. Helens' 1980 eruption, what was the atmosphere like there?
PP: It was really exciting. Of course, I'm sure it was a lot more so in 1980 and 1981, but even in 1982, it was still erupting every few months with these dome-building eruptions.
Back then, there were no roads into Spirit Lake, and I still remember the first day in the field, landing on the pumice plain in a helicopter with [USGS geologist] Ken Cameron. When the helicopter flew away, there we were, standing not too far from Spirit Lake and the ground was steaming, along with a lobe of fresh lava on the dome. I remember a few places it was still too hot to sit down. I had never seen anything like it.
In 1984, when [Ken and I] were out in the field, there was an eruption. When we got to the helicopter and took off, we were able to follow a lahar down the [Lewis] river to take pictures of it. We watched it transform into a big flood, and we actually got out and sampled it as it went by. Then over the next couple years, we looked at the deposits of the lahar as they became dissected and we ended up writing a paper about it. You know, it doesn't get much better than that, in terms of seeing a geologic event and then being able to go out and look at the deposits that were left behind.
TO: After growing up in Akron, Ohio, you moved to the Pacific Northwest and have stayed through several career moves. What's the draw of the area for you?
PP: My wife, Leslie, and I both like it out here because we have family, and also we like the hiking and the diverse environments. I guess I'm invested in being a person who studies and teaches about the geology of this area now. It just feels like home to me; I've been here so long.
TO: And how does it compare to Ohio?
PP: Oh, I enjoyed growing up in Ohio. Of course, geologically [Washington is] a totally different state of mind. There's a lot of geologic action going on here with the landforms, the rapidity of geomorphic and tectonic processes. You can drive to an active volcano. You can drive up to the alpine zone. You can drive over to a semi-arid shrub steppe area. We have the Missoula Flood deposits, the Columbia River Basalt flows — evidence of past geological cataclysms. It's really exciting from a geological point of view.
In Akron, the geologic beauty is pretty subtle. It's there if you look.
TO: It seems fair to say that you are still enjoying your life in geology. What are your plans for the future?
PP: I'm certainly going to continue teaching. And I'm looking forward to getting my tree-ring lab going and using it to generate research projects for students. I don't really know when I'm going to retire yet. Leslie and I both like the Northwest a lot, so I think basically our interest is to head out on the trails and keep exploring.