Down to Earth With: National Park Service Geologic Resources Division chief David Steensen
by Terri Cook Monday, July 25, 2016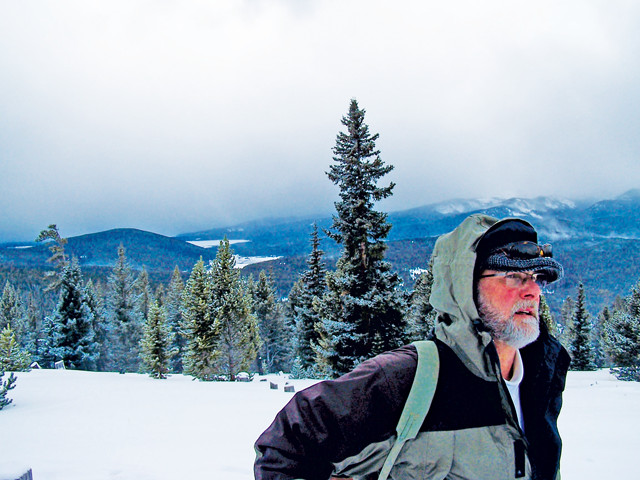 " in 1986, he did not think he'd be working for the National Park Service for more than a few years. He had been hired into a four-year fixed-term position to help restore the local watershed from the destabilizing effects of logging that occurred prior to the park's establishment, and he knew that the park service rarely hired geologists into permanent positions.
Near the end of his term, however, as Steensen began searching for other work, Redwood hired a new deputy superintendent. After Steensen took him on a tour to show him the results of the restoration, the deputy was impressed and began to advocate for a team of geologic experts who would be available to all units in the national park system to help the parks grapple with similar issues. Traveling around the country performing rehabilitation work in some of America's most beautiful places held great appeal for Steensen, so he applied for and accepted a Denver-based job doing abandoned mine reclamation. One position led to another until 2008, when Steensen, who has a bachelor's degree in geology from Western Washington University and a master's in applied geology from Humboldt State University, became chief of the Geologic Resources Division, the highest-ranking geologist in the National Park Service.
This year marks two important anniversaries for Steensen: It is both the centennial of the creation of the National Park Service and his 30th year working for the service. To commemorate these milestones, Steensen recently spoke with EARTH about how the Geologic Resources Division serves the nation's parks and monuments, his favorite unit in the national park system, and why he became a geologist instead of a nurse.
DS: I grew up in Shelton, Washington, a small logging and lumber community in the southeast corner of the Olympic Peninsula. My father was an avid skier and climber who taught with The Mountaineers in Seattle. When I was old enough, I got to tag along on some of the easier peaks in the Olympic Mountains and the Cascades, so I spent a lot of time in the mountains and had a really strong connection to the outdoors. In 10th grade, I took an assessment test that suggested suitable careers, and the results said that I should be a nurse! I knew there was no way that I was going to be a nurse, because I wanted to work outside.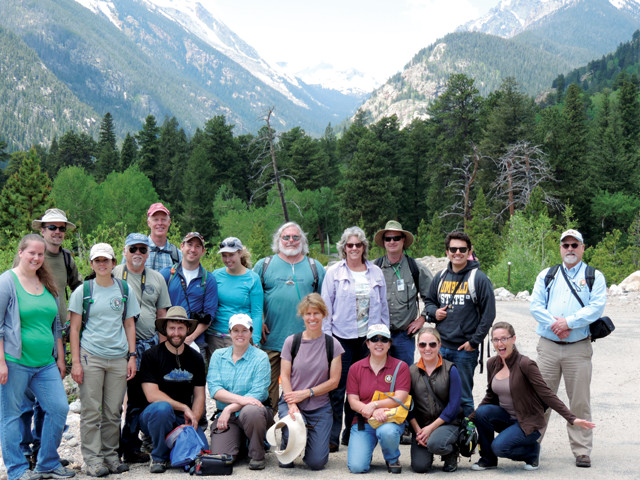 DS: That test started me thinking about what kinds of careers I could have in the outdoors. Coming from a logging region, I thought that I should perhaps be a forester and was thinking along those lines until my senior year when, for the first time, my high school offered a geology class. I really identified with this field of study that was all about mountain building and landscapes. So I decided that I would go to college and become a geologist. I never thought twice about switching majors or doing anything else. I earned my undergraduate degree and then got a job in the geothermal industry working for a company in The Geysers of Northern California. I worked in a lot of different places, including half a year in Japan as a well-site geologist looking for hot water and/or steam to create power. But drill rigs are dirty, noisy places. I knew that I did not want to stay in that job for 30 years, so I started taking professional improvement courses at Humboldt and wound up doing my graduate work there.
TC: Of the national park system's 411 units, which is your favorite?
DS: My favorite park is a very small one in northern New Mexico called Capulin Volcano National Monument. It's a neat cone that's part of a volcanic field along the Jemez Lineament, a line of young volcanoes running from eastern Arizona to northeastern New Mexico, including Mount Taylor and the Valles Caldera. The reason it's my favorite is because the two mandates of the National Park Service — to preserve and protect, as well as to provide for the enjoyment of visitors — come into [conflict] there. The cone has a road to the top, as well as a trail around its rim. This is a historic road, [built in 1925 and] part of the park's resources, but it has also disrupted the cone's natural patterns of surface runoff. Prior to the road's construction, the runoff was radial. After a hard rain, small debris flows would cut loose and disperse the water and sediment. But now, the sediment ends up on the road and plugs up the culverts. When the water finally reaches an open drain, a large percentage of the cone's watershed goes through just one pipe and essentially hydraulically mines the slopes below it. The rate at which we're tearing that cone apart is orders of magnitude greater than has happened in the last 80,000 years.
TC: Is there a way to fix it?
DS: I have proposed a solution that I think would help dramatically. It's to replace all 24 culverts with trench drains with open-grate covers installed across the entire road. But the Geologic Resources Division can't tell people what to do; we are an advisory group and can only send recommendations and guidelines and advise parks on whether or not they're meeting policy or regulations that the park service has to follow. Ultimately, the decision is up to the superintendent [of any individual park], who's hearing advice from many different sources and has to weigh things like the cost, as well.
TC: Is this typical of the types of projects your division gets called in to help with?
DS: We work the full gamut from very site-specific things like the drainage at Capulin to very broad programmatic and legal issues like the rulemaking that we're in the middle of to update the 9B oil and gas regulations. I don't really get to practice in the field anymore because I do budgets and administration. But our geomorphologist is out in Dinosaur National Monument this week looking at rockfall issues.
TC: The Geologic Resources Division has a staff of about 30, including geologists, planners, policy specialists and engineers. How do you manage all of the geologic issues in 411 parks with a staff of just 30 people?
DS: Every year, we go through what's called a technical assistance request process. Parks submit requests for the full range of geologic topics, which we've boiled down into three categories: energy and minerals, active processes and hazards, and geologic heritage. For example, they'll request help in developing a paleontological resource monitoring plan. Things like rockfalls aren't planned, so those are usually last-minute phone requests. We can't do all the projects, but we try to address the regions' highest priorities.
TC: Why does the National Park Service employ so many more biologists?
DS: Out of its more than 20,000 employees nationwide, the park service employs about 30 geologists and 1,000 biologists. It is an imbalance, but I don't believe there needs to be parity. One reason is the rate of change: Biological resources can be affected instantly by processes like fire and floods. Historically, there has also been an emphasis on wildlife in the parks, and a strong public response to wildlife management issues. The issue of brucellosis in Yellowstone National Park's bison herd is an example of an acute, high-profile wildlife management issue. Bison can't wander outside the park boundary without consequences — for the bison, for the park and for park neighbors. It's the acute issues that require staffing since they tend to drive where our energy is focused.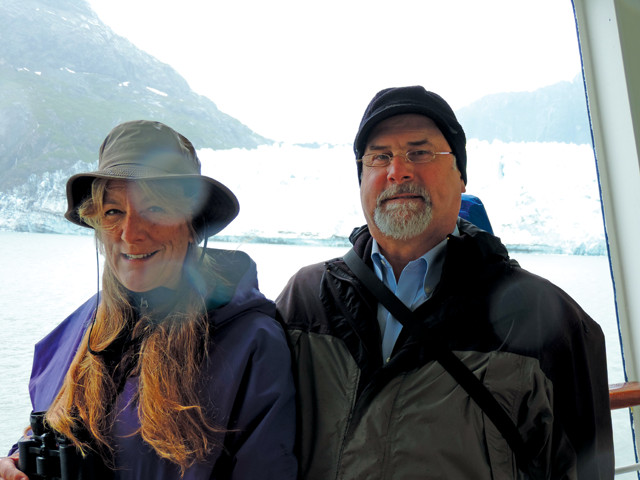 TC: Is the Geologic Resources Division often called in for emergency consultations?
DS: Yes, when there are large-scale events. We are integrated into a program called READ, which is an acronym for Resource Advisor. It's connected to the National Incident Management System, so when organizers are preparing incident management teams, they'll bring in READs of different flavors to help make sure that cleanup crews don't create another problem while taking care of the initial one. Several people from this office, including myself, were deployed to work on the Deepwater Horizon oil spill.
TC: What was that experience like?
DS: After it happened, the director's office sent an email asking people to help. Gulf Islands National Seashore was the primary unit that was directly affected, but the whole system was indirectly affected. It was a fairly intense experience; I worked two straight weeks of 14-hour days at the BP training facility in Houma with thousands of other people. I was gathering and providing information to the Natural Resource Damage Assessment groups and participating in several update phone calls per day. There was a lot going on, and it was a constantly evolving process.
TC: How do you view your role as the park system's highest-ranking geologist?
DS: I have two main roles: one is to make sure that the resources our division receives are used in the wisest possible manner for the benefit of the American people who use the parks. The second is to make sure that people understand our value and what we could do given additional resources. I think there is almost infinite room for growth in getting the word out, in making sure that my deputies, the director, the geoscience community, and champions we may have on the Hill understand that there is a need to have this expertise as part of the park managers' toolbox.
TC: How have you adjusted to being an administrator?
DS: I went into geology because I wanted to work outside, and the job at Redwood was probably the best assignment I've ever had. Within a few years, you could see that the landscape had returned to very close to what it had been before the timber harvesting, so it was very satisfying. But there's also a bigger picture, which makes the adjustment to working indoors easier. I felt that we needed someone in this position who cares about the organization and not so much about their career growth. I'm not in line to use this position as a steppingstone for the next superintendency. This is the topic I chose to focus on, and I do the best I can to usher it along. At the same time, when it's a beautiful day outside, I sometimes don't want to come back from lunch!
TC: What is the Geoscientists-in-the-Parks Program?
DS: Our division established this program in 1996 as a way to extend the office's geoscience capacity. It really started to grow in 1998, after we partnered with the Geological Society of America. This year, we have more than 150 interns in the parks through this program. We've had a fair number of professors either who were on sabbatical or who had retired and wanted to work on a project, but primarily it's been college students. It's worked out very well.
TC: What do you think that the park service has done well in its first century, and how can it improve in its second?
DS: As Secretary [of the Department of the Interior Sally] Jewell recently said in an address, we're in the forever business. I think that the park service does a good job of being there for the visitors and creating a positive image in the public's mind.
I think the service has also done a good job establishing a park concept and dealing with some of the challenges like crowds in positive ways. What we can improve on is elevating the understanding and the context of our geological heritage. About 80 parks have geologic resources specifically mentioned in the enabling legislation. We need to emphasize the beauty as well as the formation of these features and what they mean in the context of Earth history. It's also very important to bring in a human element, the connection of people to the landscape. There will be learning all along the way as we go forward in the next 100 years.