Down to Earth With: Katerina Dontsova
by Brian Fisher Johnson Tuesday, May 22, 2018
Soil scientist Katerina Dontsova didn't imagine she would be working at one of the nation's most famous laboratories when she arrived at Purdue University in West Lafayette, Ind., from the Ukraine as an undergraduate exchange student in 1993. But after earning a doctorate in soil chemistry from Purdue and working as a contractor for the U.S. Army Corps of Engineers in Mississippi, Dontsova did just that, landing a job at Biosphere 2, outside Tucson, Ariz., in 2008.
Biosphere 2 (Biosphere 1 being the actual zone of life on Earth) covers more than one hectare and was built beginning in 1986 by the company Space Biospheres Ventures. Originally, the site was intended to serve as a place to test self-sustainable technologies that could potentially be used to colonize other bodies in the solar system. Those plans were disrupted during Biosphere 2's first go-around between September 1991 and September 1993, when experimenters living inside the structure's sealed environment ran low on oxygen, forcing observers to replenish oxygen levels from the outside. Since then, Biosphere 2 (sometimes called B2) has undergone internal management disagreements, vandalism, the arrival and departure of management by Columbia University between 1996 and 2003, and the possibility of demolition — until the University of Arizona took over the facility in July 2007.
EARTH's Brian Fisher Johnson talked with Dontsova about how she arrived at Biosphere 2, why the facility is still relevant, and why she's not bothered by Biosphere 2's troubled history.
BFJ: How did you get interested in soil science?
KD: My parents are both soil scientists, so it was an easy decision for me. … I had visited my mother in her lab, and I came to like the smell of the chemicals in the air. It was also this feeling of learning something new every day. Soil science is unique in that it's at the nexus of several disciplines. One needs to know the parent disciplines of physics and chemistry and biology to understand soil development, behavior and function.
BFJ: So while some people talk about the smell of cookies reminding them of their grandparents' house, you smell chemicals, and you have warm memories of working with your parents?
KD: Yes, I do.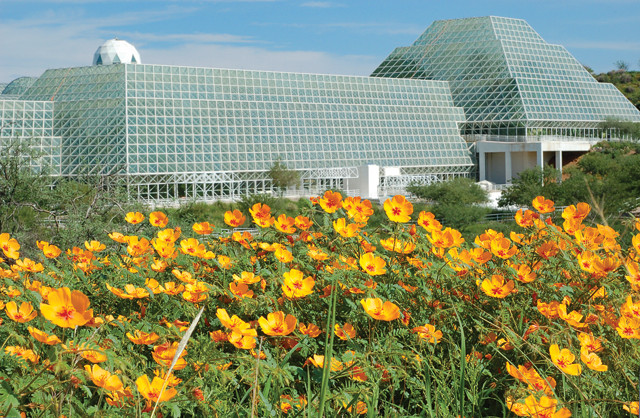 BFJ: What was the biggest challenge as a student coming from the Ukraine to the United States?
KD: I think for me it was that we had to do homework. Usually in primary and secondary school in the Ukraine you have to do homework. But once you get to university, you have larger projects — but you don't have to do day-to-day homework. So [laughs], it was a little bit challenging getting used to that.
BFJ: How did you get involved in Biosphere 2?
KD: I arrived about a year after the University of Arizona took over Biosphere 2 management. Following graduate school at Purdue, I had been doing research on environmental issues for the U.S. Army Corps of Engineers in Vicksburg, Mississippi, looking at the fate of military-related compounds in soils — things like explosives and propellants. Later, my husband found a position in Tucson, so I came to Tucson to look for a job. And I was very lucky to find this job.
BFJ: Biosphere 2 has a checkered history. Were you worried about that when you came?
KD: I never had any exposure to the negative aspects of B2's history. The science of B2 was very solid and exciting when Columbia was here. They did cutting-edge research on the effect of elevated carbon dioxide levels in the atmosphere on terrestrial plants, and I think also on corals in the ocean. So I'm looking at the scientific history.
Everything else makes for interesting stories. For example, the people who lived inside the Biosphere in the early 1990s suffered from the lack of oxygen. The reason for the lack of oxygen was microbial activity in the soils. When they put soil in the Biosphere, they wanted to make it as rich in organic matter as possible so the plants would prosper. The problem was that when this soil got into the warm, humid environment of the Biosphere, the microorganisms in the soil started to decompose organic matter. As a result, they consumed oxygen. So to protect the participants from oxygen starvation, oxygen had to be injected into the Biosphere, which was against the original idea of the experiment.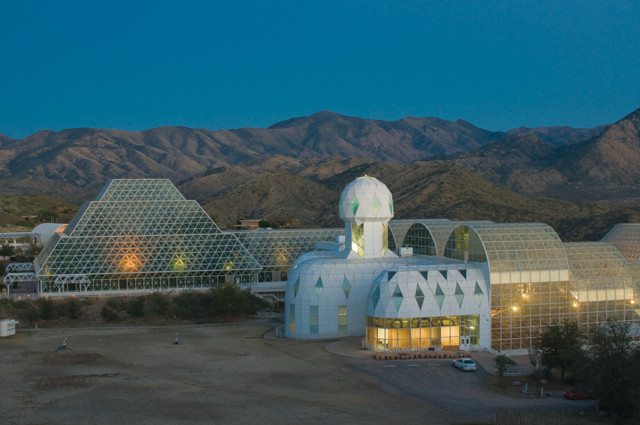 BFJ: Biosphere 2 is no longer sealed off from the outside world, right?
KD: No, it's definitely not an issue now that Biosphere 2 is open to the atmosphere.
BFJ: You and your colleagues are in the middle of building a large-scale experiment at B2 involving three, 33-meter-long by 18-meter-wide hillslopes. What is B2 attempting to study with these?
KD: The goal of this experiment is to develop an understanding of how climatic, geological and biological factors influence the movement of water on the landscape in order to be able to predict the response of ecosystems to climate change.
The Biosphere 2 Landscape Evolution Observatory is a unique instrument that allows for conducting interdisciplinary research. The facility will contain three hillslopes that are heavily instrumented underground to measure moisture, temperature, the movement of water and the development of soil structure, including root growth, microbial community composition and associated mineral transformations. Aboveground, we will be measuring temperature, light, rainfall, plant development and fluxes of gases, among other things.
The facility is designed to simulate the environment outside. If we can re-create a simplified version of a small part of a landscape … [and] subject it to changes in rainfall and temperature that are projected to happen in the next century [and] measure the ecosystem responses, [then we can] predict what would happen outside.
BFJ: And what will you be doing as part of these experiments?
KD: I've worked on selecting the substrate that will be used to construct the hillslopes. We decided that it should be ground-up basalt, instead of a real soil, in order to have a very well-defined system. The problem with soil is that it's extremely complex. If we put already developed soil in, we will have a lot of unknowns. With basalt, we know the mineral composition and we'll be able to measure changes that occur during the experiment as it weathers through the combined interactions of water flux, plant growth and microbial activity. I have also done and continue doing experimental and modeling studies that predict changes that would occur in hillslope basalt during weathering. These changes are expected to provide nutrients for the plants and to impact hydrologic properties of the slope through precipitation of clay-sized particles.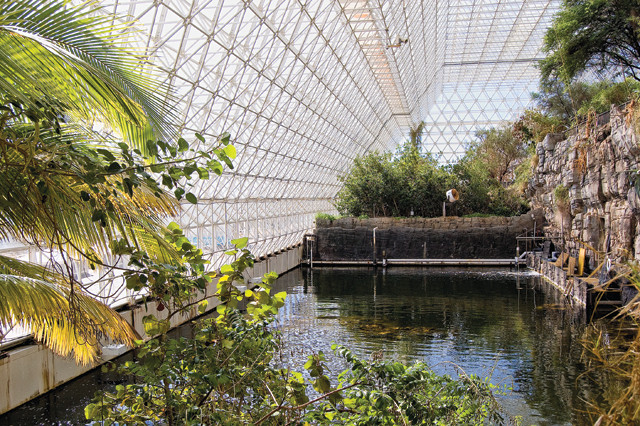 BFJ: Why is it important that B2 carry out these hillslope experiments at such a large scale?
KD: Biosphere 2 serves as a link between different scales of experimentation. You can have a small-scale experiment where you have near-total control of a system, but then it's hard to tell how similar that system is to what you would find in the real world. On the other hand, if you go into the real world, you have very little control over the system. You can measure what's happening, but you don't necessarily know how and why. So this facility allows you to have a narrowly controlled, large-scale environment, closely simulating a real landscape.
BFJ: Does working at this intermediate scale bring any new challenges that you haven't encountered in the field or in the lab?
KD: The scale of the experiment, both in terms of time and in space, presents unique challenges. Thorough planning is essential. The price of any mistake is greater than in traditional laboratory and field experiments because the cost of setting up any experiment of this size is high. Also, we would like this facility to help answer questions that may interest scientists from different disciplines, so we need to equip it with tools they would need. We also need to forecast future needs and plan for emergencies that can happen over the extended period of time that this facility is expected to operate.
BFJ: When you walk around Biosphere 2, what does it feel like? Do you feel like you're in another world?
KD: I think it's more futuristic than otherworldly. I feel as if I am walking on Earth — but 50 or 100 years from now. I think this effect is created by the B2 architecture. It was meant to look futuristic, and it's aged well.