Down to Earth With: John 'Jack' Reed Jr.
by Mary Caperton Morton Wednesday, May 23, 2018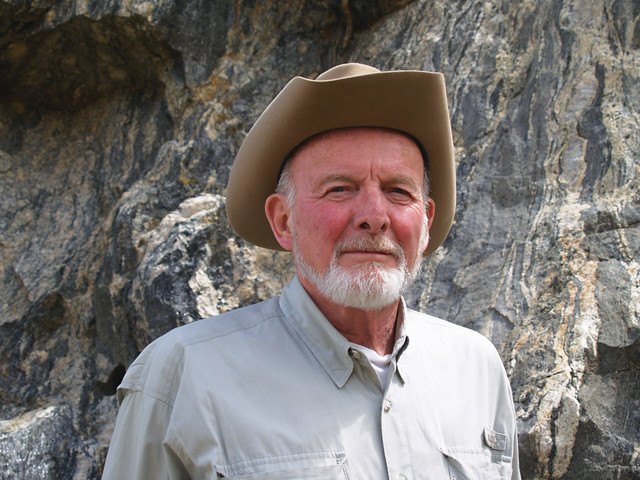 Geologist Jack Reed spent his career studying rocks the most strenuous way someone can — by climbing them. During much of his 47 years with the U.S. Geological Survey, Reed clung to rock faces in Alaska, Wyoming and Colorado, while creating geologic maps of North America's tallest mountain ranges. Along the way, he published dozens of books for climbers and hikers on the geology of places like the Tetons in Wyoming, Seneca Rocks in West Virginia, Shenandoah National Park in Virginia and, most recently, "Rocks Above the Clouds: A Climber's Guide to Colorado Mountain Geology." Shortly before his latest book hit the shelves, Reed took some time out of his busy retirement schedule to speak with EARTH contributor and fellow climber Mary Caperton Morton.
MCM: Which came first: your interest in geology or your love of rock climbing?
JR: Geology. My father was a geologist with the USGS. He spent most of his career in Alaska and got me interested in geology at a young age. Then I started climbing along the Potomac River in high school, and geology and climbing have gone together for me ever since.
MCM: Where are your favorite climbing spots?
JR: I did my Ph.D. thesis in Shenandoah National Park, but my first big ascent was of Devil's Tower near the Tetons. I am credited with a few first ascents in the Tetons, but they were previously unclimbed mostly because they were really remote, not necessarily because they were technically difficult. I spent eight years climbing in Alaska and I've also climbed most of the 14,000-plus-[foot] peaks in Colorado, either for fun or in the course of geologic fieldwork. My all-time favorite spot is still Carderock in Virginia though. It was one of the first places I ever went climbing.
MCM: Why did you decide to focus your latest book on Colorado?
JR: I have always been interested in the question of why there are 50 or more peaks in Colorado with elevations of more than 14,000 feet but none higher than 14,433 feet. In fact, about half of the named 14,000-plus-foot peaks in North America are in Colorado, more than 1,000 kilometers from the nearest active plate margin.
MCM: How much climbing research did you do for the book?
JR: I'm retired now, so I'm past my serious climbing days, but I climbed a lot in Colorado when I was younger. I also had a great co-author [Gene Ellis] who is still an active rock and ice climber and mountaineer. I still do a lot with the Colorado Mountain Club though. I teach short courses on map reading, GPS and geology and occasionally lead field trips and easy hikes.
MCM: Why is it important for climbers to learn some geology?
JR: Well, there are the safety aspects of knowing where rocks are going to be loose and where rocks are probably solid, and whether structures in the rock are dipping towards you or away from you, and how stable a talus or a slope might be, but beyond the technical aspects of climbing, it's about gaining a better appreciation of the mountain itself. Getting to know the rocks is a big part of the climbing experience.
MCM: Does being a geologist make you a better mountaineer? Or does mountaineering make you a better geologist?
JR: Both. A lot of the climbing I have done has been on the job: I was climbing just to get up there to look at the rocks. Appreciating the differences in climbing on different kinds of rocks, such as ones that have been glaciated versus those that haven't, is interesting. Granite is generally the best rock for climbing, but Carderock, my favorite spot, has good metamorphic rock and a wide variety of really difficult short climbs.
MCM: What does being an emeritus geologist at USGS entail?
JR: Basically, I get to keep my office and come and go as I want. This book, "Rocks Above the Clouds," was one of my retirement projects. Completing the recently published geologic map of North America was another. It's the first map that shows geology on land and also the geology of seafloors. It's a lot of fun to be able to do what I want now.
MCM: You spent most of your life making maps. Do you ever get lost?
JR: No. As Daniel Boone said: "I never get lost, but I have been badly misplaced."