Down to Earth With: GEO Secretariat Director Barbara Ryan
by Terri Cook Thursday, December 17, 2015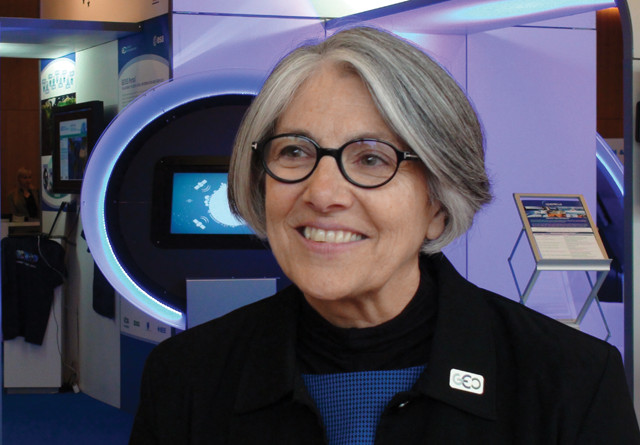 When Barbara Ryan enrolled as a freshman at the State University of New York in Cortland, she enjoyed athletics so much that she planned to pursue a career in physical education and coaching. Then her roommate convinced her to take a class in paleontology. She was hooked, and within months Ryan changed her major to geology, launching herself down an entirely different path.
After graduating in 1974, Ryan was hired as a field hydrologist by the U.S. Geological Survey (USGS), where she remained for more than three decades, steadily working her way up through the ranks until, in 2000, she was named the survey's associate director for geography. During her eight years in this position, Ryan oversaw all USGS programs and policies related to national mapping and remote sensing, including the LANDSAT program. Along the way, Ryan earned master's degrees in geography from the University of Denver and in civil engineering from Stanford University. She also served for two years as the staff assistant to the Department of the Interior's assistant secretary for water and science, and later, the survey's chief information and financial officers.
In 2008, Ryan — who had spent her entire career living and working in the U.S. — retired from the USGS to become the director of the space program at the Geneva-based World Meteorological Organization. Four years later, she was appointed the secretariat director of the Group on Earth Observations (GEO). Also based in Geneva, GEO is a voluntary partnership of governments and international organizations striving to integrate and expand Earth observations — from soil and early-warning monitoring to satellite data — into resources that are readily available to guide policy decisions related to climate, energy, health and half a dozen other "societal benefit" areas.
EARTH recently spoke with Ryan about living and working abroad, why she became a manager, and ways that GEO is harnessing Earth observations to tackle some of the world's biggest problems.
TC: Where did you grow up?
BR: I grew up in the small hamlet of Dalton in western New York's dairy farming area. It was about 5 kilometers east of the southern end of Letchworth State Park, which hosts the "Grand Canyon of the East." The other end of the park is at Mount Morris, which is where John Wesley Powell, traveler of the Grand Canyon and early founder of the USGS, was born.
TC: How did you end up in an administrative career?
BR: The USGS water division had offices in every state, and the ethos at the time was that of gaining experience in a variety of hydrologic regimes. Employees would typically go to a place, work there for three or four years, and then transfer to a different area. Those transfers often involved a promotion, so after four or five moves, you got to the point in your career where you had to make a choice: Were you going to move into a managerial track, or were you going to focus on research? After I earned my degree in civil engineering at Stanford, I contemplated staying on for a doctorate, but I chose not to. Looking back, I think that is when I largely made the decision that I was going to pursue an administrative track. Rather than doing the hardcore research myself, I wanted to have fun advocating for science.
TC: What has it been like to live and work in Europe?
BR: It's been pretty remarkable, both personally and professionally. I never expected that I'd have a second career, or that I would be living overseas at this age. To be able to work with people from around the world and see the U.S. through their eyes is a remarkable experience; one sees both the good things and the not-so-good things from a foreign perspective. It's given me more of a worldview.
TC: Did you ever envision that you would become an international leader in satellite imaging?
BR: No. I would never have expected it, although from one standpoint you might argue that it's been a logical progression. I have always been an integrator; I have always searched for connections. No matter what job I've had, I wanted to see how all the pieces fit together. That for me is a big part of geography and Earth observations.
TC: Who is eligible to join GEO?
BR: We are not part of the United Nations (U.N.) family, but to be a GEO member government, you must be a recognized member state of the U.N. What separates us from the U.N. is that we also have a category of members called participating organizations — organizations with an international board of directors that have an interest or a mandate in Earth observations. I'm sure that some of your readers belong to these international associations, like the International Union of Geodesy and Geophysics. We currently have 100 member governments and 92 participating organizations.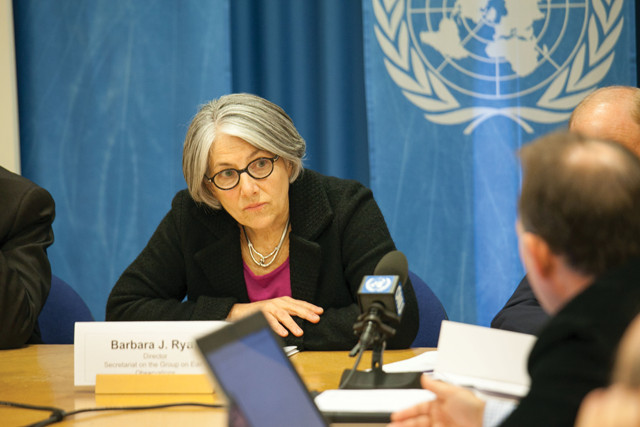 TC: What does GEO advocate?
BR: The organization's vision is to do whatever we can to make sure that societal decisions are informed by coordinated and comprehensive Earth observations. We want to build capacity, both in developed and developing countries, and sustain Earth observations, so we encourage national governments to continue their satellite programs, their soil moisture sensors, their geologic mapping programs and a host of others — in fact, any observations in, on or around Earth. We also advocate for broad, open-data policies, because to really unleash the power of Earth observations, you must get the data out so that people can use it.
TC: What's the difference between GEO and GEOSS?
BR: Many members operate their own systems, like the U.S. satellite network. There are also many systems out there, such as the international seismograph network, which cut across national boundaries or thematic domains like weather, climate and oceans. GEO wants to loosely connect all of these disparate systems create a "system of systems" — the Global Earth Observation System of Systems (GEOSS). Rather than changing the governance structure for any individual system, GEOSS, through more information sharing, loosely couples them into a virtual global infrastructure that ensures more data continuity.
TC: Has GEOSS been successful?
BR: As with most ventures, there have been successes and setbacks. GEO has absolutely brought the issue of data sharing to the forefront. That was facilitated by the United States' decision in 2007 to release LANDSAT data over the Internet, at no cost to the user. I believe that decision, and the visibility that GEO has given that change in policy, influenced Europe's decisions for the Copernicus program. All the data from this multibillion-dollar program will be released over the Internet. Where I would argue that we have not succeeded is on this loosely coupled system of systems. We could have a much more coordinated, comprehensive system. I think we've still got a lot of work to do.
TC: Are there data-sharing issues?
BR: Sharing data is a key part of GEOSS. To do this, an application has been developed that allows machines to talk to each other. Rather than having all these institutions put their data into our format, we develop interoperability agreements that allow GEO users to discover their data. Thanks to these agreements, our infrastructure now has about 200 million assets — different kinds of data like satellite scenes, stream- and rain-gauge records — that can be accessed. The real test will be when people start combining a multitude of different data types.
TC: Who will lead this effort to combine data sources?
BR: I believe a lot of innovation will come out of the private sector. One example is from L'Oréal, which has designed a mobile phone application that uses your location (latitude and longitude), elevation and cloud cover. It then sends a text message that, based upon your location, suggests a sunscreen number, product and the closest store where the product can be purchased. I think the applications are limitless. At our last ministerial meeting in Geneva, we ran an app challenge with support from the U.S. Agency for International Development (USAID). To qualify for the prize money, a contestant had to combine at least two datasets from GEOSS infrastructure in a way that enabled people to make smarter decisions about the planet. The winner was Growers Nation, an app that combined soil type, slope and weather data to help farmers in Africa decide which crops would be best to plant in their area. It's a wonderful example of how tremendous data assets discoverable through GEO can be applied toward the world's biggest problems.
TC: Is there also a role for nonprofits?
BR: Yes. A couple of years ago, our governing body decided that it was time to bring the private sector, including foundations and development banks, to the table. Now in the U.S., we think of the private sector as being commercial, but in many parts of the world, the private sector is anything that's nongovernmental. The Bill and Melinda Gates Foundation is working with us on an agricultural initiative that uses satellite- and ground-based observations to generate crop-yield forecasts, which we believe will bring more pricing stability to global agricultural markets and create a more food-secure world. We're also partners with the World Resources Institute on an initiative, Jane Goodall graciously provided a welcome video for our recent Plenary in Mexico City, and the World Bank has just joined the ranks of participating organizations in GEO.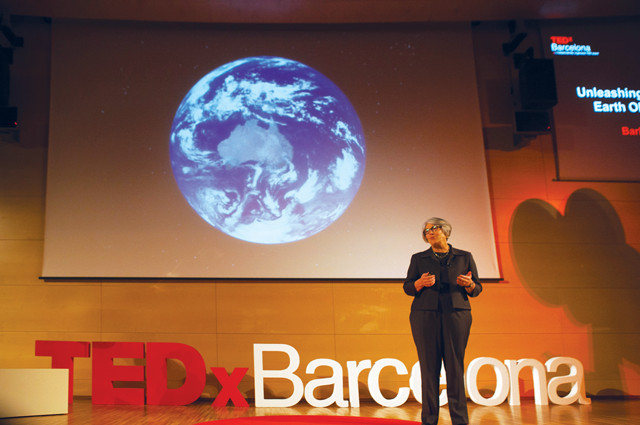 TC: What issues will GEO focus on in the future?
BR: Over the next decade, we're trying to ensure that our major initiatives have a policy mandate and a societal benefit. That's why we were active in the events leading up to the identification of the sustainable development goals that were adopted by the U.N. General Assembly in September. GEO, and a number of our partners, were instrumental in getting the phrases "Earth observations" and "geospatial data" into that document so that it could serve as a hook for governments to understand that they have assets that can be used to measure and monitor these goals. Rather than expanding our scope, we're trying to be very clear about what our mandate and our mission are. You will see a very aggressive effort to develop partnerships that will leverage GEO's current scope.
TC: What are some of the challenges you've faced leading a multinational organization?
BR: We have an international staff that [speaks many languages but] works in English, so there's always a little room for misinterpretation. I have to be very careful not to use idioms or shortcuts or slang, because they just don't translate. For me, that has been a challenge, because when I get excited, idioms just slip out, like, "That will take till the cows come home." Then people ask, "What do you mean about the cows coming home?" I also have to be cognizant of the fact that we're not working solely with democracies. I always have to be aware that personal and cultural values are not universal.
TC: Do you plan to retire?
BR: My second three-year term started in June, so my commitment here will run through the summer of 2018. While I will certainly be ready to move back to the U.S., and I joke with my husband about whether it will be time to "really" retire, I still feel like I have a lot of energy, and I think there's always something that I will want to contribute to ensuring that Earth observations are used more. Maybe it'll be time to slow down just a little bit.