Down to Earth With: Evan Thomas
by Megan Sever Friday, September 1, 2017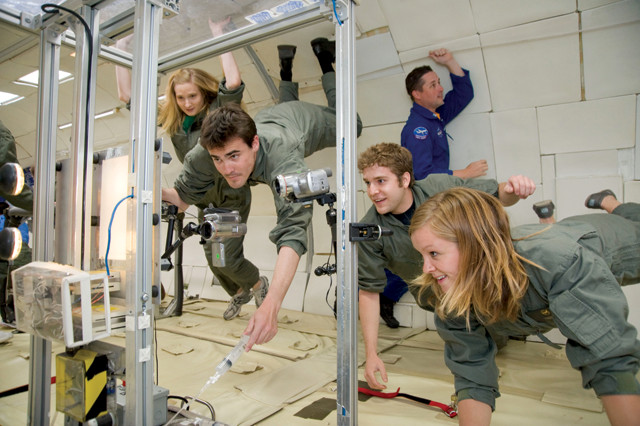 At age 16, Evan Thomas made a list of 100 life goals — his bucket list. At only 27 years old, he's done pretty well so far: Graduate college with a degree in aerospace engineering — check. Get a doctorate by age 25 — almost (missed by 11 days). Work for NASA — check. Start a business, help people, travel the world — check, check, check. Get a private pilot license — check. Climb the world's tallest mountains — in process.
Run a university lab while working on sustainable development around the world? That one wasn't on the list, but he's doing it anyway.
Born in Montreal, Canada, Thomas earned undergraduate degrees in broadcast journalism and aerospace engineering at the University of Colorado at Boulder. While there, he was one of the first volunteers with Engineers Without Borders-USA (EWB-USA), which was founded by one of his advisors. He stayed on at Colorado for a doctorate in aerospace engineering, while simultaneously working for NASA on sustainable life support systems for spacecraft — water recycling systems, air revitalization systems, fire detection systems — both for the International Space Station and for a potential lunar outpost. At NASA, he founded the EWB-USA chapter at NASA's Johnson Space Center in Houston, Texas. One of his major EWB-USA projects was implementing a series of water treatment systems in Rwanda.
In 2007, Thomas and a couple of colleagues from NASA and EWB-USA founded Manna Energy Limited, a for-profit company that uses the world's multibillion-dollar carbon finance markets to fund the development of sustainable products and innovative technology in developing countries. For example, Manna, with partners such as the United Nations Development Programme and Vestergaard Frandsen, a leading disease control product company, has created the first water treatment programs funded through carbon credits, providing millions of people in Rwanda and Kenya, and soon Indonesia, with access to clean water.
Last fall, Thomas headed to Portland, Ore., as an assistant professor to found Portland State University's (PSU) new Sustainable Water, Energy and Environmental Technologies (SWEET) Lab in the College of Engineering and Computer Science, affiliated with the university's Institute for Sustainable Solutions. The SWEET Lab's goals are similar to Thomas' own goals, he says: to develop sustainable life support systems, water treatment programs and better, more sustainable solutions to challenges faced by developing communities and NASA.
In the SWEET Lab on the fourth floor of the new engineering building on PSU's campus, EARTH's Megan Sever tracked down Thomas, who was between trips to Indonesia and Guatemala.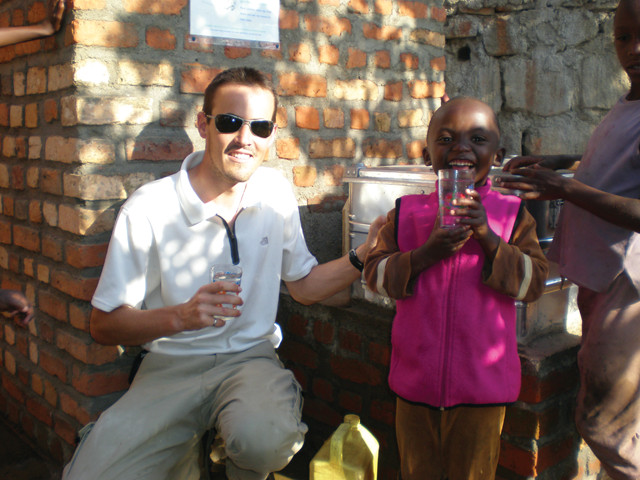 MS: What was the impetus behind founding Manna Energy?
ET: We [EWB] were working in Rwanda since 2003. There are a lot of advantages to nonprofits, but there are also disadvantages we saw firsthand. One of the disadvantages is accountability and sustainability of the programs. No matter how simple the project, money is necessary to maintain it long term. Grants and donations aren't set up to do that properly. So we started looking into some business-like ways of being economically sustainable. We came across the UN carbon markets — a $120 billion a year market.
In 2007, we somewhat naively started applying for carbon credits for our water treatment systems that we had been implementing in Rwanda, while all working other full-time jobs. … Now we know that it costs a lot of money and takes a lot of time to get these projects registered. … In the past four years, our work with Manna has grown into a full-time job for most of us.
We developed the largest-ever voluntary market program for water treatment with Vestergaard Frandsen. That's a water treatment program for about 4 million people, and it'll earn millions of dollars a year in carbon revenue that pays for the operation and maintenance of those water treatment systems.
MS: How do you earn UN carbon credits for water treatment programs?
ET: We reduce emissions by reducing the prevalence of people boiling water for water treatment. So we save wood, kerosene, propane. That counts as reduced emissions to the atmosphere, which translates into carbon credits, which we then sell. The revenue that we receive from the carbon credits pays for the maintenance of our systems.
MS: What kind of work are you doing at the SWEET Lab and how does it tie into your work at Manna?
ET: Projects range from water treatment programs in Nicaragua, Mexico, Rwanda, Kenya and Indonesia to bridge monitoring work in Guatemala and green building innovations in Haiti … to stuff that we do for NASA, including a microgravity heat-flow project and an oxygen project. The research group [at PSU] develops these technologies, tests them, implements them with help from partners, and comes back and analyzes the data. Manna sometimes helps with the implementation side of things.
For example, in Indonesia, PSU has a project and partnership with Mercy Corps — one of the largest NGOs in the world, based here in Portland — while Manna has a project and partnership with Vestergaard. I get to be there wearing both hats at the same time. It saves money, it saves time.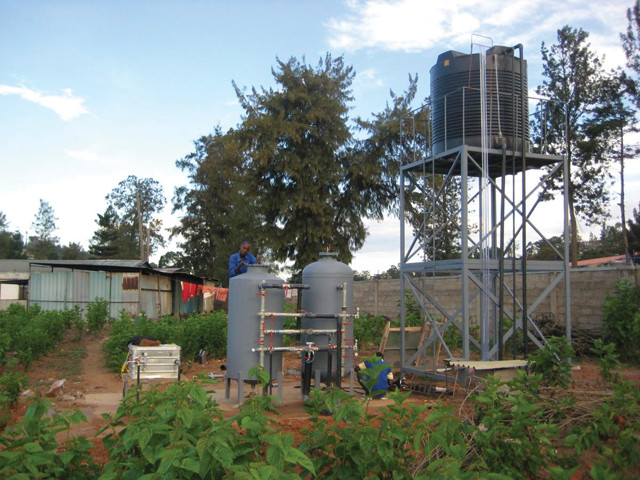 MS: How does your work differ from nonprofits working on clean water and sanitation programs in developing countries?
ET: We have a very strategic focus. Billions of dollars are spent on development every year and a lot of it goes to waste. So if we can help the development sector be more efficient with money and more accountable to donors and funders, we think that does a huge service to the ultimate target, which is the residents of these rural communities. Strategically, the niche that we're creating is to develop better accountability in international development.
MS: How do you do that?
ET: There is a lot of money that's spent in international development each year, and unfortunately many of the projects fail because they don't have a structure in place to monitor the success of the programs. So one element of what we're doing is economic sustainability through carbon finance and other business ventures.
The other is technology — we go out and help an existing program better instrument its systems to get better data. For example, Mercy Corps spends a lot of money on a water and sanitation program in Jakarta, Indonesia. They put in some latrines and hand-washing stations … but have little way to track whether they're being used.
So we're going to instrument the latrines and the hand-washing stations so that we'll actually see every time a latrine or hand-washing station is used. We install these monitors, and daily we get an automatic report uploaded via the cellular phone network to the Internet of which stations were used and how frequently. We'll then inform Mercy Corps about how successful its programs are and where some improvements may be appropriate.
Meanwhile, we are continuously monitoring our own systems in Rwanda. We have some systems that are treating water for thousands of people per day, per system. We monitor those systems in real time, and we can access those systems from anywhere in the world anytime. That's a big contrast to the way development is usually done. Usually, you get money for a project, you go in and implement it, and you walk away. And even if you plan on education, monitoring and evaluation efforts after implementation, the typical approach is through spot-checks and infrequent surveys, and eventually the funding runs out, often before [people in a] community have the skills or economic capacity to take over the project themselves.
MS: How do you find time for all these projects?
ET: [Laughs] When I left NASA, I thought that if I was able to combine jobs a bit, I'd free up some time. It's actually gotten even crazier. I travel quite a bit. In the next couple months, I'll be in Indonesia, Guatemala, Kazakhstan, England, Kenya, Rwanda. … It's a little crazy.
MS: I'm tired just hearing about it!
ET: [Laughs] It's exciting! We get to be engineers, developing technologies and working in places where a lot of our peers won't or can't go. We get to have an immediate impact on people's lives. We can make a substantial contribution through some of our technical innovations — backed up by community engagement and the introduction of business principles to international development.
MS: Tell me about a particularly memorable experience you've had.
ET: When we first went to an orphanage in rural western Rwanda, it did not have running water, sanitation. We installed a water treatment system a few years ago. We needed a poster child so to speak, to show the success of the work there, because that's often how it's done with this type of project.
There's this kid, Primus, who's 4 years old and has been living on the streets since he was 2 and a half. He was just recently brought into the orphanage. Primus decides he wants to be our poster child. He runs off and comes running back wearing this giant pink fleece vest. It's like 110 degrees out! He is carrying this giant three-gallon jug of water that's bigger than him. He pours the water through the system and out comes a glass of clean water. I share a glass with him, and realize this is the first clean glass of water he's ever had. That impacted me tremendously.
MS: You mentioned that you don't like to travel for "vacation." Do you find ways to enjoy your frequent travels to exotic locations?
ET: We like to mix adventure into our trips. For example, on this past trip to Indonesia, we took one day off and rented motorcycles and drove them around Bali, which was really fun. A couple years ago we climbed most of Mount Elbrus in Russia — we got turned around by a snowstorm; we climbed Kilimanjaro in Kenya on another trip. "Peak bagging" is one of our goals.
Outdoor sports — skiing, hiking, climbing, backcountry skiing — is what I do when I can, although I often find myself picking up a lot of coffee and working in the office instead.
MS: Besides coffee, what keeps you going?
ET: I have a constant, low level of anxiety about not getting enough done. I want to enjoy what I'm doing, but what I enjoy doing is feeling like I'm accomplishing something — making a difference. It's not a self-sacrificing type of thing though. This is hugely exciting — to get someone else to foot the bill to get to go to Rwanda and ride a motorcycle around villages. But at the end of the day, it helps me feel alive to be out there, working with local residents in developing communities and trying to help address their needs.
MS: So, what's left on your bucket list? Climb Mount Everest? That seems up your alley.
ET: [Laughs] Oh, well, I do have a plan to climb Everest. … I have a climbing buddy who lives in Nepal and does development programs over there. … We've been pushing it off as we get too busy, but yes, we're trying to climb Everest in the next few years. I will have to take a year off to get in shape though.
[And] I've always wanted to be an astronaut. I still have that goal.