Down to Earth With: Chris Strong
by Timothy Oleson Monday, August 4, 2014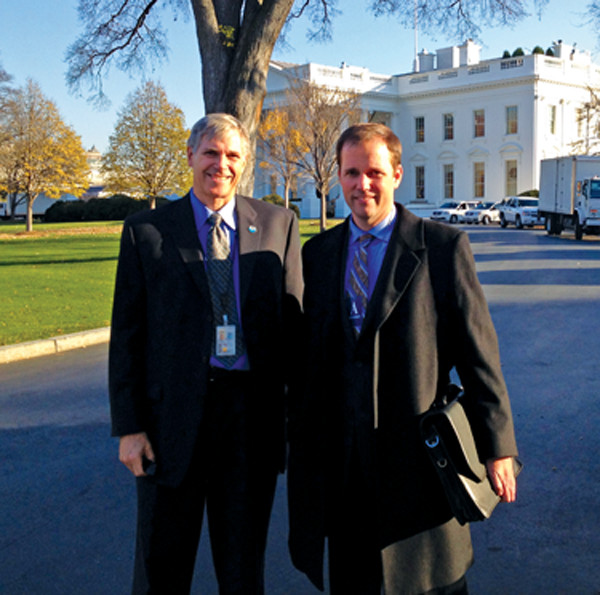 Being a weatherman is sometimes a thankless job, particularly when forecasts don't pan out as expected. But the two-fold task of meteorologists — predicting the course and severity of impending weather events, and clearly communicating those predictions to a broad audience — is a vital one. This is especially true when you're part of the group that so many people, including other forecasters, turn to as the primary source for weather information and insight: the National Weather Service (NWS).
NWS meteorologist Chris Strong caught the weather bug at a young age — and it has stuck with him ever since. Returning to his roots in the Baltimore-Washington, D.C., area after receiving a meteorology degree at Penn State, Strong was hired at the NWS forecast office in Sterling, Va., in 1993. And "I've been working my way up the ladder ever since," he says. As the warning coordination meteorologist since 2007, Strong is now a public face for the agency in the capital region, where millions of people — including those in the federal government — rely on accurate weather forecasts on a daily basis.
Although he still fills in for colleagues making the day-to-day predictions when needed, his current position has allowed him to get out from behind the computer more and engage with the public, from testifying before government committees to giving presentations to school children. Strong spoke with EARTH's Timothy Oleson about how forecasting has changed over the years, the variety of weather seen in the Mid-Atlantic and why he occasionally finds himself on a professional baseball field.
TO: How did you become interested in weather and meteorology?
CS: There are a lot of scientists on my dad's side of the family, so I guess I inherited the interest. I went through early years of wanting to be a paleontologist researching dinosaurs, of course, and then I became interested in volcanoes, and then weather. When I was 8 or 9 years old, we had a couple of big weather events go through in the same year — a hurricane and a big winter storm — and I think the two of those together turned me on to watching the weather people on TV and reading the weather section in the newspaper. Then I got into tracking the weather myself with a weather station.
TO: How has the process of weather forecasting changed in your time in the business?
CS: I've been in it professionally for more than 20 years, which is a significant part of modern meteorological forecasting. We've come so far within just the past five or 10 years. We've gone from running a couple of coarse computer-model projections a couple of times a day … to the point where computer models are coming in all the time at all different resolutions and scales. We are also getting more and more observations all the time, and our understanding of the environment is improving as the science progresses. Those three things working together have helped improve weather forecasting substantially.
TO: Has the role of the National Weather Service changed with the proliferation of groups that are forecasting and communicating about weather?
CS: Not really. The National Weather Service is the infrastructure of weather forecasting in this country, and everything kind of hangs off that. Big groups like the Weather Channel have changed things in ways, but they're basically another [type of] weather news organization that has been around for a long time: people on TV telling people what the weather is going to be. Nothing has been as revolutionary a change agent as social media and the Internet … and the diversification of weather information sources that people have at their fingertips. That has changed things substantially, especially when it comes to life-and-death, dangerous weather situations where you really want to have a clear, concise message for the public. With the diversification of messaging that's available, everybody has different sites or people or news that they come across, and it can confuse [the message] at times, which has been a challenge.
TO: What is it like being a public face of the National Weather Service in the Washington, D.C., area?
CS: You certainly have to have a thick skin as a meteorologist because everybody wants to make fun of the weatherman. And in an area where weather is so important and so changeable, the presence of a multitude of government agencies at all different levels and major media means there are a lot of people to work with, which makes for interesting situations. Briefing all levels of government, communicating to the public and making sure people are prepared and ready for the weather, working together as a team — these are always things that we spend a lot of time doing.
TO: What has kept you at the National Weather Service for more than 20 years?
CS: I have an interest in communicating with people and conveying a scientific message. And in terms of forecasting, here in the Mid-Atlantic, we get a little bit of everything, from winter storms to hurricanes to excessively hot and cold weather to windstorms and tornadoes. It's something different all the time; I like the variety.
The interesting thing about my position now is that it's many different jobs pushed together as one. I'm basically the public information officer, the communications person for our office. I'm not forecasting every day, but I fill in for forecasters when they're out sick or on vacation because we're all trained meteorologists.
TO: There is a photo of you, in 2011, addressing the crowd at a Baltimore Orioles baseball game while holding a big weather balloon. What were you doing?
CS: Those are called "Weather Days." A number of baseball stadiums now are doing them across the country. I think Baltimore was one of the first, and we are actually doing it now in Washington too. It's basically a big weather education effort for school kids of all ages; they all come out to the stadium and sit in the stands. A local TV weather group will emcee the event and ask questions and tell stories up on the big screen about different types of weather, weather safety and that sort of thing. Then I'll come out to talk about weather balloons [and launch one], or something similar. After the weather education, the kids stay to watch the ballgame. It's a good one-two punch of education with entertainment.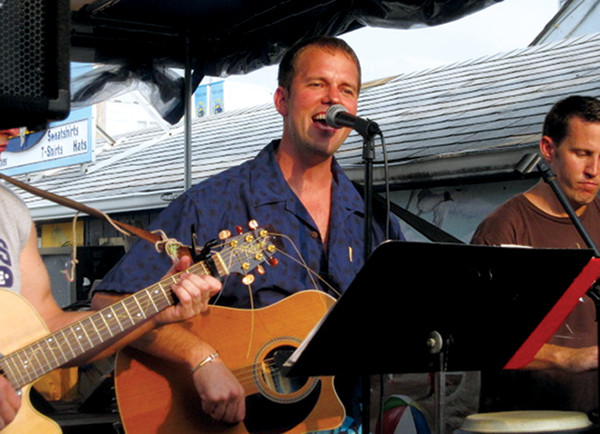 TO: What are some of the more memorable weather events you've experienced in the Mid-Atlantic region?
CS: In the past five years, we've had a string of exceptional weather events that have all been interesting in their own way. In the winter of 2009–2010, we had record snow across most of the area. We've had record hot summers and a derecho that moved through a couple of summers ago. This past winter wasn't as snowy, but as long and as repetitive as it was, with storm after storm, that was pretty exceptional. And then there have been the tropical events like Hurricane Isabel [in 2003], which was one of the biggest tropical weather events that we've had through here in the past 25 years … especially for those who experienced tidal flooding. The blizzard of 1996 was a huge one for the region too.
TO: When serious weather is forecasted, do people in your office hunker down and prepare for the long haul?
CS: Yes, for snowstorms in particular, which can make travel impossible if they come in fast enough. You have to plan to have adequate staffing here and try to get people in and out as best you can, whether that means stationing people at nearby hotels, having people sleep here at the office, or using our four-wheel-drive vehicles to get people here from time to time. That's all part of the job to make sure that there are always people here to get important information out to the public.
TO: What is your life like away from weather and forecasting? Are you still performing with your band "Strangewax"?
CS: [laughs] I've been into music my whole life as well as weather. In the past 20 years, I've played with a couple different groups. Strangewax is a band I formed with one of the other forecasters here; we made an album back in 2000 and played around town from time to time. I also play with another friend in a two-man guitar show. We just played a party this past weekend. Music is a great outlet from weather for me. Also, I have a 2-year-old girl to chase around, so that keeps me pretty occupied these days.