Down to Earth With: Alexander Stewart
by Erin Wayman Wednesday, September 20, 2017
Sgt. Alexander Stewart was brought up to believe serving in the military was an obligation all young men should fulfill. In 1991, at the age of 17, he answered the call of duty and joined the U.S. Army, which took him to Alaska with the 6th Infantry Division (Arctic)(Light). The state's endless snow and ice fascinated Stewart, and after he left active duty, he pursued a bachelor's degree in geology. In 2007, he completed a doctorate at the University of Cincinnati — in glacial geology, of course. Now he teaches the subject at St. Lawrence University in New York.
But Stewart's stint in the Army didn't end with the four years he spent in Alaska. For the past 16 years, he has been a member of the Army National Guard. His military obligations have both disrupted and enhanced his geologic career. In 2003, he was deployed to Iraq for 18 months while in the midst of his graduate education. Then in 2008, he was called to Afghanistan for a year — but this time, he was selected for duty not because of his military expertise but because of his geologic knowledge. In 2008, the Pentagon created National Guard Agriculture Development Teams. In addition to improving Afghanistan's agricultural capabilities, the purpose of these teams is to help with counterinsurgency efforts, Stewart says: to convince the Afghan people to support the Islamic Republic of Afghanistan, not the Taliban.
Now, 20 years after enlisting, Stewart is preparing to retire from the Army National Guard this year. He spoke with EARTH's Erin Wayman about how his time in the military and how his experiences on active duty have in many ways been an exercise in professional development.
EW: You were called to Iraq in 2003, right after passing your Ph.D. qualifying exams. Was it difficult to take time off and then come back and finish your Ph.D.?
AS: It was. I always told myself the only way I would authorize myself to take a break from the university was to go to war. Well, this just happened to happen. I felt fully confident and prepared and excited about the opportunity. I wasn't fazed. I was a bit concerned about my CV [curriculum vitae]. I didn't want people to think it took me five years to do a Ph.D., because it was actually five, minus 18 or more months. That was my biggest concern, not whether or not I'd be able to finish it.
The army again popped up when I had just started a tenure-track position at Angelo State University in West Texas. I was six weeks into the semester and got a phone call. They said I was going to Afghanistan as a geologist on this Agriculture Development Team [ADT]. I said OK. I thought, "Hey, if I'm going I might as well make it professional development." I could put it on my CV as experience doing geology, science and managerial things.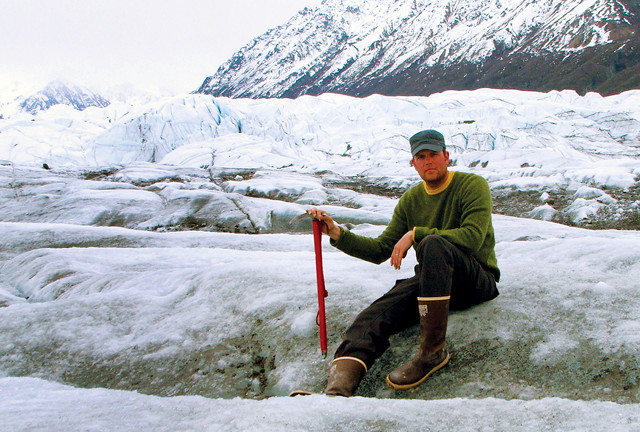 EW: When you were chosen, did they have projects in mind they wanted you to work on or did you determine what was needed when you got there?
AS: It was a combination. We were the second ADT from Texas and the third ever to go to Afghanistan. When we got there … we had maybe 20 projects on the board in various stages of development … We worked on those, but at the same time we developed our own projects. We coordinated directly with a DAIL [Director of Agriculture, Irrigation and Livestock], which is a provincial leader. We would have weekly meetings with him. He would talk with all the people in the province, and he would get an idea of what projects were needed. I worked a lot with Dr. Ahmad Shah Rafiqi, who was the director of Ghazni University [in Ghazni province in central Afghanistan], and Mr. Mohammad Nawab, the director of the new Afghan EPA [Environmental Protection Agency]. We brought in a lot [of Afghan] officials to say, "Hey, look, you know what's going on. What do you need? What's going to help increase your agricultural output?"
EW: What are some projects you worked on?
AS: Our projects varied. [We did] animal husbandry, where we would train locals to better care for their livestock, from birthing to feeding to housing. We had poultry education. We put in culverts in roads for some of the demonstration or experimental farms that we helped ramp up to display new or new-to-them techniques in managing a farm. We proposed an engineering technician school. The thought was that the people who would go through that school would support and help sustain all these other projects. We did a lot of wind and solar projects, which requires a lot of electrical know-how. We did some university curriculum development with Ghazni University. We worked with a high school on agriculture education. We worked with the national EPA on developing the first environmental park in Afghanistan. It's an arboretum to preserve that which has been destroyed over the past 50 to 70 years of overusing the land. We worked on all kinds of stuff — farmers' markets, a slaughter facility, aquaculture and fisheries. I assessed a lot of dams.
EW: You mentioned earlier that you felt this was an opportunity for professional development.
AS: Yes. First off, I was the project manager for 10 or 15 of the projects, which meant everything from dealing with the locals to developing the project from scratch — the written documentation, the plans, the budget, taking it through approval, the quality assessment and quality control while the project was being completed by a local construction or engineering firm, and the verification that the project was done. Professionally, for me, it was the first time I didn't work in academia.
Inside each of those projects was a lot of professional development: dealing with irrigation and determining where to put a culvert; how to use gabion baskets — rock-filled wire baskets that prevent landslides; working at the university level on curriculum development; assessing dams — all the way from something the size of a Tennessee Valley Authority dam down to a local earthen dam, which is way outside my expertise level. However, as the only person in the province with a Ph.D., I was the only person they could lean on.
EW: How did you prepare for tasks that were outside your area of expertise?
AS: The dam assessments were technical, and that required me to lean a lot on my observational skills as a scientist. I couldn't see the inside of the dams, so I couldn't interpret the true stability. But I could get baseline information such as dimensions and measure visible cracks [on the outside]. I was sure not to overstep my bounds; we didn't say something if we weren't sure. Each of these ADTs has a fallback: the land-grant institutions. For us, it was Texas A&M. I coordinated with some of my academic colleagues on some of these projects. We were lucky to have Internet access.
EW: Your experiences in Afghanistan were probably different from your experiences in Iraq.
AS: Yes, very much. In Iraq, I was a traditional soldier. I was a radio operator. At the time, in 2003, I was something called a trailblazer. We went out in Humvees and looked for roadside bombs. With the old technology of seven, eight years ago, we had to manually clear [such bombs]. That was not at all applicable [to my academic career]. The battalion commander kind of said, "This guy is probably overqualified for this," so I was also the battalion historical officer. That gave me something to do that was a little more in line with managing something. I would do weekly historical reports on the battalion's activities. That was helpful; otherwise it would have been 100 percent standard Army operation.
In Afghanistan, although I was one of these team experts, I was primarily a rifleman. We saw enough action, and two team members, the experts — Staff Sgt. Christopher N. Staats [an agricultural marketing expert] and Sgt. A. Gabriel Green [a farm management expert] — were killed in action. And our team commander, Maj. John J. Ploch [an entomologist], and Sgt. Todd Plybon [a soil chemistry expert] were wounded in the same incident. Everything was still Army style, but I had to add on working on these projects.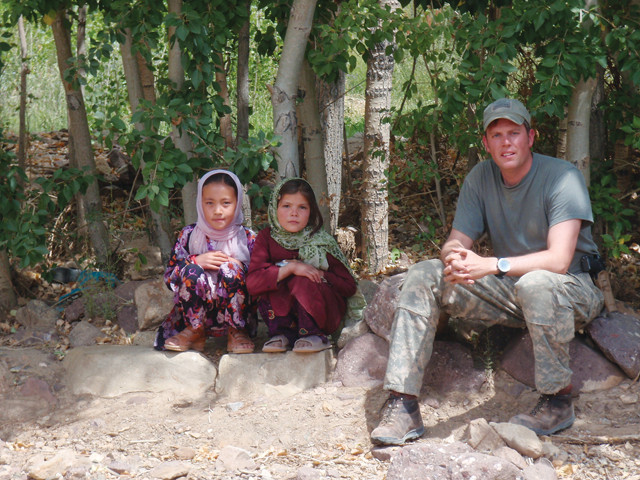 EW: Did your time in Afghanistan or Iraq inspire any research or academic interests?
AS: Actually, yes. When I was in Iraq, I had nothing mentally flexing to do. I went online and found Victor Fet, a professor at Marshall University [in West Virginia] who is the premier scorpion biologist. I've always loved scorpions, so I wrote a proposal on observing a scorpion species in Iraq. I did that over a summer and published three or four papers. I still have some data left to publish. When I got to Afghanistan, I followed up on a different scorpion. I presented some of that research at the annual Animal Behavior Society meeting last July. I collected 15 or 20 scorpions, which I sent back to my buddy at Marshall. Over spring break, I'll identify those. That will be the first scorpion collection from Afghanistan from the Hindu Kush and the high mountain terrain, not Kabul. All my free time was [spent] looking at scorpions or trying to find them.
EW: Will you miss the Army?
AS: The camaraderie, yes, but the life of a solider, no. At this point in my life, I've had my fun. I've served my country. Now I need to focus on being here and getting tenure.