Double-dip La Nina blamed for Colorado's dry winter
by Mary Caperton Morton Monday, February 5, 2018
In January 2017, skiers at Wolf Creek Ski Area in southern Colorado were enjoying a base snow depth of more than 350 centimeters — enough snow to cover most rocks and other obstacles. But this year, as of mid-January, the runs were much sparser, with the base barely clearing 100 centimeters. Powderhorn Resort in western Colorado was so bereft of snow that it had yet to open in mid-January — a month behind their usual December opening. Statewide the snowpack is slim enough to worry not only skiers, but also the state's climatologists and water resource managers, who held a Water Availability Task Force (WATF) meeting on Jan. 18 to discuss the state's snowpack and water outlook.
"Colorado had a very good winter last year, in terms of snowpack, but we started drying out over the summer and started this winter at a moisture deficit," says Becky Bollinger, assistant state climatologist at the Colorado Climate Center in Fort Collins. "None of the basins in Colorado are anywhere near normal snowpack," she says. "Those in the northern parts of the state are faring the best, at around 80 percent of normal, but as you go south and west, the snowpack situation decreases into drought conditions," with the snowpack in some places as low as 37 percent of normal.
Colorado gets most of its annual moisture during the winter months in the form of snow. The new water year starts in October, with peak snowpack occurring around April 1 before warmer temperatures and longer days begin the melt and runoff season in late spring. This winter's pattern — wetter in the north, drier in the south — is typical of La Niña years, says Klaus Wolter, a meteorologist with NOAA and the University of Colorado Boulder who presented at the WATF meeting.
La Niña is the cold phase of the El Niño-Southern Oscillation pattern, arising from cooler water temperatures in the equatorial Pacific Ocean, while El Niño results from warmer water conditions in the same region. In Colorado, La Niña tends to produce above average midwinter snowfall, especially in the north, while El Niño tends to produce wetter conditions in the fall and spring and favor the southern mountains over the north.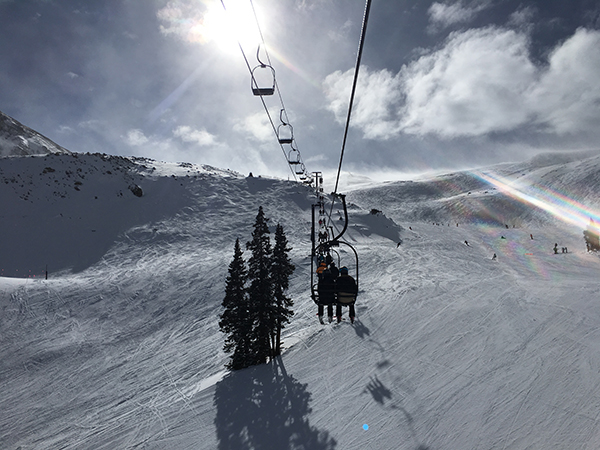 In September, Wolter's (and other seasonal forecast) models for the upcoming water year predicted an averagely wet La Niña winter. But, he says, it appears "my experimental outlook was too optimistic, and most of the state has been much drier than we expected." In his WATF presentation, Wolter explained that the models failed to account for the effects of what he calls a "double-dip" La Niña, where La Niña conditions initially give way to neutral or El Niño conditions but then veer back into La Niña. The 2016–17 winter saw a "decently wet" La Niña that transitioned into a short-lived El Niño by the spring. But by fall 2017, conditions reverted firmly back to La Niña.
This double-dip pattern has been observed three times in the past 11 years (in 2007–09, 2010–12 and now 2016–18) and 12 times in the past 110 years. Historically, the second year of La Niña tends to be drier than the first, but models don't seem to take this delayed effect into account, Wolter says. The effect may be magnified even more in the event of a triple-dip La Niña, which has occurred four times in the last 110 years. "We've had two really major nationwide droughts — in the 1950s and in early 2000s — both of which were anchored by triple La Niñas," he says. "La Niña events often last longer than El Niño and it seems like the longer La Niña lasts, the drier it gets. We don't fully understand why that is yet, but there are probably feedback loops at work."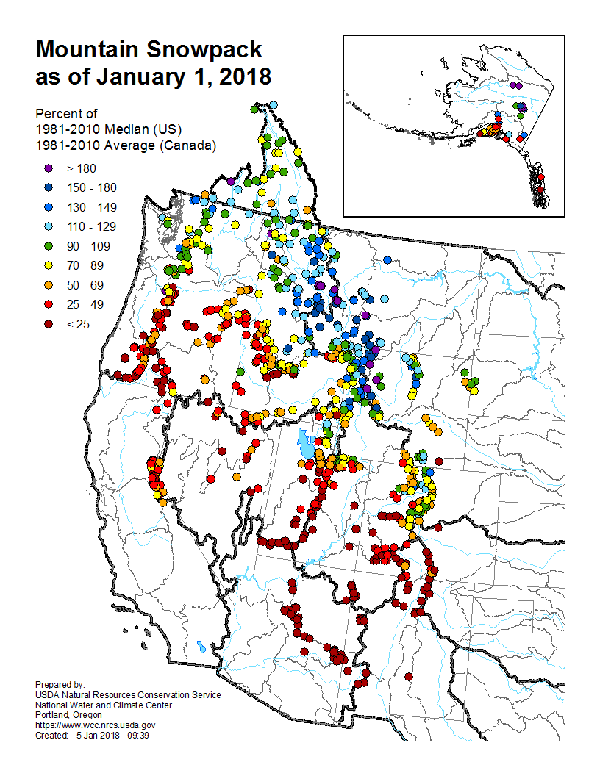 Part of the problem is that the SNOTEL network that is used to monitor snowpack conditions in real time was only established in the late 1970s and early 1980s, so scientists only have 30 to 40 years of data from which to draw. "I'm hesitant to say this is directly related to climate change because there's a lot we still don't understand about how these systems work," Wolter says. The double-dip phenomenon is an area of ongoing research, with only a handful of studies to date focusing on quantifying the effect, he adds.
Currently, global models are predicting that this winter's weak to moderate La Niña is currently peaking and that it will weaken going into the spring and will likely transition into neutral in late spring into summer. "It's not just El Niño or La Niña that impacts weather patterns," Bollinger notes. "We also have to take into consideration how the jet stream moves storms over the region and how much moisture is lost from storms before they even reach us." In the week after the WATF meeting, a storm moving across Colorado from the north and west dumped up to 60 centimeters of snow on Wolf Creek; and many other ski areas picked up some snow as well. On its website, Powderhorn announced a partial late January opening.
"Every little bit helps, but at this point it's very unlikely we will make up the deficit," Bollinger says. "I will not be surprised to see worsening drought conditions [in Colorado] for the south and west regions going into the spring." Making up for the anemic snowpack will require more than 30 centimeters of snow-water equivalent over the next three months, a gain that has only occurred three times in the last 37 years. "Every now and then we get a lot of snow late in the spring, but that's much more common in El Niño years," Wolter says. "That kind of 'Miracle May' situation isn't going to save us this year."
Other states in the West, such as Montana and Wyoming, are faring better than Colorado, but the dryness trend seen in southern and western Colorado is also affecting Arizona, California, Nevada, New Mexico, Utah and parts of southern Oregon. As of Feb. 1, the snowpack in the California Sierras was at just 27 percent of normal. This trend was also generally underpredicted by seasonal forecast models for the West, Wolter says. "So far it seems like the jet stream is anchored farther north," he says. "Storms are hitting western Canada and the northern U.S., but they're not percolating south [as much], and when they do, they aren't as strong as they have been in the past." This isn't just a problem for skiers and ski resorts: Since most states across the West get their water from the snowpack, water managers are worried about resources for the rest of the year.