The Dinosaur Garden of the Gobi: Motivating future paleontologists
by Thea Boodhoo Tuesday, February 7, 2017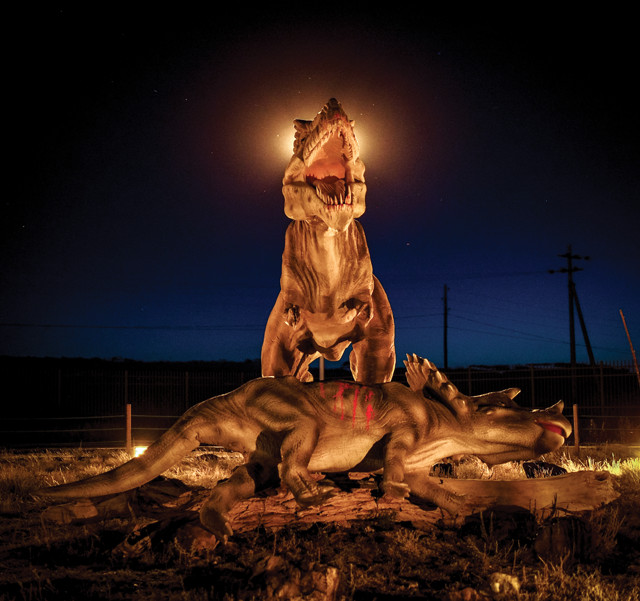 In June 2016, the tourism board of Dalanzadgad, a small city in the Mongolian Gobi, opened a new dinosaur theme park on the outskirts of town. It was paid for with a government grant awarded before the 2016 economic downturn. The night we arrived in town, our Gobi team was given a tour by two of the project's biggest advocates.
Upon entering the park, you would be forgiven for thinking you were in any normal amusement park, save for a few details — the two-story-high entrance gate with what appears to be a Ceratosaurus perched on top, the hadrosaur statue between the soon-to-be gift shop and the cotton candy vendor, and the animatronic sauropod fountain. There's a merry-go-round, a small waterpark, a row of vendors and one of those giant spinning swings. Once you get past all that, to where the park peters out into the Gobi Desert, you will find yourself in the dinosaur garden.
Roughly a dozen motion-activated, rubber-skinned, roaring beasts are each cordoned off with laminated 8.5 x 11 "Do Not Touch" signs in Mongolian. When I was there, these were the only signs in the park. There was no plaque reading "Tarbosaurus bataar: A Cretaceous predator from Mongolia," or even simply "Tarbosaurus." In fact, throughout the entire park, there was no written information about dinosaurs at all. Not even a brochure. That's one reason we were brought there.
"He wants to know if the dinosaurs are the right size," said our translator, interpreting for our host, a local parliament member. I took a minute to wrap my head around the question. I was surrounded by unlabeled dinosaurs of varying heights, but since our paleontologist had stayed back in Ulaanbaatar for this leg of our expedition, I was suddenly the resident dinosaur expert.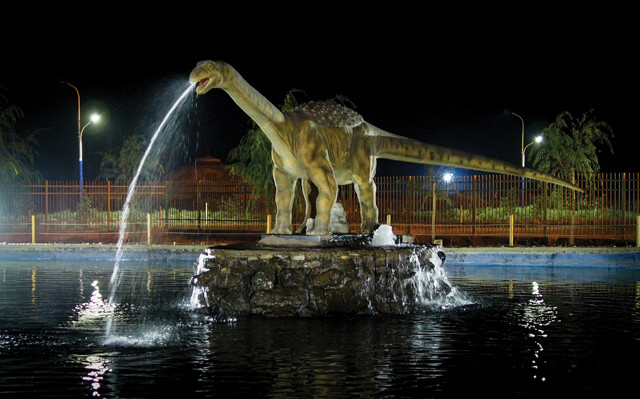 I panicked briefly, then took a deep breath and looked around before commenting: "This sauropod could be about the right size depending on which one we label it as. Or we could say it's a juvenile. That theropod over there should probably be a Tarbosaurus but it's a little small. The Stegosaurus is way too small. I'm not really sure what this one is supposed to be so I can't say. The ceratopsian hatchling is obviously way too big but you knew that." (The child-sized hatchling, no doubt based on Roy Chapman Andrews' nearby discovery of the first dinosaur eggs, popped out of its shell and screeched at everyone who walked by.)
I realized halfway through my descriptions that I was bringing everyone down. They'd put a lot into this and it still, apparently, wasn't up to expectations. As we walked out of the dinosaur garden, I tried to explain that dinosaur displays like this were once common in the U.S. and that they'd inspired a generation of paleontologists despite their inaccuracies. Plus, the dinosaur garden was already inspiring kids. I could see their faces: rapt, lost in wonder. I knew that feeling. I knew the little boy in front of us — staring up at fake blood smeared on the roaring, rubber jaws of an anonymous theropod— would drag his dad around that dinosaur garden until it closed. He would tell his friends about it and ask his teachers. Maybe, with encouragement and learning opportunities, he'd grow up to be a paleontologist.