Desert dust influences monsoon rains
by Mary Caperton Morton Thursday, July 10, 2014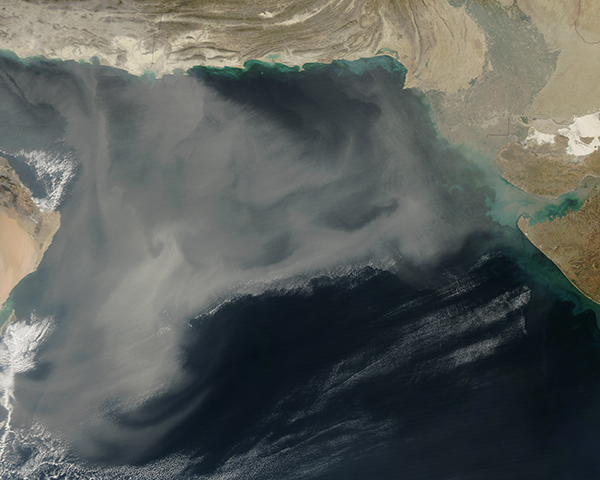 A team led by V. Vinoj of the Indian Institute of Technology in Bhubaneswar and Philip Rasch of the Pacific Northwest National Laboratory in Washington used satellite data and climate simulations to examine the relationship between desert dust levels over the Arabian Sea, West Asia and the Arabian Peninsula, and the intensity of the Indian summer monsoon. They found that desert-dust levels were positively correlated with the intensity of monsoon rainfall.
Simulations suggest that dust particles in the air warm the atmosphere over West Asia and the Arabian Sea, strengthening the southwesterly monsoon winds and increasing the amount of moisture swept over land, often within a week of major dust storm events. As the monsoon season progresses, heavy rains wash the dust out of the atmosphere, tapering its effect on weather patterns.
The work suggests that future changes in desert-dust emissions could ultimately modify rainfall patterns over India, "highlighting the need to understand the effect of both natural and anthropogenic aerosols and their interactions with precipitation to provide better predictions of changes in monsoon precipitation," Vinoj and colleagues wrote in Nature Geoscience.