D.C. wastewater no longer going to waste
by Mary Caperton Morton Thursday, January 14, 2016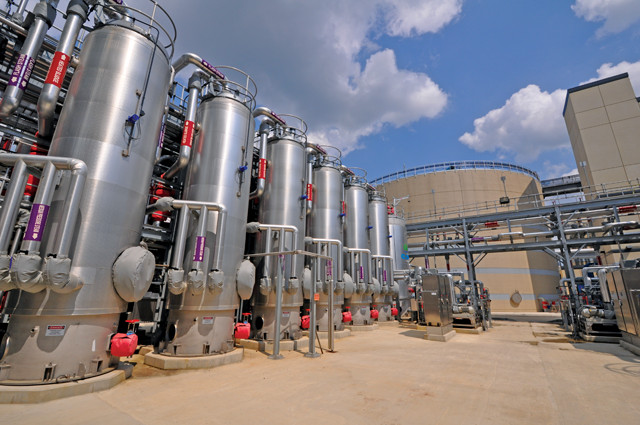 D.C. Water & Sewer Authority, which treats sewage from Washington, D.C., as well as from the Maryland and Virginia suburbs ringing the city, is the biggest consumer of electricity in the U.S. capital. But last September, D.C. Water began creating its own power, becoming the first utility in the country to convert sewage into electricity.
The system behind this conversion was originally developed in Norway and involves a dewatering building, 32 sleek thermal hydrolysis vessels, four 24-meter-tall anaerobic digesters that each hold about 14,000 cubic meters of solids, and three turbines the size of jet engines. Together, the technology works like a giant pressure cooker that breaks down solid waste, producing copious amounts of methane gas, which is combusted to drive the electricity-generating turbines. At the end of the process, the leftover solids are cooked down into a bio-solid that can be used as compost in urban gardens.
D.C. Water officials say the $470 million system, which took four years to build, will save the city about $10 million annually and shrink the plant's overall carbon footprint by one-third. It may find application in other major cities as well; on average, water and sewer utilities account for about 4 percent of the country's overall energy usage, and they're the single largest energy consumers in most communities.
"This project embodies a shift from treating used water as waste to leveraging it as a resource," said D.C. Water CEO and General Manager George S. Hawkins, in a statement. "We are proud to be the first to bring this innovation to North America for the benefit of our ratepayers, the industry and the environment."