"Dam levels critical" in Cape Town
by Lucas Joel Wednesday, June 13, 2018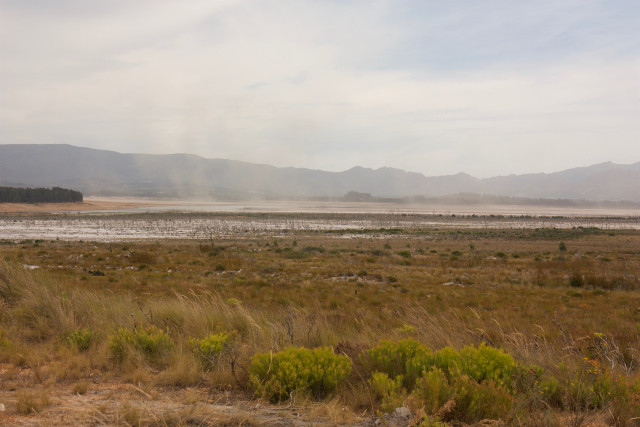 At first glance, a visitor to Cape Town might not notice the extent of the parched conditions — people still go about their business, amid the same kind of hustle and bustle you would find in other major cities. But looking closer, there are signs that something is not right. People standing in buckets to conserve water during showers is one such sign, and bottled water flying off grocery store shelves is another.
The mostly empty reservoirs that provide water to the metropolis, meanwhile, are very obvious.
"Dam levels critical," a red sign next to a highway in the city reads. And below that message, in bigger letters, is some urgent advice: "Take short, start-stop showers."
To understand what "Dam levels critical" looks like — to grasp why people are, among other things, standing in buckets in showers — it helps to visit the city's reservoirs in person. These reservoirs are in mountains that are part of the Cape Fold Belt, which includes Table Mountain, the mountain that cradles part of the Cape Town metropolis and provides its famous vista.
The "Mother City," as locals call Cape Town, relies almost entirely on runoff that flows into reservoirs from these mountains. One day in February, when reservoir levels hovered at about 25.5 percent capacity, I drove to the Theewaterskloof Dam about 120 kilometers inland from downtown Cape Town, which normally holds more water than the city's other 13 main reservoirs combined. Behind the dam, I saw more white dust than water in the basin.
The view reminded me of a trip many years ago to Death Valley National Park's Badwater Basin, which, at about 86 meters below sea level, is the lowest point in the lower 48 states. There, salt flats stretched over the valley floor, and a quiet, still puddle of water stagnated in the valley's center.
The new playa behind Theewaterskloof Dam also has water, but you have to squint to see it. Dust devils swirled over the playa and amid the blackened trunks of trees that had probably died from submersion, when water previously existed here.
In March, Day Zero — the day when the city is expected to run out of tap water unless the reservoir levels rise — was postponed from April to sometime in 2019. And in May, welcome rains raised the average level of Cape Town's reservoirs from about 20 percent capacity to more than 25 percent; those rains have continued into June, and reservoir levels are now at more than 30 percent capacity.
The rain, however, does not mean Day Zero will not happen in 2019. And while the city has plans in place to exploit its groundwater reserves, the best strategy for now is to continue enforcing restrictions on water consumption, explains Jessica Fell, a hydrologist at the University of Cape Town's Future Water Institute. Practices like taking shorter, stop-start showers can help — if enough people participate — as was shown in March, when the city's residents managed to reduce water use by tens of millions of liters. (Water use since March has fluctuated, rising and falling a couple of times, but remaining at about 520 million liters per day.)
For many people who haven't lived through such a drought, Cape Town's water crisis has redefined water as a precious resource. It's importance is apparent when rising water levels make headlines.
Conservation is entering all areas of Cape Town life. In a local bookstore, I saw a recently published book titled "101 Water Wise Ways." I opened it to a random page and read Tip 20: "Practice water fasting." The author writes that seeing just how little water you can get by with "will make you feel far more in control, and will help you develop a reserve for times when you need extra water." This seemed like an extreme suggestion to me, but the book is serious, and it gives a good sense of how people here in Cape Town are adapting to a slow-motion catastrophe. Soon, perhaps, phrases like "water fasting" will become an unremarkable part of everyday parlance in Cape Town, and maybe elsewhere too, as a new normal sets in.