"Critical Minerals" list snubs copper, sparks discussion of criticality
by Veronica Tuazon Thursday, November 8, 2018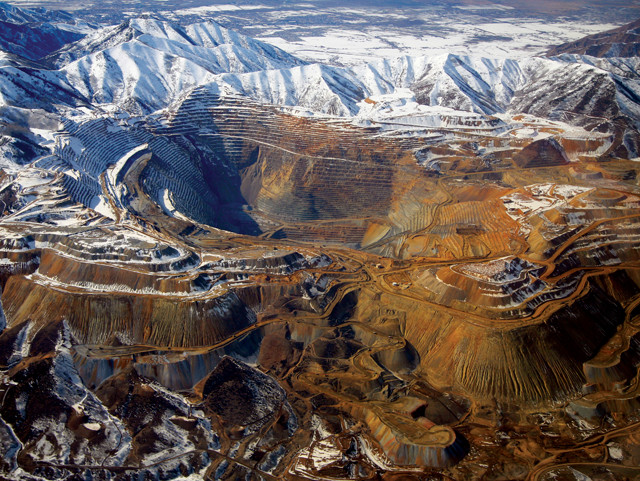 In 2017, the United States relied on imports for more than half the needed supply of 50 mineral commodities that are critical in manufacturing. Some of the commodities come from just a few major suppliers — especially China and Canada — or are produced in tiny quantities in just a few places. Others come from conflict zones. Some are produced only as byproducts of processing ores of major metals, such as copper and zinc. Such complex international supply chains are at risk of being disrupted by a variety of problems, from trade wars and market volatility to natural disasters and terrorism.
In December 2017, President Trump signed Executive Order 13817, "A Federal Strategy to Ensure Secure and Reliable Supplies of Critical Minerals." The order required the Department of the Interior (DOI) to work with the departments of Agriculture, Defense and Energy to submit a plan to reduce U.S. dependence on foreign sources of so-called critical minerals. One day later, Secretary of the Interior Ryan Zinke released Secretarial Order 3359, outlining a more detailed plan for the U.S. Geological Survey (USGS) to respond to the executive order. In part, this order required USGS to create a list of these critical minerals within 30 days, and in February, DOI released the draft list of 35 critical minerals with a 30-day open comment period. During this period, 566 comments were submitted, advocating for the inclusion of a variety of materials that served various interests. In May, the final list of critical minerals, unchanged from the draft version, was published.
Minerals included on the list were those considered by DOI to be of both high national importance and at risk of supply disruption — the latter criterion was broadly defined to apply to minerals for which the U.S. is at least 50 percent net import reliant. For example, in 2017, the country imported 100 percent of its supply of rare earths, which are used in many high-tech and defense products, as well as 72 percent of cobalt, a crucial element in rechargeable lithium-ion batteries. Most commenters didn't take exception to what was on the list; rather, they took issue with the minerals left off — copper chief among them.
Copper is essential in electrical wiring and transportation and is playing an increasingly large role in alternative energy, as it is a crucial component in wind turbines, solar panels and electric vehicles, which require four times as much copper as conventional gas vehicles. But it is also the gateway to several elements on the critical list that are produced as a byproduct of copper mining, as Daniel McGroarty of the American Resources Policy Network, a virtual think tank focused on resource development, pointed out in a series of comments submitted about the DOI's draft critical minerals list. He also noted that zinc, nickel and lead should be included on the list for the same reason. McGroarty argued that copper is of the highest priority because it "is the practical access point to at least four minerals on the DOI List," referring to cobalt, rhenium, tellurium and, potentially, the rare earths.
In its report detailing the methodology used to assemble the critical minerals list, USGS acknowledged the co-production issue, noting that "strategies to increase the domestic supply of these commodities also should consider the mining and processing of the host materials because the enhanced recovery of byproducts alone may be insufficient to meet U.S. consumption." What exempted copper from the list, however, is not that it is at all inessential as a resource, but that there is a "very low risk of disruption of supply," says Steven Fortier, director of the USGS National Minerals Information Center, who led the effort to create the list. "The U.S. is a large domestic producer. We don't import any copper ore, and we import about a third of our metal … we have a fairly robust domestic industry," he says.
As of 2018, the U.S. has a net import reliance of 34 percent for copper, and historically the metal has never reached the minimum 50 percent required for criticality. However, with rapid technological advancement and growth, what actually is and isn't critical changes over time and often eludes simple categorizations. Or as McGroarty puts it, "as technology changes, what was once considered minor can have major impacts." For example, there was virtually no demand for strontium in the United States before the 1960s, when it was suddenly needed in relatively large quantities to reduce radiation emitted by early televisions.
In contrast to copper is beryllium. Even though the U.S. is the largest beryllium producer in the world today, the element was still included on the list "because of the very critical nature of beryllium alloys and metals in defense applications" like fighter jets, Fortier says. "Beryllium is the only material that the Department of Defense officially identified as critical."
Going forward, whether a mineral is included on this list may have significant impacts on the supply chain for each commodity. As of early October, DOI had not yet released a report on its implementation of the president's executive order. The report is to include a plan to review the list every so often since the supplies and demands for some mineral resources change frequently.