Congress mulls options for abandoned mines legislation
by Abby Ackerman Wednesday, January 10, 2018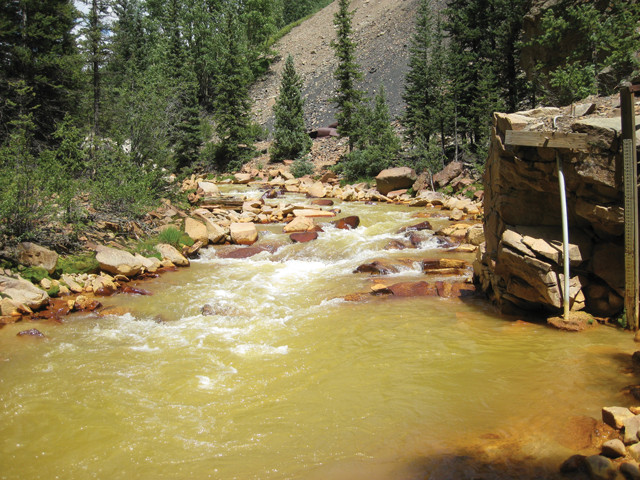 Amid the well-publicized discussions over healthcare, tax reform, the federal budget and disaster aid in summer and fall 2017, a quieter conversation over mining legislation reform was also going on in Congress. Democrats and Republicans in both chambers introduced legislation concerning abandoned mine lands (AML) in the current congres­sional session, and while no new bills have been passed, discussions continue on the contentious subject.
The introduced legislation focuses on introducing new or reforming existing programs that fund AML remediation efforts and on addressing the availability of scientific and technical expertise for these efforts. The current landscape of AML funding looks drastically different depending on the nature of the mine — namely, coal versus hardrock mines. An entire branch of the Department of the Interior — the Office of Surface Mining Reclamation and Enforcement (OSMRE) — is dedicated to overseeing the remediation of abandoned coal mines. As established in 1977 by the Surface Mining Control and Reclamation Act (SMCRA), one of OSMRE's primary jobs involves collecting small fees per ton of coal produced from companies; these fees go directly into OSMRE's AML fund. Over the past 40 years, OSMRE has collected more than $10 billion, according to the office's website, much of which has been disbursed in grants to states, tribes and nonprofits to assist remediation of both active and abandoned coal sites. (A portion has also gone to health and retirement funds administered by the United Mine Workers of America, while roughly $2 billion in the fund remains unappropriated.)
Although the AML fund is not up for reauthorization until 2021, Congress is getting a head start on discussing the program's future, likely because the last reauthorization took a decade to pass and because substantial criticisms — that management and oversight of the program have been poor, for example — have been leveled by some stakeholders. If the program is not reauthorized, OSMRE will no longer collect fees from coal companies, and the funding disbursals will continue only until the existing fund is empty.
Some relief from criticisms of the program could come in the form of H.R.1731, the RECLAIM Act of 2017, bipartisan House legislation that passed in committee in mid-October and is awaiting a full vote as of the time EARTH went to press. Introduced by Rep. Hal Rogers, R-Ky., and co-sponsored by 40 fellow representatives — 22 Republicans and 18 Democrats — the RECLAIM Act aims to expedite distribution of the unappropriated money in the existing AML fund in ways that create economic growth in areas affected by acid mine drainage (AMD) and acid rock drainage (ARD).
Two similar bills in the Senate, S.728 and S.738, are both also named the RECLAIM Act of 2017 and were introduced by Sens. Mitch McConnell, R-Ky., and Joe Manchin, D-W.V., respectively. Both Senate bills are in committee and awaiting hearings as of press time. Rodgers' House bill has been endorsed by environmental groups and groups promoting economic growth in coal communities.
Hardrock mining has no comparable fund at the federal level, and establishing one seems a herculean task. Looming over every attempt at reforming hardrock mining regulations is the General Mining Act of 1872, which remains largely unchanged since its enactment. Unlike SMCRA, the General Mining Act neither charges royalties on commodities mined on federally leased lands nor requires companies to pay reclamation fees for their sites, meaning there is no existing federal revenue source from which hardrock AML remediation efforts can be funded.
In September, Sen. Tom Udall, D-N.M., introduced S.1833, the Hardrock Mining and Reclamation Act of 2017, following up on an identical bill he introduced in 2015 that never made it out of committee. The bill would amend the General Mining Act to charge a gross royalty on new mining operations and to establish a Hardrock Minerals Reclamation Fund. While similar to the AML fund, the new hardrock fund would charge companies based on the value of their mineral production rather than the amount of material removed to account for differences in the costs of processing hardrock commodities compared to coal. The bill has no Republican co-sponsors, however, so it's unlikely to get a hearing and will probably not leave committee. The House has yet to put forth any major efforts to reform hardrock mining legislation in the current session, although such a bill is expected before the end of this session in January 2019.
A measure that could help both coal and hardrock AML reclamation efforts is the implementation of "Good Samaritan" legislation. Currently, groups that undertake reclamation or remediation efforts at AML sites may take on substantial legal liability for preexisting hazards where they're working — related to AMD or ARD, for example — even if those groups had nothing to do with the mining that initially led to the hazards. Good Samaritan legislation aims to mitigate this disincentive by removing some of the liability faced by such community reclaimers. Good Samaritan laws open up smaller AML sites to groups with the technical expertise and resources to reclaim and/or remediate, alleviating some of the burden on federal efforts. At the state level, only Pennsylvania and South Dakota have existing Good Samaritan legislation, but federal legislators recognize its importance for national AML policy.
In early October, the House passed H.R. 2937, the Community Reclamation Partnerships Act, introduced by Rep. Darin LaHood, R-Ill. The bill would establish a process for states to partner with community reclaimers and take on the liability for the community reclaimers, but only for sites abandoned prior to the passage of SMCRA in 1977. The bill has been referred to the Senate Committee on Energy and Natural Resources, where it awaits a hearing. The anticipated House hardrock mining reform bill is expected to include Good Samaritan provisions as well.
Even though Good Samaritan legislation would remove some barriers for getting technical expertise to AML sites, it does not address the basic problem that the pool of qualified experts able to assess conditions and feasible responses at these sites is shrinking. And recent cuts to the budgets of relevant federal agencies — like the U.S. Geological Survey and the Environmental Protection Agency — as well as cuts to STEM education and research funding, mean that the technical expertise available to deal with AML sites in the long term may be further limited.